Barker Hounds Middlesex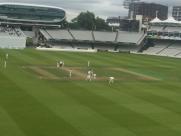 Under pressure
By Barmy Kev
August 9 2017
Kev describes the painful end to our defeat against Warwickshire. Despite some humour this report carries a MTWD serious health warning
I'm running late due to personal circumstances. I was reflecting on my thoughts yesterday lunch time that this game should be over with a 2 day victory for us and how it looked good for us after Warks 1st innings. I'm now thinking that I would be grateful for a draw. I decided to ignore all weather apps. that seem to give me conflicting info.
I arrive 11.40 no wickets and took my seat with an edge straight to 3rd slip, if there was one there. This set the tone for the day. Can it get any worse yes Gubbo was injured looked serious, dropping a catch in the deep. It now looks like we are 0-1 chasing over 300.
We wait to 12.20 before our 1st wicket as I shout "don't injure yourself" while Compo catches a skier to eventually get rid of Wright . Sowter ( nicknamed The Rabbit) claims his first "proper" cricket wicket soon after bowling Sidebottom. I didn't celebrate either wicket. Barker our previous nemesis scores a dogged 62 not out
Chasing 327 we have The Rabbit as a runner presumably for Gubbo . No the runner was for Compo, sorry we are confused it is for both no in fact Robbo. Perhaps he'll be there for all our batsmen. First chant of day Run Rabbit Run Rabbit Run Run . We safely made it to lunch with no idea what was to follow.
Deep breath everybody who is reading now. .......I can't remember when exactly In this spell I started and then gave up on rain dances. Straight after lunch Robbo and Eski out from a Barker over and Compo out off next Barker over caught behind. Then Woakes has Simmo, Higgins and Franco out the Higgins LBW which was going way over the stump, but umpire was sensing an early journey home.
Why TF is Gumbo in at 8 with game way out of our reach with him badly injured. Oh well it lead to some entertainment, The Rabbit is no Rabbit his first 2 balls edged 4s. but later played some class shots protecting our opener who did not contribute to the partnership. First cheer of day when our score went over Gus age , it's his birthday today. 2nd cheer once passed 62 beating our lowest score against Warwickshire. Rabbit was unluckily out clean shot straight in hands of short leg. Murts carried on his batting form of 1st innings we are 88-9.
There were 6 of us trying to keep our spirits up . We started a sweepstake £1 each on final losing score. Hi Fi nickname changed from Watford Wall to Watford Whacker as we exceeded the Rogers and Out highest estimate of 102. Gubbo came to party and aggravated his injury even more but earned us more applause as he served his role we are under 200 behind. More predictions as Reading Paul's 131 guess was exceeded. Can we take this to 327?.There were Middle chants and we are feel we are closing in on your target. There was a muted we know what we are Champions etc. Any vocal Warwickshire fans could reasonably retort "Champions ur avin a larf"
Why so pessimistic?
It's over Gubbo out LBW on 136 . We all got our pounds back. The bottom team without a win all season beat us by 190 runs. To say this was a dreadful defeat and performance is an understatement.I 'm just grateful for the company today that proved the best form of medicine is laughter.
PS I'm typing this looking out the window and it's peeing down to the extent there was never going to be any play today.
PPS The Leprechaun text after close Where I was trying to listen from the location had noro virus in between listening to collapse.
pqs: qs: