The Only Way is Out of Essex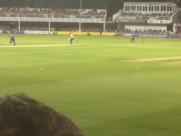 High Mission Impossibl
By Roers and Out
August 12 2017
Rogers and Out reports on a 20/20 day at Chelmsford with a familar story regarding obnoxious Essex fans and a defeat that could have been avoided
Our chances of qualification for the quarter finals of the T20 Blast are hanging by a very thin thread indeed as a streetwise Essex side consigned us to a nine wicket defeat at a partisan Chelmsford on Friday evening.

After the miraculous win against Sussex the previous night, it was hoped the momentum and confidence gained would put us in good stead for the trip to Essex, but it was not to be. The home side's quick start from Wheater and Chopra had us on the back foot from the very beginning, and despite a fine effort in reining them in later in their innings, particularly by the excellent Nathan Sowter, their victory was more comfortable than the nine run margin suggested.

The tone for my day was set on the train east, seeing a gentleman with body art akin to Jade Dernbach guzzling a case of Stella Artois with gusto. In a surprising show of good manners, little of which was seen later at the cricket ground, he did dispose of his empties in the bin provided.

After a few libations with Chelmsford City Kev at the excellent Ale House, we took our seats in the Tiptree stand. Although apparently a sell out, there were quite a few empty seats, presumably due to Essex's unusually poor campaign this season in T20.

We won the toss and decided to insert Essex. Tom Barber came into the side, replacing the injured Steven Finn.

As mentioned above, Adam Wheater and Varun Chopra got Essex off to a flyer, registering 54 runs for the first wicket before Chopra chipped Helm to Franklin at midwicket in the sixth over.

Wheater was second man out in the eighth over, but he had done enough damage by then, clocking up a rapid 43 from 21 balls. He was bowled by Nathan Sowter's first delivery and he was to play a big part in keeping the Essex total down to manageable proportions.

Poor Tom Barber was less successful and he bowled four consecutive wides in his third over, leaking 37 runs from his three overs. That did not excuse the cruel abuse aimed at him by the un-intelligentsia who seemed to make up a large section of the crowd.

Stirlo too was taking a lot of stick as was Captain Morgan, presumably by the same people who cheer him on when he's England's white ball skipper.

Nathan, however, ploughed on unaffected by the crowd and he returned the fine figures of 4/23 from his completed allocation. He could have had a Pfeiffer but Tom Helm dropped a simple looking chance on the midwicket boundary, much to the delight of the baying crowd behind him.

So 173 was our target, but our regular falling of going too hard, too early was evident as Stirlo miscued the first ball of the second over to substitute Taylor and we were 5/1.

Eski and Simmo then made a good effort in scoring some quick runs off Walter and Dixon, with Simmo looking in much better touch than he had the night before.

However, when you have a bowler as accomplished as Mohammed Amir waiting in the wings, the fun was bound to end sooner rather than later. He induced a thickish edge from Eski who was taken by Taylor at backward point.

41/2 became 48/3 in the next over when Lawrence's first ball saw Simpson out LBW for 30.

We needed a captain's innings from Eoin to keep in the hunt and after a slow start, he kept the runs ticking over with George Scott playing the anchor role. He was the only man with the guile to be able to find the boundary in the middle part of our innings, and our goose appeared to be cooked when he was out for 37, caught and bowled by the frugal Ravi Bopara.

James Franklin, rather than Ryan Higgins, was next in and we were bogged down with our required run rate increasing steadily. Essex's bowling attack had a grip on the game which they never really relinquished until they were assured of victory.

Franklin's first attempt at an aggressive shot saw him caught by Harmer in the deep off Bopara. George Scott had battled away for 34 runs from 36 balls, but he found Amir difficult to get away, although he was eventually dismissed by Zaidi.

We were well and truly behind the eight ball now, although Nathan slightly marred Amir's figures by stroking his last two balls for four.

We needed 26 runs from the final over bowled by Walter, and despite some lusty hitting by Higgo, who finished unbeaten on 23 from 10 balls, we fell short by nine runs.

Overall, we produced a gutsy performance. We were by no means disgraced, but despite their poor campaign, Essex were a little too experienced for us and deserved winners.

Whilst we still have a mathematical chance of making the top four, only a supreme optimist would be looking forward to our possible participation in Finals' Day at Edgbaston in early September.
pqs: qs: