Can we ABU every week?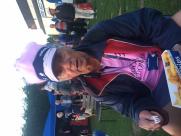 A Bu tiffal moment
By Barmy Kev
August 16 2017
Kev reports on a comprehensive win for the Midlle, with some compliments about Uxbridge with a reality check at the end
I'm at Uxbridge having missed all 20/20 matches at Lord's, I just don't like the crowds there where as I'm happy to support the outgrounds. This is a must win game against a team we have never beaten in this format after I believe 11 attempts, including a tie and a no result we should have won. This report is far from ball by ball commentary. I will try to capture some moments through my eyes that may have been missed by some. Meanwhile enjoy reading about a complete thrashing achieved by Middlesex.
So how did we get 161-5? This looks that looks at least 40 too short from past experience here and according to "experts" I met at change of innings 60 short. During our innings we were justifiably wondering why Simmo was opening and was out after 2 overs with run rate just over 5 an over? Eski who had a useful partnership with Stirlo to take us to 72 from 10 overs, but why was he completely ignored for our 50 over campaign? There were two quick wickets including Morgan out second ball not his best shot ever with usual "why did he play that shot " expletives deleted. There is the other matter of Higgins at 7 behind Franco that not even the maddest Middlesex fan can understand. It's gloom and doom at change of innings.
The Gloucestershire reply was never even remotely close.They were 29-5 from power play. We had 2 hat-trick opportunities. Hi Fi , hopefully not Lanky bound, was unplayable. The only concern was the rare Glous boundary affecting about our goal difference. We win by 61 runs. In the words of Seaxe Man "this is the end of our ABU Hoodo".
Checks on various electronic devices, confirm our goal difference looks good. A win at Glamorgan and Middlesex die hards have less than a week to prepare for trip somewhere North of Watford for 1/4 finals.
Putting this result to one side, Uxbridge did an excellent job hosting this event. The service at bar and food areas was friendly with staff smiling. Most in attendance around me knew what was going on and were watching game.
BUT. To put a downer on a good a day , I am reminded of our last CC result and some cracks in our current 20/20 set up perhaps paved over today. I just hope this result will kick start our campaign on both forms
pqs: qs: