That's that for another year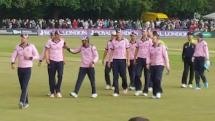 Not this year I'm afraid
By London Leprechaun
August 19 2017
London Leprechaun reports on our last T20 game this year via remote commentary. Along with the disapointing end to the campaign we get to sympathise wth umpires, get frustrated by radio glitches and end on a injury. Not a gret end to not a great few weeks cricket wise.
I spent the afternoon doing a volunteer shift at Trafalgar Square welcoming visitors. As the team leader I had the responsibility of deciding when we had to close, and then reopen, our information kiosk because of the rain showers that kept sweeping in over London from Glamorgan way. It made me sympathise greatly with umpires having to decide when rain has stopped, when might is start again and is it dry enough to get out there.
It must have been a tough job in Cardiff – one minute, BBC website, Glamorgan website and Twitter all say still raining which is no use to us as everywhere else is playing. The next thing I hear is a text from MTWD Kev to say we are playing but things are pear shaped. I tune into the radio to hear what looks like another short rain break but play about to start again. I gather it is 14 overs per side and we are already four wickets down. Which swiftly becomes five. BBC Kevin is joined by Mark Wallace who talks a lot of sense and Voges and Higgo do a rebuilding job – as much as you can in fourteen overs. There is a moment of possible controversy as Higgo hits the ball high – a Glamorgan fielder parries the ball back from behind the boundary rope and the infielder drops it. Sorry can't tell you who! The Middlesex bench think it should be six but they have only run one. Mark Wallace thinks the score might be adjusted. The rain starts again as the commentary cuts out at the point Higgo is out. Adam Voges continues to carry the innings: 50 out of 79 with two overs left..
There is a brisk little innings from Southee including a huge six at the end of the 13th over.
Commentary cuts out again for the 14th over so all I can gather from the website is that Southee is out. Commentary is back for a four from Tom Helm and a dropped catch. Followed by a run out of the last ball so Glamorgan need a 100. And it is still raining heavily. And as all the other matches are heading towards results it is not looking good. Yet again we are under par with the batting when we go first.
Glamorgan's innings starts without any adjustment. And not much alarm as they don't need to take any risks. They are well ahead with only three overs gone. Meanwhile Somerset have won big, so I think we are sunk anyway unless Glamorgan fall into a huge, huge heap. Radio soon catches up with this and agrees we are done for. Meanwhile Glamorgan are surviving run out chances, edges and all sorts but don't look likely to collapse.
Now one thing Middlesex have been good at all season is dashing our hopes then raising them again and Higgo all of a sudden gets two wickets in an over and Glamorgan are wobbling slightly. But still not enough for us now.
There is a bit of innovation as Paul Stirling comes on to bowl; radio cuts out again and comes back for me to hear about somebody injured – quite badly on their shoulder. Takes a while to hear that it is Ryan Higgins and radio Kev thinks a possible dislocation. All we, and him need. Hope that is not the end of his season; he is one exciting thing to come from this summer. Meanwhile Surrey have won as have Sussex and two sides are ahead of us on net run rate. We need a double hat trick to have any chance, despite Stirlo taking a wicket, as Glamorgan start to panic a bit. Why?
Kevin starts talking about the change in the net run rates as if they are election results with huge swings to Somerset and Sussex. It's time for the conceding defeat speech on this season. Which is a bit of a shame as all of a sudden Middlesex actually have a chance of winning the match. But then it sounds as if it has gone flat out there as the rain starts again; Glamorgan have gone ahead of D/L and the body language sounds as if Middlesex know that they are out. (Can body language be heard? ) Glamorgan go on a charge to win and ensure a home tie, which they do on a misfield. So that it that and of more concern now is the Ryan Higgins injury. It' s not a fond farewell to the T20 season.
pqs: qs: