From Champs to Chumps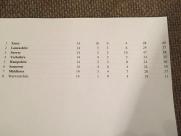 The table doesn't lie
By Barmy Kev
November 12 2017
This time last year Barmy Kev had immense pleasure on reporting on his perspective of the twists and turns that meant somehow we became County Champions. A year on we have a painful read on his view on how we managed to be relegated.
It is Easter I am away and not available for our opening fixture away against Hants. My view of this match is a combination of Ceefax and MTWD. Much of this game we were up against and on day 4 defeat beckoned. Same as previous season last innings resilience saved us. My thoughts were we have that championship winning spirit of never knowing when we were beaten and remained optimistic.
Then there was that Essex game. I turned up at Lord's day 2 after lunch for my first day of cricket 2017. We were in a dominant position and Essex looked ragged. With wickets in hand we had a good chance of a 4th batting point, but we did not pursue this with any intensity. At the time I was wondering the significance of this regarding our push to retain our title. We batted on and on. The next day again I turned up after lunch to witness Essex struggling with the bat. Once Essex are all out and dodgy forecast next day I couldn't believe we did not enforce follow on. What was more unbelievable we batted on taking time out of the game with target way beyond their reach? Essex fans left smiling and I amongst many other Middlesex fans were fuming. The inevitable happened at the close Essex were 8 wickets down with overs lost and loads of runs behind. Our tactics were dreadful, letting an easy win slip and was thinking this would cost us in our Championship pursuit and save Essex survival. Little did I know? Meanwhile there was a long break for our largely unsuccessful RLC campaign, which did not help me get over this.
We return to CC with home game against Surrey. I was able to watch this game in batches and we dominated. We were frustrated by 2 tons by Sangakara and the weather. We go into day 4 with a slight chance. I was not able to get to ground till 5:15 but left for Lord's with a possible target in sight. By the time I got to Finchley Road I received 3 texts advising to turn back, this is a bore draw I wasn't there so difficult to accurately judge our tactics but was disappointed we did not even make a reasonable attempt to win this.
The next game at home to Somerset, due to weather and a flat pitch had drawn written all over it from almost the start. It was at this point I was really thinking what a terrible season this has been on many levels.
We are now off to Southport. My first away trip a weekend away for day 2 and 3. Day 1 was not a good one for us. Day 2 was rained off and much fun was had amongst our masses in downtown Southport. Sunday we achieve 2 early wickets including Chanderpaul and we are back in the game. Then their last 4 wickets put on far too many with some poor bowling and Ravi being largely ignored. We collapse and are hammered. Our first defeat for a long time in a manner which now gives us a fear of relegation.
Next at home to Yorkhire.in scorching temperatures the first game I was available to watch from start to finish. What a pleasure it was to witness us thrashing them in every session, enforcing the follow on in 3 days. The nature of this win made us feel we maybe on a late run for the championship.
The following game against Essex we decided to bat if it is a 20/20. In reply Essex batted as if they wanted to bat forever. Ironically, my only designated day was day 2 which was rained off. With no more rain forecast and floodlights to cover this day/ night match we looked doomed. We then batted sensibly and last day at tea we looked safe. A combination of bad shot selection and very dodgy umpiring we contrived to lose right at the death. This was a painful defeat more so for those there who stuck this one out. Essex looked now set for championship and we are back thinking we are in relegation trouble. It was difficult not to think of home fixture at Lord's to add to our agony.
We are now facing Warwickshire the team everyone beats easily. I was able to see day 1 and the struggle to bowl them out. Thanks to Exki large ton we were level after 1st innings. I was on holiday receiving regular updates of this match, which was nip and tuck. My joys of Italy were being ruined as just as we looked on top then it swung the other way. Hearing that winning run by 1 wicket was greeted with ecstasy from my hotel balcony. The reality was we nearly lost to the worst team in the division an indicator of our true level.
We resume again in a middle of a disappointing 20/20 campaign and we have Warwickshire at home. Having bowled them out for 126 we seemed back on course. We did marginally better and had a lead in a low scoring game. Then the worst day ever. Warwickshire tail-enders were batting on and on and setting a sizeable target. With rain predicted the next day all we needed to bat two sessions. We couldn't even bat one. Against the bottom team this was a humiliation. I remember thinking if we go down we deserve all that happens to us.
We are now out of the 20/20 and at the Oval for "proper cricket" The first two days swung both ways with Surrey slight favourites. Day 3 rain meant this should be draw. However, day 4 at 94-6 with Compo injured possibly 7 down we looked finished. I witnessed the best head down batting of the season from Simmo, Ollie and Compo's bravery. After tea we are almost safe. It was case of few more overs and then declare and get our over rate down. Then that arrow landed. At the time my main concern was for everyone's safety. Once that was established and we headed off home with the game abandoned. I mentioned in jest to West Ham Tony the -2 over rate I bet we won't get them back. I couldn't believe it a few weeks later when I heard we were deducted -2. I then stated I bet we are relegated by 2 points or less.
The next game away to Yorkshire due to weather turned out to be a bonus point battle we didn't come out to well from, but could have been worse.
We then faced Hampshire at Uxbridge. Unfortunately, while play was taking place all round the country this pitch was unfit. We had the better of a bonus point battle, but we are still in the mire.
The penultimate must win game at home to Lanky. Losing four very early wickets and at 89-7 we looked doomed. A century stand between Ollie and TRJ got us out of jail. This was an even game on a low scoring pitch at Lord's, unheard of! We won thanks to Finn on fire on last day and an injury to Hameed, This result gives us a lifeline. There are mixed results from our relegation rivals, which generated various permutations.
We are heading to Taunton with our fate in our hands Four days I have set aside to watch this to the bitter end. It was not good news we struggled to get an early wicket and even worse news when Ravi caused them to collapse after tea. It was inevitable their spinners would destroy us and indeed they did. We were never in the game and main concentration for our survival was elsewhere. Sadly, we did not put up a fight the way we capitulated on the last day which was humiliating and awful to watch. The was some final hope Warwickshire would do us a favour butt his never materialised. We are down which was an incredible painful feeling which took me I while to recover from. The appeal of the Arrowgate points was meaningless to me due to consequences if this was successful.
Like with us winning the championship, there were some marginal matters that proved decisive. As I kept saying last year the table doesn't lie and the same applies this year. I just hope in a year's time I can write about our wonderful promotion season.
pqs: qs: