Close encounter of the ridiculous kind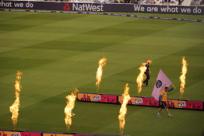 Almost gone up in flames
By London Leprechaun
July 14 2017
London Leprechaun reports on the latest close encounter for Middlesex: the T20 match against Surrey with a tale of twists and turns and digressions via the new Warner Stand and some thoughts about the extras we get at T20 matches. Enjoy if your nerves can stand it.
You know it is not a "normal" County match when …
There are ticket touts outside the Grace Gates
There is a queue at the Norh Gate back to St John's Wood
There are Lord's volunteers around
All the stands are open.
Pinky is wandering around
TV is all over the place.
So having actually made it to the ground early, like many others, we headed to the new Warner Stand to check it out. I think it looks good from many angles. I like the new roof – it reminds me of a butterfly wing; the view over the ground is pretty good; there are bars and loos on every level; the coffee is cheaper then elsewhere in the ground.
It's actually quite nice to be early for once; you get to feel a bit more of the atmosphere and anticipation. Though I am not convinced all the razzmatazz is necessary though the flaming entry was quite fun and did give the Surrey batsmen a chance to look as if they were in training for Strictly.
A new Strictly routine
Anyway I digress.
Surrey had decided to bat – we knew they would and we knew we wanted to bowl so I guess we did not need to toss, but at least we got to see one.
They got off to a flier not helped by an overthrow when a ball hit the stumps and flew off beyond reach. Which sparked the whole discussion again about whether the ball should be dead if it hits the stumps.. There were also a few edges that flew anywhere . Twenty odd runs after two overs did not bode well. But once Sibley was caught, Surrey lost wickets regularly enough to keep things in check. It was good though to see Sangakarra in full flow – he is one of those batsmen you cannot help bur admire for all sorts of reasons. Though he did look a bit like taking the mickey with his continued scoop back behind the wicket! Meanwhile as he held the innings together, our bowlers managed to create a very unusual looking scorecard. Six wickets clean bowled; four of them of the first ball of the over and no outfield catches until the last overs of the innings. Bowling straight can be good! Taking pace off the ball was also good. The scoreboard was helpful on this –it was showing the bowling speed.
Bowling speed was useful especially when we started bowling Surrey batsmen.
At this point my camera battery died on me so the rest of this report is I am afraid picture less. Though that may not be a bad thing given the bizarre Middlesex innings. It all started so well. Dawid Malan in prime form, Paul Stirling with a brutal cameo got us off to our own flier before he was first out. Then our new skipper was out to a very athletic catch by Sankagarra, and Mala went to a good low catch by Pope. Low enough to be reviewed by the umpires but thankfully that was done quickly without endless replays that just confuse the issue. But, with,sensible batting by the next two of our many captains to bat: James Franklin and Moggy we worked our way to cruise control. We did not need to take on Gareth Batty – Surrey's most dangerous bowler; we had seen of the potential threat from Rampaul; the Currans were not especially difficult. So with five overs to go, seven wickets in hand and twenty six runs to get, what could possibly go wrong. Well taking on Batty to maybe try and get the match over quickly made things go very wrong, as first Moggy and then Tim Southee were dismissed with soft shots. Now I can see wanting to get the net run rate going in our favour – something we have not been good at. I can see sending in Southee to try and get it all done and dusted quickly. But when that failed and Batty could bowl no more, all we needed to do was pretty much get them in singles. So there was no need for Ryan Higgins to try and hit successive sixes and fail with the second one; there was no need for James Franklin to try a big swish; there was no need for . . . . . You get the drift. And so it came down to six wickets gone for twenty runs, and Steve Finn striding to the wicket with just six runs to win. What price the tie thought we given recent events.
First ball – an almighty appeal from Rampaul for LBW. Given by the Sly commentators when I watched the replay; not out said the Umpire and later Hawkeye. Next ball edged by the pads for four legbyes. Next ball somehow thrashed for four by the Watford Wall and lots of relieved celebration. Definitely a win snatched from the jaws of victory. But also the kind of match that the new city T20 is not going to emulate. It did matter to most of the people there tonight. And even the people behind us who were not especially supporting either side understood that it mattered and that was why the finish was so spectacularly entertaining. Middlesex definitely do not do boring. And in that context you realise we do not need the side shows that go with this kind of match: the flames; the music; the zooming in on the crowd; crowd competitions and presentations that actually held up play. Today the match was actually enough in itself.
But it would be nice to have a match soon that goes our way without the heart stopping nerves. And one final thought: in T20 every run really does count. It would have been less heart stopping without the overthrows that went for four; and one or two unnecessary wides with sloppy bowling rather then harsh calls.
pqs: qs: