Battle of the Fab Fours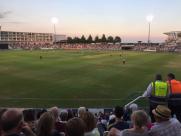 We lost here again
By Seaxe Man
July 15 2017
Seaxe Man gives us a succint report on a painful evening at Southampton with a chance encounter and a bit of a look ahead. Not much more to say really!
Weather and Travel.
The weather was set fair unlike the lighting maintenance near the M25 Junction at Uxbridge. Walking pace for 20 minutes. Thereafter ok until Southampton Airport where a bloke had played bumper cars with a lorry. He lost.
The match.
A goodish crowd 9000+ which is the most I have seen at this fixture on numerous visits.
Hampshire won the toss and Vince opted to bat. I had run into Don Shelley walking round the ground. He informed me that Rojo replaced Finn. from the previous match. Higgo was declared fit after cutting his hand. A bloke who sat next to me told he was Ryan Higgins brother. I could see the likeness.
He asked a few questions about who was playing and was there a super over. I said not in zonal matches only the knockout rounds.
The pitch looked a decent batting track. Vince steamed into our pace attack and though a wicket fell at 37,. He had scored 34 of those runs many from off driven fours. Vince was out in over four. Rossouw and Carberry carried on. There was a valiant effort by Mac to catch Carbs to no avail. Mac decided to take pace off the ball and introduced Stirlo to bowl over 6 the last Power Play over. He conceded only 5. At the end of the PP Hampshire were on 57 for 1.The second over of which went for 14, thanks to Vince and was the most expensive.
In overs overs 7 to 20, Carberry dominated proceedings, eventually falling for 77 bowled by the Tank. Rossouw was the next to go at 85 caught off Nathan Sowter. Gorgeous George joined Carbs and he also slapped it around. He eventually fell for 28. By that time Hampshire had a defendable total on the board. After his wicket went down at 166, a bit of a collapse ensued as their late order batsmen gave it the lash. With The Tank picking up 3 wickets in over 20.
After getting tonked at the start, Rojo picked up 4 wickets and The Tank benefited with 3..
Middlesex Innings.
In the first over Stirlo carted Topley over cover for a 6. However, in trying to hit Abbott for six in the next, he was taken on the boundary by Carbs at deep mid wicket. So, 7 for 1. The first of the Mx Fab Four to go. The second was Brendan for 10 when he was taken by an outstanding catch on the edge of the circle by Rossouw. Another couple of inches higher to beat his outstretched hand,. and it was 4..20 for 2. Mala was taken by a sharp caught and bowled by Berg for 3. 29 for 3 and we are in deep stuff.
In over 4, Tank ran himself out looking for an optimistic single. Never on with a direct hit. 36 for 4 and the home crowd were humming. At the conclusion of our powerplay we were 41 for 4 compared to their 57 for 1.
Overs 7 to 20. Morgs went for 23 with a lofted shot which did'nt have the legs. 56 for 5. The Hogs were very happy.
Higgo and Trj went rapidly so 74 for 7. We generally found Mason Crane to be a mystery as his figures of 4-0-15-3 suggest.
About this time, his spell ended and John Simpson and Tim Southee saved our blushes with an unbroken 8th wcket stand of 86, likely a T20 record for Mx versus Hampshire. It also assisted the runrate which had been in dire straits. Southee's knock I presume had been hoped for against the Mexicans the previous evening. We were beaten by the better team.
The Conclusion
Hampshire, on paper look strong and were so on the pitch. Like us, Vince, Rossouw,, Carberry and Bailley are their Fab Four. They delivered 169 in this match. By contrast our Fab Four, yet to fire, delivered 42.
The future
So onto Uxbridge and Richmond to face Somerset and Kent.In footie parlance, must win games. Get along and support the lads.
Good to see at Lords that both matches were advertised on the big board. A step in the right direction and also Merchant Taylors were advertising themselves for new pupils.
pqs: qs: