Sidebottom stars for Bottom side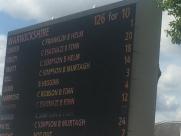 Looks good for us
By Beefy Roberts
August 6 2017
Beefy deputises to report on a eventful day with loads of wickets with more puns than runs.
I find out I'm reporting just after noon today. Warwickshire, not Birmingham are 57-3 once pen and notebook were to hand. At 11:30 they were 7-1 from 6 overs. Batting obviously not going to be easy today. Voges not playing, whisper is due to tweak picked up during warming up, session.
It's soon 61-4; ding dong Bell out for 14. Lamb minted 61-5. The Rabbit on debut bowls economical over just before lunch. I head for beer festival in Harris Garden and Kev rejects my company as he opts for Seaxe Box party.
Straight after lunch Finn 68-6 creams Ambrose. I return from a call of nature and "That's all Woakes" caught at slip by the on fire Finn who twice needed physio attention, thankfully nothing serious.
Barker has gone leaving his bat Open All Hours caught behind again off Finny. Warwickshire are all out for 126. A better score than Yorkshire 3rd X! who are all out for 113. Around the country scores are low, can't think why, just after loads of this 20/20 stuff.
Our openers are quickly removed. Ryan Sidebottom from Victoria looks lethal. I hear from my seat in Warner Stand Kev in Upper Compo shouting "where's your poodle hair" We seem to be recovering until Eski went for a suicidal run called back. At tea 44-3.
Victorian, not veteran Sidebottom snares Simmo 46-4. just as Leeds score against Bolton Compo is c&b Wright. 56-5 Higggo takes a blow on helmet retires hurt. Rabbit is bowled by Victorian Sidebottom-59-6 Higgo back-retired hurt for not very long. There is 50 partnership with Franco who I'm sure he was originally competing for place in our side.
Can we make a batting point, perhaps we are a bit optimistic, and we make it to 161 all out.
5 overs left. No wickets, this is now a one innings game with rain interruptions. Plus an interesting Wednesday regardless of what is happening cricket wise.
pqs: qs:
Sidebottom stars for Bottom side
Posted by: Middlesex till we die (IP Logged)
Date: 06/08/2017 23:22
What do you think? You can have your say by posting below.
If you do not already have an account
Click here to Register
.
Edited 1 time(s). Last edit at 2017:08:11:10:26:02 by BarmierKev.
Sorry, only registered users may post in this forum.