Weather or not we'll save this match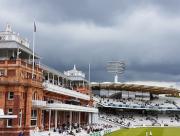 It got a bit dark
By London Leprechaun
August 7 2017
London Leprechaun reports on a day which could have seen the match all over, but instead has ended in the balance and a reminder that it went to the wire last time we played Warwickshire. Hold your breath for tomorrow.
Having made the mistake of updating my phone because it kept nagging me, and therefore needing to stay at home with good wireless connection, my intention of being on time was a bit delayed. So when I got out of the Tube I was hoping my newly regenerated phone would be full of wicket notifications. Sadly not as the only wickets to have gone early were at the Test Match.
Having also forgotten about the bus diversions between Baker Street and Lord's, I was anticipating a long slow drive to Lord's so had the commentary all ready. In fact the journey was fine and even produced a wicket as good old Murts made the initial breakthrough. Only problem was that they said it was raining and the bus had its wipers going.
But at Lord's there was only a little rain and to make things even better a green zero on the over rate. There was even talk of trying to get the match all over today with dire weather warnings all over the place for the next two days. But that did not last long. Warwickshire were digging in, Trott was being Trottish and the Lord's wicket seemed to be settling back to its normal sleepiness after the madness of whatever happened yesterday. It took the live wire bowling of Ryan Higgins to suddenly turn the morning session our way with three quick wickets just before lunch. First bowling Umeed with a very delicate ball that just clipped one ball, and when Bell and Trott fell quickly the morning session turned our way. Lunch was definitely better after that as the very full beer festival seemed to prove.
But the afternoon turned frustrating. Although we got Ambrose early in the afternoon that was the only success. Lamb looked a good prospect, Woakes of course, was stubborn. Our bowling seemed a bit samey and lacking inspiration; there were just a few too many down the leg side, fewer and fewer balls beat the bat; the odd chance beat the bat but dropped short; our over rate dipped to minus one, and we all puzzled as to why Sowter did not bowl as the Warwickshire lead began to stretch beyond annoying to worrying. Apart from mumbling about Sowter, talk turned to comparing various weather apps as to when the rain was coming. It seemed to be stuck on the A40. Then there was the news from Scarborough. Maybe whoever beats Yorkshire at Scarborough then becomes County Champions.
Finally Sowter got to bowl just before tea but it was down to Higgo's nagging bowling to get Woakes, thanks to a sprawling catch from Murts. Then the new ball got some order back, although Barker was being doggedly positive. Fortunately in some ways a big black cloud appeared from the direction of the A40 and we came off before we had to worry about weathering a few awkward overs tonight. Though there is the small matter of taking two wickets quickly tomorrow and then getting more runs then feels comfortable, all before the severe weather alerts kick in. Or not. Could be a nervy day again. Shades of Edgbaston in the dim distant days before T20 took over.
pqs: qs: