I predict a Roy it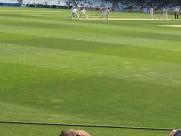 Wicket please
By Barmy Kev
August 30 2017
Barmy Kev reports on a largely frustrating day with a happy ending with some side conversations thrown in.
Today I'm on way to Oval for a crucial day for us. I make every effort to ensure I make start of play. A biq queue is always healthy to see at County Cricket but meant I miss the first over, which was no big big deal. What was worrying seeing night watchman Meaker hitting boundaries off of TRJ ( 3 in a row at point) and Hi Fi with ease. Meanwhile Brothwick is in his shell.
The 2nd hour was attritional with wickets unlikely and runs hard to come by. The highlight of the session for me hearing ball by ball commentary about Posh Margaret's planned winter cruise this year. After 1 hour and 50 minutes Brothwick is caught behind. With slow scoring 88-3 ( I think) match still in balance at lunch
Straight after lunch Meaker out from his first loose shot caught behind for 42. What followed was painful as Foakes and Roy take game away from us scoring freely. Roy hit 2 successive 6s off of Ollie one to follow a few overs later. Ironically just before tea he was out caught mid of from a Voges pie of ball when a ton looked liikely. During this partnership our conversation was about trips to Derby , Leicester, Glamorgan next year. The only positive was I was able to finish off Posh Margaret's cryptic crossword. The session was worth 150-2 far too many runs and a Surrey fan said to me our bowling was dross, which I couldn't argue with..
After tea the temptation of beer wine festival was too much to resitst and were certainly in no hurry to return to game. On way back I saw Gus who understandably looked exceptionally grumpy , was polite enough to acknowlege me but was in no mood for a conversation. I missed Foakes plum LBW. I saw the rest of a Sorry collapse from 231-4 to 280 all out. This was under floodlights, they would have been off at Lord's. The classic moment was when I showed QPR Chris my walking cricket innings "You Tube " video and straight after Rickety Clarke was out for a shot that made me look Bradman esque in comparison.
I was thinking how this situation is promising depite defecit. There is a little matter of we have to bat again. We survived comfortably to close at 15-0 just 18 behind, 8 overs early thanks to bad light under floodlights. Despite being mostly a bad day we are still in promising postion in a game that will be rain effected.
We were able to see at Beehive West Indies cruise to a comprehensive win much to our joy and most of pub. That declaration highly questionable. We also helped Posh Margaret celebrate her birthday. An ABU birthday to you Margaret,
pqs: qs:
I predict a Roy it
Posted by: Middlesex till we die (IP Logged)
Date: 30/08/2017 09:08
What do you think? You can have your say by posting below.
If you do not already have an account
Click here to Register
.
Edited 1 time(s). Last edit at 2017:09:04:09:07:55 by BarmierKev.
Sorry, only registered users may post in this forum.