We are Doomed. On the Other Hand?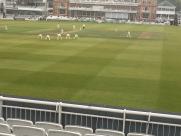 Pressure on
By Barmy Kev
September 19 2017
Barmy Kev reports on his views of a crazy day as Middlesex fight back from a desparate situation.
Due to personal circumstances I was unable to make it to Lord's before lunch, but I was trying to follow this crucial game remotely. Our team selection was exactly what I would have chosen. fair play to Franco dropping himself. I was perplexed we chose to bat under from my view of Edgware cloud cover. Obviously Lanky wanted to do the same. This all difficult to understand.
i'm at home, before I had a chance to tune in to any feeds of game I received an instant message "0-1 . Going Down Going Down." This was from a Middlesex fan Bazza. My first exposure to commentary was before we reached double figures a run out if it hit. Robbo was out 2 balls later. I had a short break from commentary and a text received from West Ham Tony we are 25-3. Back to radio another wicket a minute later. This was relief as was the same wicket that had a delay before it reached me.
I needed a break from this and walked back in room we are 37-4, it was 28-4 at one stage. The commentary said ball was moving all over the place and every ball appeared to have a wicket written on it. So WTF did we elect to bat? We survive to lunch and I am thinking we are still in game. It looks like a draw already at the Oval as I last saw Somerset 84-0. I have already given up on Warwickshire doing us favours.
While on train Lord's bound we lose 3 quick wickets we are 80 something for 7, with only consolation Somerset now losing wickets at a similar rate. My aim was to make it to the ground with us still batting. Meanwhile, West Ham Tony sends a text saying "Que Sera Sera wherever we'll be we'll be we're going to Hove for Tea". I hear Posh Margaret was talking about new grounds in the 2nd division she would love to visit.
I arrive at Lord's we're still 7 down and pitch seems to flattening out as this TRJ and Ollie stand grew with consumate ease. The bore draw I predicted, hmm at Oval Somerset are 6 down. Warwickshire are recovering against the Yorkies. The final relegation place is now up for grabs
It's 191-8 with TRJ given out LBW that looked dodgy , no referrals for him here but a crucial century+ stand achieved. The Watford Wall is dropped first ball. We pass 200 achieve a crucial bonus point no one expected us to achieve. We certainly would have settled for our eventual of 233 all out.
Lanky reply. TRJ's first over Davies is dropped behind, next ball one fell short just in front of 2nd slip. 22-0 then successive balls TRJ, Murts 22-2. Could have been 3 down but umpire had back turned to what looked like a run out. A call of nature for me it's 40-3, well bowled Murts. 58-4 Livingstone I presume giving catching practice. The crucial one Chanderpaul caught at slip 95-5. Just as feeling optimistic again TRJ walks off injured with side strain, hope nothing serious. Lanky close 113-5, match in the balance.
Players Sponsors party that followed which was low key understandably. One of our Moderators won a prize that is in safe keeping to be claimed. I'm happy to lighten the load for it's journey home.
Meanwhile it's between one out of three. Us, Yorkshire and Somerset. We are playing one of these teams our last game. It's going to the wire. Where have I heard this one before?
pqs: qs: