Kev and Middlesex going off the Rails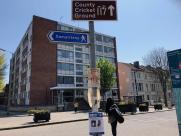 Which way should i go?
By Barmy Kev
May 6 2018
Barmy Kev reports on troubled journeys for himself and maybe Middlesex.
Today I was emotionally distraught about Barnet's relegation from the football league. Those who know me well will understand why. I was hoping a day at the cricket could offer some consolation.

The journey was an hour and half longer due to engine earring work. I caught a shuttle bus from Gatwick to Three Bridges that felt like cattle class. This frustrating delay gave me the opportunity to complete a study assignment I had been putting off for ages due to mainly sporting distractions. However, I would have liked to see Malan and Gubbo making shed loads of runs. I arrived at Hove thinking the Ages Bowel is a good alternative as venue.
Our score on arrival was 148-2, Gubbo and Mala survived to lunch despite some fiery appealing. You have to hit it before you are given caught out.

I needed refreshment at Sussex Cricketers. They must have read Rogers and Out report as two bar staff rushed to serve me.

After lunch Malan got his ton. Then there was 200 partnership, followed by Gubbins ton. The talk from Dingy and me was about a possible declaration, tomorrow just before lunch and a bore draw. We should have known better.
The time was 14.57 the first wicket of day Gubbo out caught at short leg. This was the end of massive partnership worth 234 from 9-2. One leads to two Malan soon out stumped way going way down. Cartwright quack quack on what seemed like a bump ball, need to see that one again. Declaration talks a thing of the past. Fortunately not a pack of cards/ domino collapsing we survive to tea 5 down with game in balance.

After tea we are steady, 50 partnership well-played Holden/Simmo. Dingy Bags moves to the deckchair end and I say I hope this won't cost us a wicket.
Scoreboard looking good for now
Minutes later Simmo and Holden off stumps go flying with little added. Harry LBW soon after although announced caught behind. Dingy please comeback and can't repeat the exact wording of text sent. The lead is now 210-8 are you keeping up? Call of nature from me Ollie out. The most stupid run out Barber to end our innings.

The Target is 230.Murtagh and Harry opened the bowling. Two early wickets for Harry with another superb slip catch from Ollie. A tough dropped caught and bowled missed by Murts. Barber is improving he made batsmen play twice from his one over.

Long journey home with the return trip no easier. At Three Bridges nobody seemed to have a clue about shuttle service. At Gatwick I caught the Gatwick Express that crawled not sure if was meant to be on this train for my ticket.
All change
Too much for me to return tomorrow but my thoughts will be with the Middle. Just hope unlike my journey and Barnet F.C.Middlesex don't go off the rails and stay on track.
pqs: qs: