A Briggs to far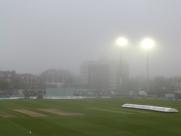 We needed this today
By London Leprechaun
May 7 2018
London Leprechaun wisely decided not to try travelling to Hove today and gives us this short report based on the radio commentary. Not pretty listening but some unusual diversions on the way - more entertakining than rail diversions for sure
This is a remote report as I decided against travel to Hove after hearing the horror stories of travel there yesterday. Amazing how closing a short stretch of railway line on the hottest weekend of the year can cause such chaos.
So my view of the last day is a radio one; not being willing to pay for the live stream. Not a good PR move by Sussex I am afraid as I am sure most people are not likely to be sitting in front of a static camera view all day unless of course they are travelling to Hove by train. My alternative view point was strolling round the Queen Elizabeth Olympic Park.
We really needed early wickets today but they were not to be. The pattern of the match whereby the new ball did the damage was not repeating itself this morning with a newish ball and Sussex seemed to be batting with a positive mindset. Briggs was being an annoying and capable night watchman and Sussex seemed to be scoring freely. The target was just that bit too low for our comfort.
It all seemed to be a bit too easy; you can tell when the tension has gone out of the match when commentators start talking about random things other than the cricket itself; today it was the merits of going vegan, Sussex members living in Scotland; that new competition starting in 20/20; (I refuse to give it it's ridiculous name) and how the twitter of birds song was nicer then the noise from the seagulls. It came as a bit of surprise then when Briggs was out; a wicket from nowhere, as Ollie was bowling not long before lunch. I had to leave the commentary for about twenty minutes and was pleasantly surprised to see two more wickets go quickly as Hilton Cartwright at least proved his worth as a bowler and even trapping our nemesis Luke Wright first ball. When James Harris then nipped another wicket just before lunch it was suddenly game on again.
Sometimes in cricket intervals come at the wrong time for one side and lunch may have done that for us. The momentum had swung our way but Sussex got the chance to draw breath and regroup, and after lunch they played steadily and sensibly and inched their way to the target that was just a bit too low. My phone battery gave up at this point, along with my hope of winning, so I missed the final run and don't quite know why Malan bowled, but the seventh wicket was too little too late. Our lack of batting points along with two defeats has put us on the back foot in this Division. Promotion is not a shoe in especially with an extended injury list.
pqs: qs: