Guten Morgan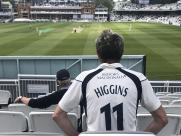 2 sides to Higgins
By Barmy Kev
May 12 2018
Barmy Kev reports on good day for Middlesex with his usual asides
I enter the ground for mandatory bag and body search. Wearing my Middlesex Till We Die jumper and Three Seaxes on my coat was I asked by the friendly steward if I was a Middlesex fan.

I arrive on time for first ball appalled to hear Max Holden had been dropped. This view resonated round the Upper Compo and has put a lot of pressure on the guy who replaced him. We are batting due to in my opinion a surprising uncontested test ( or in words of announcer an uncontosted tess). There were a flurry of early boundaries which were greeted by screeches from school kids in the Lower Compo. 50 bought up at virtually a run a ball. Apart from possible two run outs both batsman looked comfortable. The comment of the morning. Dasher Denning Somerset fan said was off to see them at the Oval. Glous fan Lord Powell asks who they were playing?

At 12:20 Hackneyshire suggested it was wine o'clock and this bought an immediate wicket. of Robbo for a composed 36 We safely negotiated to lunch without any alarms. I met up with some MTWD regulars for the duration and toasted our friend Diamond.

We were steady after lunch. Eski was out to juggling slip catch for 31 but at 165-2 this still looks good. With Gubbo on 99 everyone in our vicinity was banned from the bar ,toilet or moving from their seat. Inevitable happens he is caught behind not adding to score. Biggest cheer of day Moggy first shot not a reverse sweep a solid forward defence. Another run out scare but they missed stumps for 3rd time. Englands finest Mala and Moggy see us safely to tea. I overheard a comment "it was a shame Robbo did not get one more run".

The big partnership between our two international players was thriving. Are rare moment of a 3rd bonus point was celebrated. It ended Mala plum lbw with one kept very low. Cartwright's batting average was more or less the same by his duck.

It had to be Higgins who had Moggy LBW just before close for a masterclass 76. Meanwhile I'm happy with 356-6 . We have a good chance to achieve max batting points.

I attended sponsors party after a drink at tavern. My arrival coincided with players leaving. Nothing personal.
pqs: qs: