Not ConVINCEing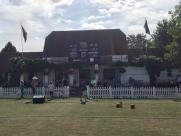 should have kept raining
By London Leprechaun
May 31 2018
London Leprechaun gives us a remote view of a match that unexpectedly took place but maybe wold have been better if it hadn't. Well done to anyone who made it. We also see the hazards of writing reports at home.
Felt a bit guilty today having given up going to MTS after yesterday's downpour especially after hearing other supporters were braving it. Must say I was pleasantly surprised to hear that play was starting on time, but I salved my conscience by doing some needed household stuff.
It was also slightly surprising to hear that we were batting first but we have won all our matches this year defending so maybe setting a target will be OK.
Batting does not sound easy; the outfield is clearly slow and it looks like boundaries will be rare. So we needed to keep wickets in hand and get runs in ones and twos rather then big hitting. We were not helped by the two openers getting out to unnecessary shots – especially Stirlo, trying to repeat a six hit next ball. From then on in we seemed to have solid but unspectacular batting all the way through. Eski and Max Holden batted well with some assertive boundaries but wickets fell regularly as soon as anyone really started to push the pace. Definitely not a 300+ wicket.
I also discovered that, as the match was on proper radio, the commentary was ahead of the live stream. This meant that I could listen to the commentary and then actually go onto the live screen and see the good shots and the wickets. Handy. And well done to Middlesex on getting a live stream going at an outground.
We ended up with a score that was difficult to tell how good it is, but felt even on this wicket and outfield slightly below par. We needed to bowl and field well.
Hampshire seemed to start well and were getting early boundaries. It felts a bit like the Essex game at Radlett. We got an early wicket but Hampshire were being positive and scoring quickly for this wicket: too many boundaries and good running. Our opening bowlers may be too fast!!
A second wicket gave us a bit of hope, then I managed to miss an injury to Hilton Cartwright on the commentary and the live stream. That may be an issue for the bowling.
Hampshire sounded relatively comfortable; Vince played very well and the scoring rate not an issue. We needed wickets.
There was a sharp run out: will that change things? Then another quick wicket and the scores are level at this stage. False hope? A fifth wicket put it firmly back into the balance. The Hampshire commentators are nervous – remembering how they blew a winning position against Kent. Probably the only reason they think the match is tight. But the Hampshire batsmen had the right approach and with a blitz of positive batting took the match right away from Middlesex. A ten run over followed by a eight run one put the match beyond doubt and in the end a winning six made it look easy for Hampshire and dented our run rate. A similar defeat as the Essex one in a way: batting falling short and early hope coming to nothing. But from the commentary the bowling was better and the fielding sounded excellent. Onwards and upwards to Surrey.
PS any typing errors in this report are entirely down to my kitten helping me write this. I would have uploaded a picture but the system won't let me at the moment.
And thanks to Kev for the convioncing headline.
pqs: qs: