Middx Show Nerves of (Cameron) Steel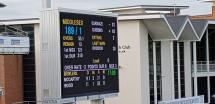 Parity
By Beefy, Dingy Bags, Rod Ed
September 26 2018
We again have a trio of reporters describing a great day of Middlesex fighting back. Also our friend Diamond is remembered.
Beefy Roberts
Ground arrival and Vic invites us onto the Durham pitch whilst both teams warming up, us trying to avoid flying cricket balls
Chatting about all things cricket we also manage a quick chat with the legend that is Paul Collingwood one of my present day heroes.
Early wicket for Bamber as Poynter is caught behind for 26. A Diamond wicket as Andersson takes wicket of Wood for 10. Harte reached 100
Rod quote as we discuss our new club Laws, saying 'we might get Hilton back as a coach!!!!.
New ball and in second over JK gets a wicket as McCarthy is bowled for 13. Durham reach 300,the lead growing to 183.. Finally Harte is caught by Eski off Murts for112. Rushworth out for golden duck. Durham end on 310 all out. Murts 4-56. I'm sure Diamond would of enjoyed Murts bowling today, but no idea what our mate would say about our 1st inns!!
One over before lunch, as we see Gus talking to Jonno on the players balcony Collingwood walks out leading his team with the umpires for last time. Rest of Durham team stay back and let Colly have a solo walk, He turns and holds arms out!! A true cricket legend.
Dingy Bags
Middlesex continued to compete in the afternoon session, which was a huge relief to those of us rather keen on avoiding a two-day finish. Against a variety of right arm seamers and a few pies from our own Cam Steel the sense of nervousness disappeared quite quickly. Sam has looked in good nick to me for a while and continued to do so. But then the inevitable happened. Colly brought himself on to yet another ovation from the loyal and knowledgeable crowd and soon bowled him all over the place. Even from a Middlesex perspective it was good to see. One wicket only in the session.
Rod Ed
After tea Gubbo and Eski both scored freely but once Gubbo was on 49 Durham bowled wide of his off stump to a 7: 2 field. His runs dried up for a while and Dingy had to break protocol and leave his seat for a comfort break. No harm done and he was back in his seat when the 50 came up to rapturous applause from the Durham boardroom aka the Middlesex Room.
Eski had no problems in scoring quickly, with an especially brutal square cut off Wood. He had now overtaken Gubbo and the 100 partnership was reached,at 156-1 and again the boardroom erupted. What must the home fans thought of their own boardroom vociferously cheering the away batsmen !
Wood was still bowling aggressively, but runs were coming easily, and the over rate was minus 2 . At this point Durham turned to their centurion to bowl. Was this an increasing Harte rate!!
With Eski on 96 a few on the Middle faithful charged their glasses and went on to the balcony in anticipation. Big mistake. He holed out at mid wicket and left the field with his head in his hands, but to more rapturous appreciation.
Mala came in and looked in sublime form reeling off several sumptuous cover drives. Colly bowled the last over during which Dingy announced he could pick his slower ball from his vantage point. Yet another four from Mala made it 255-2, and a lead of 66.
A good day on and off the field. Thanks again to Vic for his hospitalty and also Diamond's family for making the journey.
It being my last day of the season I must thank all Middle members who I have shared company
pqs: qs:
Middx recover after early Colly wobble
Posted by: Middlesex till we die (IP Logged)
Date: 26/09/2018 09:30
What do you think? You can have your say by posting below.
If you do not already have an account
Click here to Register
.
Edited 2 time(s). Last edit at 2018:09:29:19:24:32 by BarmierKev.
Sorry, only registered users may post in this forum.