Middlesex Has Been HAMmErED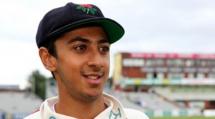 Rejuvenated
By Dingy Bags
April 12 2019
Dingy Bags reports live on a painful day for Middlesex.
Middlesex v Lancashire Day 2 LIVE
So, after another batting collapse and another disappointing day, we arrive at a freezing Lord's to see what our bowlers can do. But first we have one wicket left to see if we can secure a second batting point, with men at the crease who can point to first class tons and test match fifties.
It only lasted 20 mins but it was fun. The second batting point was comfortably achieved with some agricultural blows mixing with lovely shots until Toby smacked one to cover.
When we bowled, it wasn't until Tim's fourth over that he conceded any runs, two boundaries to the apparently rejuvenated Hameed (It is a long time until the Ashes), but runs were coming too quickly off Toby, although there were edges and plays and misses too. The bowling changed and Finn bowled with real aggression but Harry's first over went for sixteen. By lunch it was 88-0 and looking ominous.
Eventually Jennings got a nick through to Simmo off Harry but Hameed continued to bat as if the previous had not existed which, come to think of it, would suit us, as well. It grew colder and we had to leave the Warner and seek the warmth of the Middlesex Room. The over rate had been -1 before lunch but was returned to 0 afterwards. By 3.00 it was -2. Some things never change.
As ever, it was Murtagh who rescued things a little bowling both Guest and Maxwell (for 1). At tea he had 2-19 off 13overs. Hameed continues to impress and at least at tea we had evened things up a little.
Shortly after tea, Hameed went to a well-deserved ton in the grand style, hooking Toby over Finn's head at long leg for 6. Perhaps we were witnessing the restart of a fine career. Runs continued to come at quite a rate, even as the lights came on. I do not like watching from behind glass so, for various reasons the watching was not enjoyable, even with a nice spell from the skipper that got us next to a green zero...but we had had an interval so perhaps we had help from above. It grew darker and Malan returned as our four man attack flagged. He bowled ok, 6 overs for 15 at one point, but it was unclear whether he was on to take wickets, to get the rate up or just to rest everyone. Looking at the scores up and down the land, the slight changes to the balls in use might be having an impact. Some counties might have to rethink their selections, including ours.
Eventually, Hameed hit one back to the skipper who dived to his right and caught it. 231-4. To me, it just emphasised the need for a front line spinner in a 4 day side. We took the new ball pretty much as soon as we could, hoping once more that Murts could do the job, but 250 runs was on the board by now and Jones had his fifty up. Shortly after our senior seamer's figures were 20 13 23 2. Enough said: i am losing the will...Bad light cost a couple of overs. 267-4 at close.
A long break now for 50 over stuff – enjoy this while we all can. But first we need another rescue act.
pqs: qs: