Middlesex can't Keep Up With The Jones' batting.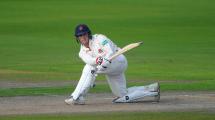 Our nemesis
By Middle to West
April 14 2019
Middle to WEst makes his debut report. We hear about his park run, choice of beers and another largely depressing day for Middlesex
Each and ever aspiring cricket writer has but one dream; and that dream is to be asked to a report on a game from The Home of Cricket. Not the enviously titled "People's Home of Cricket" located somewhere south of the River but the proper one, the wonderful stadium in St John's Wood, that iconic ground not far from the zoo, the ground with bugger all decent pubs or bars nearby. So (I don't understand why so many are averse so starting a sentence with 'so') you can imagine my delight when Kev asked me to do a report on day three of our promotion tussle for MTWD. My chance to follow in the footsteps of Arlott, Cardus, James, Dobell et al. So here goes. I wonder if they ever told a member of the Lancashire coaching staff to bugger off?
One needs a sharp and healthy mind to compile these reports and that demands a healthy body. And so, once I'd checked pencils, notebooks and trilby with the little bit of cardboard saying press, I started the day with the Finsbury Park Parkrun. I finished 435thout of of 458, thanks for asking, but let's move on. I was confident that we'd take the last six Lancashire wickets in the first hour, maybe concede a first innings lead of twenty and then be around 230 ahead by the close. The only ponderable was whether we'd declare before or after lunch on the last day. I was staying just off Whitehall so set off in such time that I'd get to the hallowed ground just in time. But then it started to rain so I popped into the Harp. It's not what is was under the wonderful Binnie, but they still serve a decent pint. When it stopped, I realised I had missed the start of play so I set off for the ground. But then it started again and I had another pint. The morning session was gone. So too, I suspected was my journalistic career.
I know that's a load of inconsequential waffle but it spared me thinking about Rob Jones' inevitable century and the prospect of Dane Vilas following him. In the end I got to the ground shortly after Vilas was out. The aformentioned Lancashire coach, Mark Chilton, later told me that Vilas reckoned he'd got a bottom edge on it but he accepted it as just one of those things. Jones' century was different to Hameed's as he doesn't have all the expectation surrounding him. There's no serious talk of an international call if he regains his form of a couple of years ago. With all due respect, he's just an average county cricketer with an average career ahead of him. But, that said, it was a fine innings that he had to restart several times against a fine (if somewhat samey) attack. I saw his dismissal from the Bowlers' Bar (why did I bother? Pedigree is only slightly less dull than Doom Bar) but legged it to the Long Room to join in the applause. Jones (what a fine surname) looked a bit bemused and embarrassed by the reception - I guess it's not something to which he's accustomed.
Dulce et decorum est was it that Tim Murtagh got him out. Once again, the Lambeth Lara was head and shoulders above the rest of the attack. If it weren't for the fact that he must have a picture in his attic, I'd be worried about that we'll do when he retires. Maybe Harris will fill the gap? Anyway, enough of those frightening thoughts. He had control, consistency and no little pace. Wonderful. When Jones was out, I wasn't alone in thinking that Vilas would declare. After all, what were Onions and Anderson going to do? Maybe add a few runs but risk getting knackered and/or injured. It was odd that they stayed out there but it allowed us to get a bit of momentum back.
Robson and Gubbins got a tremendous round of applause when they passed through the Long Room. Lancashire's older opening bowler was going out at the same time and some might have thought that the ovation was for him but we know the truth, don't we?
The Lancashire new ball bowler must also have picture in the attic. It's not right that someone his age can touch their toes so easily. And bowl so bloody well. Gubbins could do sfa about the ball that got him. Much as it pains me to say it but I enjoyed watching Anderson bowl. But not so much that I wasn't relieved when he was replaced after four overs. And there was always the worry that he'd be back for a couple more overs before the close.
From then on, batting looked much easier with Robson and Eskinazi looking relatively untroubled and unleashing some sumptuous drives. But then Mark Chilton appeared. He was disappointed that we were just one down and was hoping that standing in a different place would bring a change in fortune. Within a couple of balls, Eskinazi missed one from Onions and looked stone dead. I wasn't surprised when the umpire gave him out and at that point, I suggested that Chilton did bugger off. He did, for a minute, but came back to say that some of the Lancashire Lads in the dressing room reckoned they'd heard two noises and that Eskinazi had hit it . Oh well.
Mr Chilton was, like me and the steward I was chatting to, surprised that Anderson hadn't been bought back, especially as Bailey ended up bowling 11 largely ineffective overs on the bounce. Lucky us. If we get out of this with a draw (or maybe a win when we set then 200 to get in a session and Finny rips them apart - but let's not get ahead of ourselves) then Vilas might reflect on yesterday evening as one where he let us off the hook. As an aside, we discussed slow over rates with Chilton. He said it had cost them and the problem was getting the players to care about it. Does that mean our lads don't? I'll be miffed if that is the case as, I expect, will you.
Here's to a quiet Sunday with slow and steady accumulation with the captains shaking hands in the late afternoon. Much as I don't like the fact that it's a month until our next proper match, it has given Mr Law a chance to have a proper look at our players. Improvement is required and I trust him to identify what needs to be done. 37.5% of the teams in this division will get promoted. I can't for a minute imagine that we won't be one of them.
pqs: qs:
Middlesex can't Keep Up With The Jones' batting.
Posted by: Middlesex till we die (IP Logged)
Date: 14/04/2019 13:21
What do you think? You can have your say by posting below.
If you do not already have an account
Click here to Register
.
Edited 1 time(s). Last edit at 2019:04:16:17:07:58 by BarmierKev.
Sorry, only registered users may post in this forum.