Donald Trumps Middlesex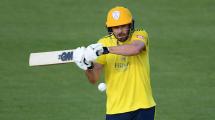 Convinceing
By Seaxe Man
August 30 2019
Seasxe Man gives ball by ball commentary of a bad defeat for Middlesex
Where to start. The journey down sounds natural. Weather sunny so drive down under two hours, a touch longer on the return due to usual Heathrow congestion.
The crowd when finally assembled looked in the range of 10000 plus. Hampshire brought all of their Development Squads to the match which filled one of the blocks with many mums and youngsters.
Graves/Harrison where are you?
When the toss was made Dawid won it for MX and decided to bat first.
Reason given. A used wicket.
There were two changes to the carded Hampshire side. Mason Crane replaced IG Holland. Donald replaced Chris Morris.
On MX side George Scott replaced Esky who was carded at eight.
The boundaries as per usual were brought in, the shortest looking to be the straight ones.
The Powerplay Mx innings. 1 to 6.
Stirlo took ten off the first over and a further ten were taken off the third. Eleven off the fourth and things were starting to look hunky dory until Stirlo lifted a drive to Vince at mid on in over six. Stirlo 24.
This closed our powerplay at 52 for 1 and from that point we never maintained that momentum. It looked a spin bowlers delight and Hants fielded three in Crane who was very effective 4-0-22-2 the pick. The others being Shamsi and Dawson.
In these overs with the field more widely spread we found difficulty in finding the gaps and added only a further 101 runs for the loss of four further wickets.
First to go was Mala for 23 trying to clear the longer legside square boundary and was taken by Dawson. So 53 for 2 in over seven.
Hafeez then came in. As we have seen, he does not project a high scoring rate, struggled with Crane's spin and departed lbw for 15.
Morgs already in was then partnered by AB. We needed these two to repeat their Surrey stand but Morgs departed sweeping Shamsi for 13 lbw. That was in over 13 and we certainly good have done with him staying for another four or five overs.
90 for 4 and the rate slowing. Simmo took part in a stand of 49 with AB to take us to 139, Simmo a handy 22 before falling to Kyle Abbott.
This stand included over 17 our best, producing 16 runs due in part to AB sending a couple of massive sixes over the long on boundary.
Overs 18/19 took MX to 144, so a defendable total was looking on the light side.
George Scott came in for the final over but had trouble middling the ball but did manage to get AB back on strike.
AB reached his well earned half century in the final over which totalled a further 9 runs,
The powerplay Hampshire innings.
Hants opened up with Vince and Donald. While I was unsurprised at Vince carrying on where he left off last week at Lords, Donald chipped in with 51 with some powerful blows which Tom Helm felt the weight of a time or two.
At the conclusion of the powerlay Hants were 54 for 0. So had the edge.
Hants continued on their merry way a wicket not falling until over 11, Donald for 51 with the score on 96, caught by Rojo off Stirling though he appeared a touch unimpressed.
Our second wicket was not taken until over 18 when Steve Finn clean bowled Northeast for 26 and the score on 145, so the game was over.
It remained only for Rossouw to long handle Tom Helm for a couple of straight fours to conclude the evening in 18.3 overs.
Vince finished on 66no. In the two matches he has totalled 135 runs for once out and more or less completed the double on his own. This I feared afore heading South.
We dropped four catches, Vince being one on 49. If held it doubtless would have prolonged proceedings, maybe favourably but we will never know now.
I suppose we did well to take it that far (18.3 overs) though Hants always knew that they held the whip hand.
In Dawid Malan's audioboom interview he said 154 was the best Rose Bowl T20 score this season batting first he said.
However our bowling and fielding was well below par in his view.
Difficult to argue on that score as the MX Four extracted the bones over a drink to 1am.
Sowter 4 overs at 23, Finn 3 at 21 and wicket and Stirlo 1 at 6 and a wicket the most economical.
Crane and Abbott the standouts for the hosts.
A better T20 competition this year but highlights our lack of a genuine allrounder in the middle order. Our batting talents are top heavy and fade rapidly when five are down.
Memories to take through the winter. The Spanish Nat Jackley in the Essex game at Lords. The monsoon at Radlett at 18.1 overs of our innings and the century stand between AB and Morgs against The Mexicans.
Seaxe Man Ageus Bowl 29th August 2019.
pqs: qs: