Recovery in the NIck of Time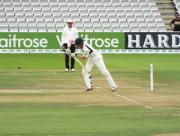 Gubbo defence
By Jonathan Winsky
April 13 2020
In absence of proper cricket for a while MTWD are going to resurrect those memorable 4 days September 2016. Day 1 Jonathan Whinsky provides comprehensive details of the twists and turns from day 1 at Lord's and Taunton as were strive to achieve the unmentionable.
Lower Mound and I arrived at about 10:10am to hear that Yorkshire had "exercised their right and will field first", and had made two changes from their line-up shown on the scorecard, with David Willey and Steven Patterson replacing Jack Leaning and Liam Plunkett. I assumed that Middlesex's line-up was unchanged from our two previous matches.
The pitch appeared to be two away from that used for Saturday's Royal London Cup final, and was closer to the Grand stand than the Mound stand. However, the stand which was open was the Mound stand, while I assumed was due to building work having resumed on the Warner stand. It thus meant it was the furthest I had been from the pitch for a County Championship match at Lord's.
The situation prior to this final round of matches was that victory would hand Middlesex the title, while a draw would be enough in the event of Somerset either failing to beat Nottinghamshire at Taunton or winning while achieving two fewer bonus points than Middlesex. However, Yorkshire would win the title if they win and at least match the amount of points Somerset achieve at Taunton.
Sam Robson and Nick Gubbins opened the batting and scored 11 off the first 3.4 overs, before Robbo was lbw to Jack Brooks. Lower Mound thought that Robbo was too far down the wicket to have been given out. I was doubtful that replays of this and other key incidents would be shown on the scoreboards despite the match being on Sky, and I was proven correct. At least the wicket meant that our line-up appeared on the scoreboard, and it confirmed it was how I expected.
Nick Gubbins and Compton kept the scoreboard ticking over, before Compo became the second player to fall lbw to Brooks, leaving us 33-2, of which Gubbins had scored 21.
When Willey was brought on to replace Brooks at the Nursery end, his first three deliveries went for 1, 4 and 4, which meant that the scoreboard showed that he had conceded 1 more from 0.3 overs than Ryan Sidebottom had conceded in 7 overs from the Pavilion end. The over ended up going for 15, and it meant that Dawid Malan was catching up with Gubbins. Both were lucky not to fall in quick succession, as Malan offered a low chance to slip off Willey, while in the next over, Azeem Rafiq couldn't quite take a catch at point to dismiss Gubbins off Patterson. However, in the over after that, Willey bowled Malan, who had scored 22 out of 24 in the partnership.
It was announced that Somerset were 51-2. However, Middlesex's score of 57-3 meant that the chances of recording more bonus points than Somerset were not looking good. It will surely be the first of many times in this match that attention switches to Taunton.
Thankfully, Gubbins and Stephen Eskinazi got us through to lunch without losing any further wickets with the score 84-3. As we were going to lunch, we saw on the scoreboard that James Franklin had been named as Brooks Macdonald Player of the Month for August. Then, when we walked past the bar under the Tavern stand, we saw on the TV that Gubbins was deservedly being presented with his county cap.
Gubbins brought up his 50 off 94 balls with 9 fours in the fifth over after lunch. Unfortunately, in the next over, Eskinazi was bowled by Brooks for 12. The 100 was brought up in the 36th over with an all-run four.
John Simpson had come to the crease at 97-4, with the situation requiring us to not lose any further wickets. Simmo and Gubbins batted carefully, and brought their 50 partnership up off 125 balls, with Gubbins having scored 34 of those runs to reach 84. The over after that was the 56th of the innings, and it saw the first over of spin as Rafiq bowled, while it also saw the 150 brought up. Shortly after though, Simmo was out lbw to Tim Bresnan for 15 to make it 154-5. Gubbins' continued presence was remarkable considering no-one else had passed 22. It was the first wicket to have fallen from the Pavilion End. It nearly got worse, as Franklin came in and edged to the slips when on 1, but the chance was put down and trickled to the Edrich stand.
The score at tea was 168-5, with Gubbins on 96 and Franklin on 5. During the interval, our 2nd XI were presented with the trophy they gained for winning a second successive Twenty20 title.
Yorkshire's fielders were convinced that Gubbins had been caught behind off Sidebottom with the final ball of the first over of the evening session, but both Gubbins and the umpire were unmoved. Gubbins' 100 came up two overs later when he hit Sidebottom into the Grand stand for the match's first 6. It made it a memorable day for him after he had earlier received his cap. Gubbins and Franklin were able to score reasonably quickly, and brought up the 200 in the 73rd over to give us a first batting point. 4 overs later, the 50 partnership arrived. A few moments later, there was a loud cheer from the Pavilion, although it was never announced what it was about. I assumed it was something to do with the situation at Taunton, but that cannot have been the case, as a look at the scorecard shows that Chris Rogers and James Hildreth were putting on 269 for the third wicket around this time.
Gubbins and Franklin saw us through to the new ball. However, two overs later at just before 5:00pm, play was stopped due to bad light with the score on 208-5, and with it seeming unlikely the light would improve, we decided to go home. Yorkshire had brought many supporters with them (indeed, it was the biggest crowd I had seen at Lord's for a first-class or List A match involving Middlesex), and some were overheard to lament why the local residents object to the floodlights being used for Championship matches. The light wasn't bad while we travelled home, so we were worried that play would resume without us. Play hadn't been abandoned by the time we arrived home, with that announcement not coming until about 6:00pm.
Gubbins will start tomorrow on 120 not out, while Franklin is on 21 not out.
It wasn't the easiest of days to bat, but I would like to think Yorkshire will have a similar experience when they bat and that batting will be especially hard in the fourth innings.
Somerset collapsed from 302-2 to 322-5 to 322-9. If they pick up maximum bowling points and win, then that would mean that Middlesex would have little choice but to beat Yorkshire. A draw would only be enough if Somerset fail to pass 350 AND we miraculously score at 6.86 for the next 28 overs to achieve five batting points, and then pick up three bowling points. However, I would like to think that Middlesex have the ability to win from this position.
pqs: qs: