Championes Championes Ole Ole Ole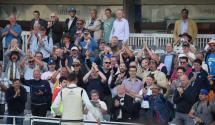 Ollie Ollie Ollie
By Darren Gosling
May 24 2020
Here is Darren's report on that famous last day of 2016 season. To think he nearly missed that momentus moment.
Six Months, 64 days play, 192 sessions all came down to today, the final day of the season.
Having begun the week as the bookies favourites, Middlesex now found themselves outsiders with Yorkshire and Somerset the bookies joint favourites going into the final 3 sessions.
We just had to win, bat two sessions, try and set Yorkshire a target and then take 10 wickets in a session, quite easy then – oh yeah and on a Lords flat track that have produced 5 draws out of 6 in the Championship this season.
Session 1
Yorkshire used 7 bowlers in the session as they desperately sought the breakthrough to turn the match heavily in their favour. But, for the most part the morning session was quite sedate, Gubbo and Mala seemed content to see us through to lunch without losing any more wickets and it wasn't until the final 20 minutes before lunch that the pair finally started to score with some intensity.
Gubbo played a chanceless knock before uncharacteristically chipping the easiest of return catches to Rafiq, falling 7 runs short of yet another century and the partnership ending on 198. Still Gubbo capped a fine season by passing 1,400 Championship runs, the most by a Middlesex player for 11 years (since Joyce and Shah in 2005).
Esky joined Mala at the crease and survived a sticky couple of overs (Rafiq in particular causing him problems) before taking Middlesex to 201-3 at lunch, Mala (who had edged through the slips twice) unbeaten on 99.
Session 2
After lunch Mala duly completed his third century of the season but Middlesex showed no intent to up the scoring tempo. Just 4 runs were scored off the first 42 balls and though Eskinazi then began to settle in hitting 3 boundaries the match was drifting to an inevitable draw.
By this point Yorkshire skipper Andrew Gale had left the field for the dressing rooms and negotiations were well underway for a contrived declaration from Middlesex leaving Yorkshire to chase down an agreed target.
Adam Lyth and Alex Lees then proceeded to bowl a pile of crap for the Middlesex batsmen to feast on.
Eskinazi took 22 off a Lyth over, Malan perished to Lees for 116, who looked as surprised as Mala that he managed to pick out Jack Brooks. Simpson then took 20 off Lyth before another 23 runs came off Lees' next over though he did bowl Simpson (31) but rather than celebrate looked embarrassed as the match took on farcical proportions with fielders even avoiding the ball to ensure the contrived target was set. The Yorkshire coaching staff now manned the boundary ropes (Gillespie included) as all the Yorkshire fielders fielded close in to ensure boundaries were hit.
Gale even seemed to be telling the Middlesex batsmen where to score at some points and slowing them down when they scored too fast. Lyth bowled in his cap and when Esky reached 50 no-one clapped and he didn't bother to raise his bat.
Finally Franklin lobbed a second return catch in two balls to Lyth (who wasn't expecting the first) to end the farce to a chorus of boos and leave Yorkshire to chase 240 off 40 overs.
Session 3
Some supporters at this point left the match feeling it had become a joke and now felt that a title win under these circumstances had become devalued. I too felt the same way and told Kev I was leaving and he would have to do the report for the last session.
On my way out I found Shane Warne on the Nursery Ground giving a masterclass tutorial to Derbyshire's young spinner Matt Critchley which I watched for half an hour. I then bumped into England's Sarah Taylor who asked me how I thought the match would turn out. I explained that as much as I wanted Middlesex to win I had lost interest because of how things had gone. Sarah encouraged me to go back and watch, in hindsight I'm glad I bumped in to her and returned to the game.
I took my seat to find Yorkshire had lost both openers (Lyth c Robbo b TRJ 13 and Lees c Gubbo b Murts 20) with 44 on the board. Gary Ballance had just joined the promoted Willey at the crease. Next over Willey departed for 11 caught at wide long on by a running Esky off of Murts, Yorkshire 48-3.
First innings hero Tim Bresnan then joined Ballance and the pair steadily progressed the innings without letting the 6 an over scoring rate get away from them. Both hit maximums on the way to a 50 partnership before Ballance holed out to Robbo off Finn for 30, Yorkshire 98-4.
Safe hands from Robbo
Skipper Gale joined Bresnan who next over went after Ollie as 12 were taken off the 24th over.
With Bresnan reaching 50 (off 44balls) and hitting Ollie out of the attack the match was beginning to tilt Yorkshire's way but with 87 needed from 62 Toby trapped Bresnan lbw (for 55).
With Yorkshire now 153-5 and Hodd and Gale the last two specialist batsmen left in, Middlesex began to scent an outside chance of victory.
Enter Toby, first he bowled skipper Gale (22) and then removed Rafiq (4) Simmo taking the catch as Yorkshire slumped to 174-7 still needing 66 runs off of just 36 balls.
Finn then bowled Patterson (2) before Toby completed the match in emphatic style.
The winning moment
Having removed Rafiq with the last ball of his previous over, Toby steamed in to first knock Hodd's off stump out of the ground before completing a stunning hat-trick by doing the same to Sidebottom's leg stump next ball. Yorkshire 178 all out Middlesex winning by 61 runs and our first Championship win for 23 long years. Suddenly the declaration bowling didn't seem to matter anymore as the celebrations began…..
pqs: qs: