Dial P for Promotion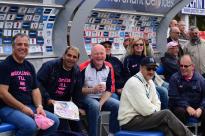 The away end
By Big Harvey
July 5 2020
Our retrospective report on our promotion challenge at Grace Road takes us to day of our topsy turvy ride.
My original plan had been to drive to Leicester, since I'd heard that Grace Road was a long way from the train station. However on waking at 5.45, courtesy of my 3-week old daughter Rosa, it occurred to me that given that I was supposed to be writing today's match report, the train might be a better option. This could just possibly be the most important report of the season, so being able to write it up on the train home would allow me to get it in a couple of hours earlier than would be the case with driving.
A quick look at train times revealed that I would have to be at the station pretty sharpish, and a mad dash resulted in me just making the 7 o'clock departure from Bristol Temple Meads. Boarding Coach B of the Cross Country Voyager train, I was almost knocked back onto the platform by a familiar stench. Last time I encountered this smell on the way to a cricket match was on a train from Colombo to Galle, which had been so packed that I'd had to stand next to the toilets all the way. There at least I'd been able to stand in an open doorway and take in draughts of fresh, if slightly dusty air. No such luck on this train unfortunately. The pong turned out to be just as overpowering in the seating area as it had been in the vestibule, and being air-conditioned, the windows couldn't be opened. Thankfully at the far end of the carriage there was someone with a cup of fresh AMT coffee with a delicious and strong enough aroma to at least partially drown out the all-pervasive miasma, so I parked myself in the seat in front.
By the time the train reached Cheltenham Spa, the person behind me had finished his coffee and the aroma from that had gone, so between there and Birmingham New Street where I had to change trains, my journey was not a pleasant one.
This was my first trip to Grace Road. I'd been told that due to the distance a taxi would be necessary from the station, but I found that a short walk away it was possible to catch buses which passed close by. I jumped on one of those and arrived in plenty of time.
Vermin Corner consisted of a T20 dugout set back from the fence, and I took my place there among a healthy turnout of the usual suspects.
Dial M and Iceman resumed on 401/8, and with some prolific stroke-play had soon notched up and overhauled the hundred lead. A delightful square cut to the boundary from Dial M off Buck brought up the hundred partnership and had Vermin Corner singing "4 more to the Middlesex" before it was even a quarter to eleven!
The Iceman then brought up his ton with an exquisite cover drive for 4.
Another notable milestone was passed when the club record 9th wicket partnership of 160 between Patsy Hendren and Fred Durston v Essex at Leyton, which had been held since 1927 finally fell, as the Iceman launched a towering 6 over long off.
When Dial M finally departed, caught behind off White for a magnificent 55, leaving Middlesex at 492/9, Barmy Kev commented that all it would take would be a 50 from Colly, and he could start to relax! Unfortunately only another 9 runs were added, including a 6 over cow corner from the Iceman, as Colly was adjudged LBW off White without troubling the scorers. Still, despite Barmy Kev's nerves, 501, and a lead of 183 was a way better score than seemed even remotely possible yesterday afternoon. The crowd stood as the Iceman left the field undefeated on 130. What a vital and wonderful innings it had been.
Things soon looked even better when Boyce (8) and Jones (2) succumbed LBW to Dial M in the space of his first two overs! Leicestershire were 11/2, and it looked odds-on that the game would be over today.
Leicestershire had other ideas. They resumed after lunch on 31/2, although they had progressed to 38/2 by the time I returned from the pub after I had succumbed to the temptation of a second pint of shandy. On 56/2, the highly rated James Taylor looked (from Vermin Corner anyway) to have been caught behind off Colly down the legside. We were certain, the Middlesex players were certain too, but the umpire's finger stayed down.
If he did indeed get a life, Taylor certainly used it . Both he and Smith looked perfectly comfortable against whatever Middlesex sent down, and made steady if unspectacular progress.
With Sorry having won and threatening to pip us to the title, we needed wickets, and some including me began to get nervous. Time for a wicket walk. It was a long wicket walk via the Friends of Grace Road cake stall. Two slices of cake and half an hour or so of wandering about later, Smith's half century came off a cover drive to the boundary of Crook, and Taylor's off a streakier stroke off Rymps.
It took a very long time, but eventually my wicket walk paid off with Smith trapped LBW playing back to one from Rymps for 58. 132/3, which by Tea had progressed to 147/3.
After Tea, Taylor and Du Toit both continued patiently and sensibly. They looked immovable, and once again it was hard to see where the next wicket was coming from until Taylor top-edged an attempted hook shot off Crook. Simmo behind the stumps leapt skywards and held on. James Taylor's innings of 80 had probably been his last at Grace Road as a Leicestershire player. His body language as he walked off suggested as much, too. The strong rumour is that he will be at Warwickshire next season.
Leicestershire were 182/4 and still trailing by 1 run. 20 runs later, Du Toit (35) was caught by Iceman off the improving Rayner, and the latter soon accounted for White (2), brilliantly caught at silly mid on by Strauss, diving to his left. 207/6.
A change of ends and Rayner had his third wicket as R. Taylor (3) played on to leave Leicestershire at 217/7. With no further breakthroughs the extra half hour couldn't reasonably be asked for, and we (or at least those of us who unlike me aren't working) will be back again tomorrow, with Leicestershire on 222/7, a lead of 39 runs.
With the pitch seemingly starting to take spin, and the new ball only five overs away, victory looks to be a formality, but who's to say that this surprisingly plucky Leicestershire side can't give us more periods of agonising tension as they have throughout what has been a gripping contest. Middlesex may be the better side, but it's to Leicestershire's credit that going into the 4th day, Middlesex, despite playing well, still have a fair amount of work to do to claim the Second Division crown.
Sadly due to work this was my last day of cricket this season, and I'll be forced to follow tomorrow's events on Cricinfo.
See you all next April, hopefully in Division One.
pqs: qs:
Dial P for Promotion
Posted by: Middlesex till we die (IP Logged)
Date: 05/07/2020 16:14
What do you think? You can have your say by posting below.
If you do not already have an account
Click here to Register
.
Edited 1 time(s). Last edit at 2020:07:24:20:56:19 by BarmierKev.
Sorry, only registered users may post in this forum.