They Think it is All Over. It is Now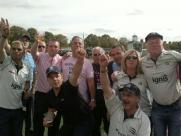 Championees
By London Leprechaun
July 19 2020
London Leprechaun volunteers at end of day 4 to take over the main reporting duties from Barmy Kev correctly guessing his reflections of most of the action on the pitch would be hazy. Barmy Kev chips on with anything puerile or stupid that occurred. Meanwhile, we hear of the tension involved followed by the ultimate joy of PROMOTION AS CHAMPIONS!
It's one of those perfect early mornings that September often gifts us. Blue sky, gentle sun; the promise of later warmth; one of summer's last days of resistance to autumn. It reminds me of faraway days in Worcester when Wayne Daniel took a catch under bright blue light that won us a Championship and Mike Brearley hit the winning runs on a morning wreathed in autumn mistiness. Oh for such days again. And maybe, just maybe today may herald the first small steps to such days.
The train at St Pancras seems to turn into a Middlesex charter special – as supporters pop up from everywhere – you can tell from the pink colours everyone seems to be wearing these days. The smart new train glides in on time and we are at the ground in good time for the start. The MTWD mob who have been very vocal during the radio commentary have taken over the Leicester T20 dugout – it is very comfortable, so some of us 4th day arrivals join them on condition that we are willing to shout and cheer during the day. As the Middlesex chairman wanders along at the same time and gives us all permission to behave badly today that should not be a problem.
20/20 dug out stand that Middlesex fans adopted. Can you feel the tension?
So with only the small matter of three wickets and hopefully just a few runs to get and no other matches to worry about the morning starts. But Leicestershire to their credit do not lie down for us. ( Barmy Kev- after first ball hit for four -I say "we have blown it"). Young Ned Eckersley who was a Middlesex Academy player but sounds like a Northern town plays solidly against the spinners while the new ball is awaited and it takes that new ball to make the first breakthrough – Collymore who deserves more wickets than he has got this year gats Naik Lbw. But then a mix of some loose bowling – even Middlesex bowlers are allowed to be a bit nervous – and more solid batting starts nerves jangling in the dugout – Middlesex supporters, office staff, board members all try various wicket walks, loo breaks, bar visits to get that elusive ninth wicket. The lead starts to get beyond 100 and though we keep remembering that a draw is enough, the most pessimistic even start contemplating the dreaded D word. Young Ned reaches a well deserved 50 and sparks a conversation about Northern towns that culminates in a discussion about why you cannot get Eccles cakes in Eccles. But we are spared any more foodie conversations as he tries to hoick Ollie Raynor (who just sounds like half a tube station) towards our dugout, only for Gareth Berg to spare us with a well judged boundary catch. Nine down becomes ten very quickly as Andy Strauss pockets another slip catch, and the target becomes just 124. Surely we can't mess that up now – the draw is not really an option now. Champagne is being bought and put on ice; there is a sweep going on about the time the match will finish; Kimmy's fund for using the P and C words is swelling by the minute.
The run chase goes off faster than an East Midlands train – Strauss and Robson cutting, driving and running with energy. In seven overs before lunch we get to over 40. Barmy Kev- Each boundary is chanted "4 more to the Middlesex" or "we are closing in on your target") The whole sense is of wanting to get the job done. Middlesex squad players are arriving, David Collier is spotted waiting to present the trophy "if" we win as the announcer says; the Middlesex flag is hung over the front of the dressing room balcony, the warmth of the day adds to the sense of expectation. But this being Middlesex there had to be a twist.
Barmy Kev recalls at lunch the announcer says " there will be trophy presentation for Middlesex after the game". Seems Leicestershire have given up, so have I and felt we can now all use the P and C word without fear of any further fines)
After a serene start to the afternoon, White starts bowling with some speed and menace at the far end; the ball suddenly starts keeping low; Sam Robson is pinned LBW. Leicester supporters get noisy all of a sudden. Not a problem - we are almost half there - Strauss and Rogers are batting; exactly the experience you want. But Strauss misjudges a pull and feathers a thin edge to Eckersley. But we are over half way – surely nothing can go wrong. ( Barmy Kev- I tell everyone we are going to start a conga when 20 short to celebrate. Beefy suggests within 5 we all line up in a huddle and go beserk when the inevatable happens). But suddenly nerves kick in – on the field as much as off it. Chris Rogers and Dawid Malan have a yes, no, sorry moment. Dawid is run out by his skipper and his frustration is evident. Surely we can't blow it – the draw is definitely no longer an option. Than Jamie D's season ends in a rather undignified way as he given out lbw while he manages to fall all over himself. And when Chris Rogers plays an unnecessary cut to cover, we are 90 – 5. Surely not. Surely all the hard work of the summer won't be lost in one mad session in Leicestershire. Surely not.
The supporters' dugout is quiet – let's radiate calm, serenity to John Simpson and Gareth Berg. Plans for a mass celebration as the target approaches are shelves; champagne remains on ice; no one is allowed to move. ( Barmy Kev- boundaries are now politely applauded through relief and we are certainly not singing anymore) And it works. Well there are some edges through non existent slips; there is one huge lbw shout, but the target is getting there. Slowly at first. We creep to over a hundred, we start to breathe a little more easily; we creep to the dreaded 111. These two are looking solid; cool; calm. But please we can't lose another wicket. We need to continue to radiate calm; serene. Take no risks against White; get the runs the other end.
Calm, serene, my foot! Gareth Berg has had enough of this. He drives a huge six over long on; just 7 to get; he drives a crisp four – its 121. And there is a huge sigh of relief. I go to get my camera out to try and get the wining shot, and blow me down, as I do, he hits the next ball for an ever bigger six. It's all over and I miss the winning shot! But hey we won – we are promoted; we have won the 2nd Division and this gorgeous summer day has given us the best end of the season you could ask for. ( Barmy Kev- Yeeeeees as I run round like a lunatic and kiss anyone in my viscinity with a Middx shirt)
Cue the celebrations – cue the champagne, and checking the scoreboard to check it really says we have won. There is huge relief; huge hugs, lots of huddling in the Middlesex dressing room; lots of milling round the outfield. And then a trophy and presentations, and champagne and group pictures. The trophy is passed round supporters, officials and players, cameras are clicking everywhere and it is beginning to sink in.
Well done skips
The chanting numbers become higher. Then a tongue in cheek chant for the one who said- "Middx will never go up with a team of youngsters", "are you watching Owais Shah, are you watching owais Shah?" The celebrations continue late into the afternoon.
And on a sun kissed journey home time to reflect on a season that has flashed by in no time – how important where those early wins – those demolitions of Essex and Surrey at Lord's; that huge run chase at Derby, all the momentum that gave. Time to reflect on how most people contributed something at some point to the season, and how difficult the player of the year will be to pick.
And on the tube home, everyone seems to be wearing pink.
Cheers
pqs: qs: