Daylight Robbo Rey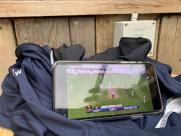 Best view in the house
By Barmy Kev
August 5 2020
Kev reports from his perspective of a famous Middlesex win
I was in good spirits, as under the circumstances in the morning I was able to find a safe way to enjoy an in person meeting amongst fellow Carers.
No matter what is going on in my life, I have always been distracted when Middlesex are playing. Today was a case of whenever we declare we need to bowl Surrey out, It seemed prolonged and found out about Gubbo out with an embarassing reverse sweep.
It just so happened today was a planned social distancing walk with Rogers And Out QPR Chris and his dad. I met them at Ruislip Manor Station with 3 Surrey wickets down feeling very optimistic
This walk via a dilapidated Ruislip CC cricket ground, Ruislip Lido and Ducks Hill and then inappropiately called Middlesex Stadium (Hillingdon Borough FC Home ground) led us to a lovely watering hole The Woodmans Inn.
QPR Chris updated on this walk we achieved two more wickets. One more wicket at the pub and then two Clarks irritating us. Our thoughts were why didn't we declare earlier.
A walk to Ruislip Manor, back in the woods no more wickets. QPR Chris couldn't put his phone away with his BBC feed. I have witnesses to this I shouted "give Robbo a bowl." In the middle of a wooded area Chris advised Robbo got a Clark out caught and bowled. He was back on live stream to show me the replay. It was LBW, not the replay next ball. Hat trick on with a pie bowled.
7 wickets down at Ruislip Manor Station. Not doing The Weatherspoons so found another down to earth venue. By the time you could say large red wine please Surrey all out. My phone was buzzing andvising me of a Middlesex win.
Back home now. My mood improves as see there are three Middlesex links to a century in England v Ireland game. I saw the closing stages of an exciting finish , preferable to the footie on.
I hope no one is offended if I say if only these occasions can be held with spectators. However, these days I take any positives with greater enthusiasm and there were many today.
pqs: qs: