Loads of bull and Bush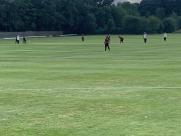 By Primrose Hillbilly
August 26 2020
In absence of in person County Cricket we continue with our journey around the Middlesex Cricket league. We have a double header in many senses with the usual antics from the faithful.

The first time I watched cricket at Crouch End Playing Fields,I almost suffered cricket sensory overload, there was just so much. You can walk round the boundary of one game, and only turn your back to be able to watch another. Highgate, North Middlesex, North London and Crouch End to name but a few are all based here. From some vantage points, there is just an endless green patchwork of cricket pitches, interspersed with trees and clubhouses. Paradise.

For the romantic perfectionist, the idillyic image is slightly marred by most teams playing in multi-coloured clothing, and a pink ball, but it's still cricket. Our date was with North Middlesex (red and black), where Luke Hollman is the rising Middlesex star, hosting Twickenham (green and black), whose one point league total led us to believe a home win was on the cards.

North Middle were 62 – 1 when I arrived, with another Middlesex hopeful, James Cracknell having perished early. My colleagues moved to a larger trestle table on my arrival, so we could all sit together, even when my moderator arrived. What a kind gesture, as it took them a little further away from play.

Progress was slow. It was a long time before I saw a boundary. Slow accumulation, and trying to put away the really bad ball seemed the order of the day. Twickenham stuck to their task, and we did to ours, in the face of a good stiff nor -westerly breeze and lots of sunshine. Bedford Dan took the sun particularly well, blaming it on his ancestry.

I'm considering trying to assemble a dream amalgam ground from all the Middlesex league matches we visit. To date, it would be Ealing's beautiful Victorian pavilion with dome, well stocked bar and welcoming President, combined with North Middle's vast expanse of playing surface, (although the wicket might be a bit slow, so I will suspend judgement on that), that sweeps up towards the lower slopes leading to Muswell Hill.

From 85-2, North Midddle never built a real launch pad from which they could cut loose with set batsman. They lost wickets regularly, with one batsman's efforts to run a bye to the keeper seeing the keeper shed a glove and score a lobbed direct hit at the non –striker's end. Eventually boundaries started coming a bit faster, and a hook soared towards us. Long leg opted not to go for the glory diving catch, but stayed back to ensure he saved the boundary, only to see the ball hit a bump and kick on over his head, crossing the ropes nonetheless, so he looked slightly more foolish than he would have done had he missed with his dive. I am afraid to say we rather enjoyed that moment.

North Middle were eventually all out in the 47th over, for 210, and during the break, talk turned to my moderator's continued absence. As a result of the 10 months since our last cricket match together, I had jokingly reminded him that he was the tall blonde one, and, much to our surprise, a taller, blonder resemblance of him approached. It turned out to be a complete stranger, but soon after that we were being happily moderated, amid discussions of favoured routes and bus numbers, and the bar announced that jugs of San Miguel were cheaper than individual pints and there was a special offer of buy one get one free on red wine, of which my moderator insisted I take advantage.

The other match nearby had started earlier, and we became aware of a certain amount of turmoil the other side of the fence. Bedford Dan's high connectivity told us that Shepherd's Bush were 38-5, chasing over 270 set by Crouch End. It began to look like early adjournments all round.

North Middle's attack is strictly line and length, enlightened by one opener having a distinct leap in the middle of his run, so, guess what, we called him Skippy. Twickenham batted like a team with only one point, who sort of knew that 210 was out of their reach. None of them was really got out by real skill, they just perished from putting catches up, although there was a direct hit from cover point that our vantage point of deep wide mid on enabled us to see clearly as being out, and to confirm this, the batsman just kept going without looking back.

A slow bowler with a very short run up came on as the obligatory middle of the innings bowler, lobbing it up and inviting the mistimed slog. One ball was hit straight to cover, and the next was also looped up, but he got too imaginative for the hat trick ball and instead of a slow pie that would make the batsman think, tried to spear it in, only managing a short of length one, played comfortably off the back foot. Anticlimax.

Our communications director informed us that Shepherd's Bush were making a real fight back. We wondered if one game might end in time for us to decamp, and obligingly the Twickenham last man holed out. A quick flit from one ground to the other, and we were in the Calthorpe Ground, Crouch End, a Pavillion with ales on the bar, and a new Malbec for my moderator to sample.

This game could not have been more differently poised. Shepherd's Bush (red and gold)had made such an heroic fightback that they were daring to dream the unthinkable. They were 8 down, but needed only another 56 or so at just over a run a ball, with both batsmen seemingly well set.

The Crouch End (Blue and Goldy Yellowy) ground is very small in comparison. It is either 1 or 4, unless hit very precisely between boundary fielders, where it might be a very fast run 2. The lower, road side, and outer Park Road end is lined with trees, including some willows, and from the Pavillion terrace you get a view of the ground with Alexander Palace up on the hill like some ancient castle overlooking its domain amidst the sunshine and the lengthening shadows. Another piece was slotting into "dream" ground – the background.

Shepherd's Bush continued their assault, with hard running, good backing up, trusting themselves to take on the deep fielder and go aerial to hit boundaries. It was utterly nerveless, fantastic, brave cricket. We discovered that a friend from the Nursery End, Phil "The Power" Taylor, was one of the Shepherd's Bush supporters egging their team on, and my moderator tried to get a chant of "We're North Crouch Bush Till We Die" going, but then took to supporting whichever team had fared the best from the last ball, telling me he had to concentrate so I needed to go to the bar for him. The scorer next to me said he had to stand as the tension was too great for him to sit

Shepherd's Bush kept going, but the target remained at – or about - a run a ball. Eventually, one batsman took his life in his hands and lashed a six and a four, breaking the tension, and it seemed to be the Bush's game.

However, he got out next ball, so it was 8 down, about 5 or 6 to win and a new man cold at the crease, with 5 balls remaining.

He couldn't get the first two balls away and the odds had turned back to Crouch End, but a scambled leg bye, appealed for LBW, eased the tension. Next ball, a carved cut to the boundary just in front of us saw the Bush home, with two balls remaining.

What a brilliant game of cricket.

My moderator was wiped out by the emotion, as everyone else savoured this amazing ending. Thanks to Middlesex Club Cricket.

AS we began to make our plan for departure, he raised his head, opened one eye and said "KARR Arr Levyar har par among paw wessaye", which is why I am writing this now.

I led a posse of earnest explorers through the foothills of the Muswell Hill escarpment towards Highgate tube station. As we wended our way through the woods, my moderator led us in a rousing few choruses of "Middle, Middle, Middle ........" with RogersAndOut and I providing the punchline. As I gave it my best, I realised we were not entirely alone, and a circle of teenage girls was sat in a circle reading to each other off to one side, regarding us with horror.

Thank you to everyone with whom I spent Saturday just gone by. Was it not brilliant? We might have walked away from Crouch End,but I feel it was to start the journey towards the next Middlesex club game.

No Sleep Till Brondesbury, or Teddington, or even Hampstead!
pqs: qs: