Watcher at the End of Time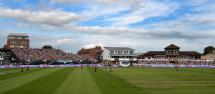 By Grockle et al
April 21 2018
It's all over the place.The discussions about the game and its future. If you are a long term cricket watcher then you are being told you are watching the 'end of Empire', the last throes of a dying sport being kicked to death by its own governing body. But the games I see are more thrilling and full of excitement than many I've watched over my time and I'm talking about every format. Where it this all coming from?
The ECB seems to have become a secretive and authoritarian body at odds with its own membership and even at odds with the core of the supporters of cricket as a game in recent times (some might say it has always been thus but I couldn't possibly comment).
I've taught economic and business subjects all my working life and I have never seen a business worth its salt succeed by moving away from its core market, creating a new version of its product to move it into a perceived new market that only it seems to see. Coca Cola tried it with a new recipe in the 1980's and it lasted less than 6 months before it scrapped it and moved back to 'Cola Classic'. The new innovation was never spoken of again without laughter from the analysts.
How does a management get so out of synch with its supporters? Well first of all they get out of synch with the understanding of the financing and selling of a sport I think. Captains of industry are brought in to get the market ethos moving but few ever take the time to get an understanding of the thing they are selling. I wonder if they would operate the same way if they were employed by the Church to revamp that? Would they take the job?
Cricket is a product to the money men. It's a religion to many and the basis of their culrtural lives to many more. They don't spend money for the value. they spend money for the club, country, village, because their family have always done it and for players they know. Loyalty is not covered very well by indifference curve analysis and the maths of finance doesn't work as well with cricket zealots or evangelicals from a county.
In a 'wham bam thank you ma'am' world of instant gratification where kids struggle to focus for half an hour let alone 5 days, cricket is an acquired and specific taste that few will take to the highest level. It is difficult to get a child interested if the TV rarely shows the sport, they have no one to identify with and in a world where parents are scared to let their kids leave the room unattended let alone the house, the old smack about in the street or back yard needs people to imitate and drive the desire. Giles Clark did for us with that a few years ago now.
So welcome T20. A compromise that was welcomed more than vilified once it had got itself sorted out. The 3 hour version for the newbie. Lots of big hits and great fielding plus bowlers who had the nounce to 'get' the game and it's specific requirements. Embraced by those who wanted cricket on the big Asian stage, watched by millions with entertainment and a more modern feel. Embraced by those who had urban populations in a small number of places in a country, a way to get the punters in to watch big games and attract international stars. In places where Test matches were a difficult thing to sell and the one day format was too long for urban working populations, T20 was the cash cow, the new game and they loved it.
Even in old thinking provincial and conservative Britain with its football watching population, the T20 became that summer thing that worked on a weekend and filled grounds after the footy season was over. It also solved the problem of funding the older game. T20 brought the fun and the funds, it attracted a number to the longer 50 over game and places started to sell those out on a weekend as well. Fundamentally it also paid for the County Championship which was the seed bed for the Test side - still a flourishing form of the game in the UK.
So the IPL flourished with the huge captive urban audiiences of mad keen cricket fans. The Big Bash flourished with its urban Aussie populations and their terrestrial TV and again the cricket religion. Pakistan had a go at a T20 league playing to few in the Gulf but sending the pictures to millions in a cricket mad and starved homeland. Hong Kong, South Africa, Bangladesh and the West Indies all got on the bandwagon. Finally the beer drinking and 'entertain us' bunch in the UK put down their games pads, recorded the soaps and wandered out for an evening or two T20 and found they enjoyed the Blast.
We all understand the importance of the format, even if we have had to learn it in some parts of the country and even though some traditionalists will never take to it. The game has had to accept its importance across the world now and the demands of other competitions on our own talented playing cohort. But what the hell is going on now? Where did the powers that be get so out of step with their own market that they feel they have to operate against it to 'save cricket'
Well first what is this 'cricket' they want to save? It is NOT English cricket. The ECB want to save English Big Bash IPL cricket. The urban based, rabidly followed by thousands, version of cricket that they think punters in the British Isles are losing out on. A version of cricket we have never had. A version of cricket thousands of punters have never demanded.
I am all for breaking down the class barriers of cricket. I do not think T20 punters are stereotypical 'morons'. I am happy to show people what they are missing and I'm happy for them to dip their toes without swearing undying allegiance to my county before they are allowed on the ground. I thank them for their money. I complain when they are rippped off and I enjoy the game they watch as much as they do.
But I'm a traditional cricket fan watching OLD English cricket. The stuff with tradition. The long boring stuff. It seems I am an enemy to progress and what is good for 'the game'. Many are coming around to the fact that cricket does not have to be boring. It also does not have to be 3 hours long and though less of the population watch the four day stuff, they are there and they do watch. It can be sold though you have to buy us dinner first before you have your wicked way with us. Meanwhile the T20 format pays the bills if it is done properly.
The ECB believe there is an untapped market of 'cricket' fans in urban centres who are desperate for a summer alternative. They just haven't been shown how wonderful it can be. In order to make it 'wonderful' in their 'image' it has to be divorced from cricket as it now is and changed to suit the client. The demands of this market orientated version of 'cricket' are so alien to the world of the sport that gives it the name that it ceases to be 'cricket'. The present consumers of the game have to be treated as enemies of the new format and kept in the dark about the plans, their administrators and representatives have to be emasculated so they cannot alter the great plans (which seem to be being madeup on the spot) for the new form. Money must be thrown at the new game in order to get the professionals to play it - big wages will modify their view. Then 'if we build it they will come'.
And if they don't? The basis of 'Field of Dreams' was that the ground Costner built was harping back to a golden age of baseball. This initiative is looking forward into a future that has to be so new there is no measuring stick and the effect it will have on the game we have covered here for nearly a quarter of a decade and which has been reported on for more than six times that may be catastrophic.
Where do you go for help? Well you could ask those with a knowledge of the game as it is and suggestions of how it can improve. You could look at versions that have succeeded iin Britaiin - the T20Blast for example which seems to be going from strength to strength. All that suggests a co--operative and democractic approach. All that suggests compromise and keeping some of the things that people love about the game. That suggests asking yourself why the game has survived for so long, why it is respected as a game all over the world, why it is a religion in many parts. That requires an understanding of what cricket is and what it will take to kill it. That means looking at the culture and the social importance as well as the bottom line figure
I don't know who in the England and Wales Cricket Board has that understanding but they seem to be locked in a Pruitt style soundproof booth or have given up and moved on. I doubt they can stop this 100 ball idiocy anyway. I doubt those pushing it have any intention of stopping even as it becomes more and more obvious that it is a crash waiting to happen. I said the lunatics have gone further than taking over, They are redesigning the asylum and burning all the evidence that it ever looked any other way. I fear for the game I love while I see better alternatives for its future. All we can do is pray that this experiment fails quickly before the UK cricket body bankrupts itself and the game in this country with it.
We have a Brexit mentality that is taking us out of Europe and another one taking us out of the world of cricket.
pqs: qs: