Middlesex a toss away from advantage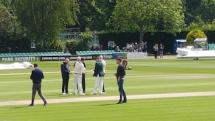 Why did we toss
By Dingy Bags
May 27 2019
Dingy Bags gives us a detailed report of a frustrating but in the end almost evenly balanced first day against Worcester. We don't yet know the answer to the burning question of the day. Why did we want to bat?
After a delayed start Middlesex surprised us by opting for a toss, clearly wanting to bat. We lost this and were put in anyway. This all seemed rather odd and we feared 30-4. Bamber and Scott left out. Sure enough, Max touched one behind in the second over from the inform Morris 2-1, one lept at Sam from Leach and plenty was beating the bat. Sam twice edged in the direction of third man.
First ball was OK
In fact, Gubbo started to play a few shots and we got to 43 before the impressive Tongue got Sam lbw. Mala and Gubbo made batting look a little easier for a while and the unfortunate Bernard had to go off with what looked like a side strain. Even more unfortunately, his replacement left arm seamer Whiteley, soon bowled Gubbo who once more had failed to go on from a good start. 66-3. At 73 Eski drove hard into the covers and set off for a run. It was well fielded and Eski had no chance of getting back but the throw missed the stumps and went for four buzzers, always something to delight the heart. We reached lunch 97-3.
After lunch batting appeared a bit easier and the score advanced quite quickly to 128 in relatively untroubled fashion but, out of the blue Whiteley, possibly finding some swing, pinned Eski lbw. This brought in Jimmy Harris at no 6 ahead of Simmo. Interesting tactic. Mala became another batsman to get in and get out when Morris got another clear lbw at 151. Mala out for 45. Harris then departed, another lbw, at the same score and things were looking grim. Toby, fishing, was taken in the skips at 182. Tom Helm then hacked one behind off Tongue, bowling with pace and bounce. At 191-8, tea was taken with 36.1 overs left. Could we get a batting point?
Rabbit Sowter made sure we did. While Simmo played nicely at one end, he swung, cut and chipped his way to a quick 20, sometimes hitting the ball where he was actually aiming. 221-9 became 321ao when Simmo chipped to cover. This seemed well, well under par. Worcester's seam attack, five strong, had continued to run in strongly all innings and to bowl straight, witness five lbws and one bowled
Helm made us feel better, getting one to lift on Mitchell and Simmo did the rest and then Rhodes went in similar fashion. 9-2 and the game was evening up.
Quick wickets for Helm
After 11 overs the score was 11-2 and Murts finished his spell with figures of 7 6 5 0, those 5 coming of two of his first three balls. It looked like 39 consecutive dot balls. At one point, Fell had 3 runs off 43 balls faced. Sadly. Harry was unable to keep it tight, going for 19 from his first two overs. Toby also went for 17 off his first three overs and the shackles were off. Toby tightened and Helm returned to give Mala some control and then Murts was brought back and was tapped for his first run in ages off his first delivery. We hoped for a couple of overs of spin, but Mala stuck with Toby who trapped the dangerous Sir Alex Ferguson for yet another lbw. In came Tongue as night watchman. This meant Toby's second three overs had gone for just two runs with one wicket. He got the last over to Tongue when Fell refused a single of the last ball of the penultimate. 64-3 at close. Worcester's day but we have the chance to fight back tomorrow. Their strength in bowling depth is impressive.
pqs: qs:
Middlesex a toss away from advantage
Posted by: Middlesex till we die (IP Logged)
Date: 27/05/2019 22:55
What do you think? You can have your say by posting below.
If you do not already have an account
Click here to Register
.
Edited 1 time(s). Last edit at 2019:06:02:21:42:27 by BarmierKev.
Sorry, only registered users may post in this forum.