A unWiese choice and Salt added to our wounds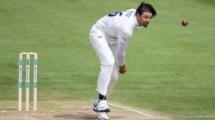 Weise Move
By Jonathan Winsky
June 2 2019
Jonathan Winsky gives us a detailed report on not a good day for Middlesex. Read on to the end to hear of a potential major record about to be overtaken.
I could have attended the mid-season Middlesex forum this morning, but my parents talked me out of it, saying it would be a long day. Instead, I arrived at Lord's at around 10:35am with Lower Mound (my dad) to find a long queue at the North Gate to get through the two turnstiles which had been opened for this match, although we managed to get through and into our seats in the Grand stand in good time. There was another turnstile specifically opened for people attending an event in the Nursery Pavilion titled 'Salaam Cricket', and when I did some Googling to see what it was about, I discovered that it was an event in which 11 cricketing legends talked about the sport.

As we walked into the ground, we heard lots of announcements from a man with an annoying voice, although not one of the announcements was about the result of the toss (if there had been one) or about any team changes. As Sussex's bowlers were warming-up, it was clear that Middlesex were batting, and I initially assumed that was due to Sussex opting against having a toss.

Sam Robson hit a boundary in each of the first two overs of the match, at which point Lower Mound said that my batsman in the Know Your Cricket competition should have been Robbo, rather than Nick Gubbins. However, the runs then slowed down, with Robbo scoring only one further boundary before being caught by Sussex's wicket-keeper and captain Ben Brown off Ollie Robinson for 18 off the final ball of the 10th over to make it 29-1. The fall of the wicket meant that our line-up appeared on the scoreboard, where I saw that we had replaced Nathan Sowter and Tom Helm with Ollie Rayner and Ethan Bamber. It seems harsh for Sowter to lose his place after one match. I later read a post by Chunky saying that Helm's omission was due to him feeling some muscle tightness in the warm-up. At least Tim Murtagh was playing, as he is my bowler in the competition.

Gubbo was now in, and fortunately for me, he was dropped at fourth slip by Luke Wells off Robinson when on 0. However unfortunately for me, Gubbo was out shortly after for 2 when he was caught by Brown off Mir Hamza to make it 37-2, which brought Dawid Malan in. At around 12noon, the announcer finally informed everyone about the outcome of the toss and about changes to the scorecard for the first time since we had arrived, and he said that Middlesex had won the toss and elected to bat, which seemed a bit of a surprise on the evidence of the first hour.

Our run rate was barely above 2 an over, so I hoped that we could get a partnership going, accelerate, and have a base from which to make a big total, especially as Max Holden was still in after opening the batting. However, the score became 41-3 when Holden edged Hamza to Laurie Evans at gully for 12 to give Sussex the first points of the match and to bring Stephen Eskinazi to the crease. Malan was able to increase the run rate by hitting Hamza for boundaries off successive balls and nearly making it three 4s in four balls, when the fielder just stopped the ball in front of the Pavilion, so instead the shot was worth three runs. However, Malan was out in the following over, c Brown b Wiese for 15 off 18 to make it 52-4. It was now around 12:30pm, but Sussex must have felt that they were into our bowlers at this point, as James Harris came in at number 6 for the second match running. When Eski was c Brown b Wiese two overs later for 6 to make it 63-5, Sussex could certainly claim to have dismissed all of our specialist batsmen. With Harris and Simpson now batting together, it felt like we needed them to score something close to the 197 they shared when batting together in the Royal London Cup play-off v Lancashire at Lord's last month. They at least got us through to lunch on 77-5.

The first ball of the afternoon session saw a confident appeal from Wiese and his team-mates to have had Simmo caught behind, but despite Simmo appearing to walk, he was given not out. Still, the appeal didn't make me confident about the session. A partnership in which 22 runs were scored in 10 overs came to an end when Simmo became Wiese's fourth victim when he was caught by Harry Finch at slip for 4 to leave us 85-6. Harris and Toby Roland-Jones' partnership took our score into three figures, with the landmark being reached when TRJ hit Wiese for his third boundary. However, the following delivery saw TRJ dismissed to leave us 101-7, with Brown taking his fifth catch and Wiese taking his fifth wicket. Rayner and Bamber didn't last long, as they both fell lbw to Robinson to leave us 110-9. At this point, some supporters must have been worried about us failing to achieve any batting points or about us failing to make an imposing total, but my main worry was that we would be all out without Sussex needing to bowl Chris Jordan or Will Beer. However, this can't have been at the forefront of Brown's mind, as he brought on Jordan straight after the fall of the ninth wicket, although this didn't exactly help Sussex, as Jordan's first delivery was a no-ball which Harris hit to the boundary as the over yielded 9 runs, while his second over saw Harris hit a six and Murtagh hit a four to make it 21 runs in Jordan's two overs. Unfortunately, we would not get to face a third over from Jordan, as Murtagh was bowled by Hamza for 10, meaning that we were all out for 138, which was our lowest first-class total since being all out for 98 v Worcestershire in our final match of 2015. Harris justified his promotion up the order by finishing on 38 not out, while we were helped by 14 extras, including 10 runs from no-balls.

Sussex's reply got off to a good start, with Phil Salt and Luke Wells putting on 23 for the first wicket, before Murtagh got the much-needed breakthrough when he dismissed Wells lbw for 7. Finch came in, and he and Salt scored quickly, bringing up their 50 partnership off just 55 balls, as Sussex reached tea on 78-1, just 60 behind.

Thankfully, we did not have to wait long to take a wicket in the evening session, with Finch falling lbw to Murtagh on 27 off the final ball of the first over of the session, to make it 79-2. It was nearly two wickets in as many balls for two different bowlers, as Salt was nearly bowled by Bamber off the first ball of the next over. Salt continued going well, and had reached 49 when Murtagh and his team-mates made a confident appeal for lbw, although the umpire didn't raise his finger, and nor did he signal a leg-bye when a single was ran, so it took a few seconds for the crowd to realise that this meant that Salt had reached his 50. However, Murtagh had certainly dismissed Salt in his next over when Salt was bowled for 50 make it 96-3. Stiaan van Zyl and Evans didn't appear in much difficulty, and scored 60 off 100 balls for the fourth wicket, before Harris dismissed Evans lbw for 31. However, this made it 156-4, which took Sussex into the lead. The only downside of this breakthrough was that it prompted Malan to remove Rayner from the attack in favour of Murtagh, which meant that we could no longer improve on our over rate of -2. Shortly afterwards, there was a stoppage for bad light, so Lower Mound said that we might as well go home due to it getting late, although I think that play resumed once the floodlights were switched on, with Sussex closing on 169-4 and a lead of 31.

We will have to bat and bowl very well if we are to take something from this match. Hopefully we can prevent Sussex from getting past 250, then go on to set them a challenging target.

Murtagh's wickets took his tally in first-class matches for Middlesex to 680 to overtake fellow Liverpool FC supporter Angus Fraser's tally of 678, and takes Murtagh to 18th in the list of most first-class wickets for Middlesex, and closer to Wayne Daniel's tally of 685.
pqs: qs: