I don't VanZyl our chances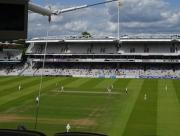 nice view_tough day
By Dingy Bags and Beefy
June 3 2019
A joint report on a tough day made more interesting by loads of helicopters for who you all know who.
Dingy Bags
After one of the more depressing days watching Middlesex, I travelled more in desperate hope than expectation. Murts and Toby opened and we were tighter than yesterday. Perhaps we should never have brought this game forward to a Sunday start: we were starting to play today. There was the odd edge but for a long time, nothing went to hand. Bamber replaced Murtagh but out attack sometimes looks very samey. Harry replaced Toby but still no luck in the first hour. Harry changed ends, Ollie came on and Trump-related choppers kept annoying us.
So, the lead built steadily, nothing much happened otherwise and Middlesex looked a little helpless. Sam bowled the last over of the session which summed up our morning, really. Lunch at 252-4 and a green zero on the board.
Beefy
After lunch, partaking in an ale, as it is needed since going through finger nail removal 1st session, we miss a wicket after Sussex reach 326-4.
It's been a rather painful day so far, new ball taken, and after 16 overs, Ollie comes on.
We saw a helicopter earlier, might have been Trump flying over, was he watching the game?
Trump helicopter?
Phil Catchpole has been squeezing mustard over his pork pie, oh, how he likes mustard.
Hold on, we got our 7th wicket as Jordan is bowled by Bamber.
Sussex still odds on to reach 400 and maximum batting points. Its been hard watching today so far.
We discuss making a catapult using the arm rests of seats in Warner Stand, Phil saying it's going to aim away from the ground; as I say, its been hard watching today.
384-7 and 6 overs to reach the 400.
Over rate now a nice red 0, only 6 extras.
Back to Dingy
After tea, Sussex batted on and on. We never hugely flagged but the runs kept coming. Mala changed the bowling around but van Zyl went towards a career best and Beer joined him in a partnership that went easily past 50. Essentially, this was proper 4 day cricket batting. The helicopters continued to provide more interest, especially the comings and goings from the direction of the park.
At last Harry got one straight enough to get van Zyl lbw for a Sussex best 173. An excellent knock. By this time, Beer had gone past his championship best and he soon got to his 50. The lead was now higher than we had scored in a while. Harry then bowled Robinson at which point Sussex declared, so maybe Sam and Max were not entirely happy he had done so. They had a tricky 4 overs to face as well as a deficit of 343. A good game to win.
We closed on 9-0. Which at least meant we had one session, albeit a short one.
pqs: qs: