Chance of a Jammy draw despite Robinson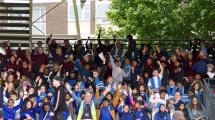 The future of cricket
By Phil Catchpole
June 4 2019
Our Hampshire correspondent reports on a another dire day for Middle with some humour thrown in with hope to cheer us up.
Desperate times as Middlesex are staring down the barrel as if a firing squad. Sam just lost his leg stump to a cracking delivery from Robinson and Malan has also just gone. 35/3. Time for Susan Boyle to start .
Apart from the school kids without their mums (who probably saw 100 balls today) there's not many here. Gubbins and Eskinazi in. Recovery on, no wickets for 3 deliveries.
Eskinazi out Robinson gets his 4th. 51/4. 4/18 off 11 overs. Angus must be fuming. Most of the members are. It's performances like this that sells beer.
There's more covers than a Showaddywaddy concert and it's chucking it down. So endeth...
Middle need same weather tomorrow for a chance of a ( cough ) well deserved draw.
pqs: qs: