What's in a name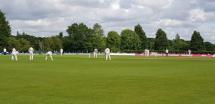 Rain, Rain gone away
By Dingy Bags
June 16 2019
for those of you who have forgotten what cricket looks like, Dingy Bags gives us a snappy report on a truncated day but a reasonably positive one. And one where the biggest congratulations are due to the ground staff
First of all, a big up for the ground staff and others at Radlett for the hours of work that had obviously gone in removing gallons and gallons of water off the field in the days before the game. There was lots more to do today before the start but the ground looked a picture.
Well done to the ground staff
Play got underway at 3.00 with 51 overs to bowl. Sowter replaced Ro-Jo which was a mild surprise and Glamorgan opted to bowl which was no surprise at all. Eski opened with Sam as we continue to look for a batting order that works. Showers had been heavy at times in the morning, so Sam's first two shots failed to reach the rope. However, runs started to come, not without alarms, and Eski brought up the 50 stand with a lovely hook for 4 off Carey. Just before this he had driven one straight into Wagg's 'midriff', so he might not be wagging for a day or two.
Glammy used five seamers in the session – tea was set at 4.40 – and on the stroke Eski was lbw to the fifth of them, David Lloyd, who was also umpiring Glamorgan also had Morgan and Root playing for them, on loan from England.
Sam went to a well-earned 50 soon after tea off 94 balls by which time Gubbo had got off the mark with an inside edge for 4. His luck lasted not much longer because Wagg trapped him in front. 92-2. Mala then got off the mark in precarious fashion, lobbing the ball close to long leg. Indeed, Mala looked completely uncharacteristic, swishing and jabbing. And, after order was restored with a lovely straight drive off de Wang, he nicked off to the same bowler. 133-3.
Sam continued on his way with an unusually subdued Stirlo, apart from one swish that would, had he middled it, would have cleared the M1. Closed on 151-3 which most of us would have settled for, Sam on 85.
pqs: qs: