Thank Guinness for that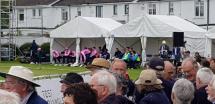 Lovely ground
By Beefy Roberts
June 22 2019
Beefy reports on a glorious days cricket inbetween some ressearch and a great party
I arrive at Dublin a day early to do some research into the area for those arriving on the day. Due to the rain it was mainly indoors, that quenched my thirst.
Day of game I visit to the Guinness brewery in the morning with some Irish cricket guys from Hills CC.
Here's how the cricket went. We lose the toss, and get put in on a very green outfield.
6 more Middle seen as we are denied access to the VIP area! We tried. Stirlo hook ball over left shoulder and into orbit for 6. It's a small boundary, guy next me said will be few lost balls today. Stirlo gets a short ball tries to hit out of ground, it went wrong and is caught 23-1
2nd team player Cracknell comes in but not for long, it's 30-2 now and Gubbo joins Malan at the crease.
Guinness is €5 a pint here but is nice
37-3 Mala now caught behind or might of left it, but the keeper went up.
80-3 as Eski and Gubbo start to look comfortable.Forget that, Eski is bowled so its 81-4,me and my big mouth!123-4
Having Irish hospitality and still watching, we reach 144 and Robbo goes. Simmo comes in with 5 overs left.
Gubbo now on 75,with 4 overs left.
The pavilion is a maze, I use the toilet, finish in the kitchen, using the wrong door after emptying the tank.
174-5.Gubbo is bowled.
Scoreboard not changed. 177-6
Simmo gone as the fielder pushes ball up, juggles and catches him.
We are 182 all out. Wrong we are 181 all out.
Crowd of 1590 announced. Later hear record crowd of 1700
Reply 28 without loss, Finny ball sent onto someone's garden.
PA said Sowter bowling as Bamber runs up.
51 off 5 overs
The master spin king Robbo takes a wicketneeded 69-1.
83-2 another wicket for Super spinner Sammy Robson celebrated by in fine style by Rod/Ed in his black watch kilt
Guinness is taking over, losing track.
113-4 now Robbo back on. 112-5 as Robbo takes another wicket
At 158-5 Lenster favourites. Then 160-7 Finny on a hat trick
Close finish 8 off 2. 6 to tie, from last ball and a super over
Middle win by 5 runs
The entertainment continued. More Guinness. There is a band at ground that play cover versions as the Middle faithful show off their dance movents. I end up kissing the pavement. What a day!
ROD ED SHOWING OFF KILT. CELEBRATING WITH THE LOCALS
pqs: qs: