Middlesex play like Donkeys at Derby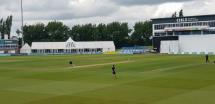 Best part of day
By Beefy Roberts
July 1 2019
Beefy at least has the will to report in as much details as possible on a desparate day for Middlesex.
We start off with a green wicket. Over rate -5 at start, soon down to -4 with Rabbit on early.
We fail to take an extra bowling point and as Du Plooy makes ton. I look at Derby scorecard.
2 batsmen made 90+
2 batsmen made 100+
One made 0

Ok folks sit down, we finally get a wicket. 488-5 at lunch. At lunch unhappy Middlesex members in pavilion moan about their day and one session so far.
After lunch, we are -2, soon its – 1. Beefy runs around pavilion to alert Middlesex members we reach the magic ZERO on over rate!
Shot of day Dal on 86 and Dal tries a scoop in a county game?
On 557,Derbyshire declare.


Eski has gone for 23 and we are 53-1 at tea us closing in on their target.


Birthday boy now gone for 34. 65-2. Gubbo survives two chances. He then plays a glorious drive for 4 and out next ball LBW Reece.
Towards close I notice Derbyshire gave away no extras and an over later we gain two. We are grateful for that.
Finn night watchman nearly plays on for last ball of the day

135-3 at close. I'm off to the Exeter Arms for quiz. I would put my joker on the round about Middlesex.
pqs: qs: