Toby has his mojo back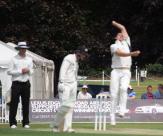 Toby in full flight
By Dingy Bags
July 8 2019
Dingy reports on the swings and roundabouts of a day which saw TRJ back with a bang but the match ending well in the balance.
So, another low score despite many starts among the batsmen but at least we arrived at Sandy Lodge with Toby's two wickets giving us some hope. He'd looked in good order too, play ending with a convincing shout for lbw. Well, it convinced me. We'd also taken both the slip catches that came our way, so we were in the game.
Helm opened the bowling from the Benham (?) End to cries of "Come on Cheddy!" and the jet-lagged veteran from the Lake End. Both beat the bat but no chances were created. Scott replaced Helm and Roland-Jones replaced Murtagh. All looked as if they might take a wicket but an hour passed before Toby dented Dent's wicket for 48, the highest score of the game to date. In Toby's next over, Charlesworth, who beasted us at Bristol, was taken at slip and then Howell, another frequent torment, edged behind. 5 for Toby and 87-5. After an attacking sixth wicket stand, the prodigal son got Roderick lbw for 40. Yet another not to go on. But Higgins remained bristling with intent...So 122-6 at lunch 63-4 on the session. Game pretty level.
We were frustrated for a while after lunch when George Scott put in a good spell with three close lbw shouts. He seems to be developing well as a first class cricketer. After a half hour the in-form Toby got an edge from van Beerup and Eski did the rest. At this point it looked like career-best figures. Still Higgins remained. Pain failed to last long, yet another slip catch safely held. 145-8 and a well-deserved wicket for the persevering Tom Helm. At this point it looked like we might get a lead but Shaw came in and started to stroke it around, including an uncharacteristically expensive over from Murts. On fact runs came in an irritating ninth wicket stand that took the Shire past our score. Soon, with grim inevitability, Higgins became top scorer in the match. Sowter was brought on to break the stand but it was Toby who did so, taking 7 in an innings for the first time when Shaw jumped across his stumps to be lbw. Higgins went to his 50 next ball with a late cut off the Rabbit.
The batting point came ups Higgins, in midsummer form, hit Toby for two legside fours, but Sowter got Leo Sayers lbw in the next over. Toby 7 -53 career best and great to watch but Glaws had a useful lead of 29. How significant remained to be seen. Tea was taken between innings and we came out with 41 overs to play.
We wanted to see if we could clear the deficit before losing a wicket. The ball was clearly still doing plenty, although there was a strange episode when the umpires spent ages examining the ball.
Yes we really had a fifty opening partnership
We got 53 on the board, our first 50 stand of the game, but it was not to last as Sam edged Higgins (again!) into the slips. Roderick then decided to stand up to Higgins, since both batsmen were going down the wicket. Eski c behind first ball and Higgins was becoming the key man of the match. Gubbo had been very jittery. Apart from going down the track, he was looking for quick singles where they did not necessarily exist so it was no surprise when Higgins bowled him. This was becoming more than tedious.
Scoring slowed, as in the first innings which presage a clatter of wickets. So the last hour was a tense time, making the cricket infinitely more watchable than anything on view at Derby. After 6 it grew suddenly gloomy, just as Scott relieved the siege with a couple of boundaries to third man. The umpires consulted but carried on. Scott responded with a lovely cover drive but they went off a few balls later. 96-3, 67 ahead.
A good day's play with the game perhaps slightly tilted in favour of Higgins, sorry Gloucester.
pqs: qs: