Much Ado About Something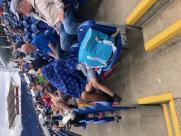 Canít bear to watch
By Barmy Kev
July 14 2019
Eagerly awaiting this as the last weekend of proper cricket. On walk to ground I pass open air theatre wondering what was showing. A play based on our first innings batting Much Ado About Nothing . Good toss to win I hear with us choosing to bat. This seems awful choice reverse of Derby bad decision. Four early wickets and Phil Catchpole checks that play starts at 2pm and seems an appropriate idea to watch. At 65-4 those staying 4 days are Googling tourism in Cardiff. Dr Who museum seems a good idea. Someone suggests a tardis so we can start today again and put them in. It was then suggested tardis taking us back to 2016. Mala and Simmo survive to lunch by attacking . We are scoring at 4 an over so honours almost almost even.
Mala is crucially dropped just after lunch. Simmo and Scott soon out at 131-6 we are in despair again. TRJ nearly plays on first ball. A massive cheer when received a bonus point honestly thinking this is best we can hope for. Unbelievable another bonus point as TRJ made a brutal half century that produces loads of chants. Followed by the Rabbit who was hitting 6s for fun also made a career best half century. He seemed to pick up a worrying injury on hand. Meanwhile Malan makes his third score over 150 this season for 166. Incredible score of 384 and ended up disappointed we didn't pick up max bowling points
Glam reply and would settle for one wicket. Selman out. They call for night watchman cheerio. Then penultimate over the dangerous Labuschagne and a Hemphrey is not about. All wickets off Helm 4-8. Ecstatic is the word.
This was all difficult to take in and I am getting carried away. We should be looking to enforce follow on. One of the best days following the Mighty Middle. Who cares about the tin pot World Cup
pqs: qs: