A Diamond of a Finish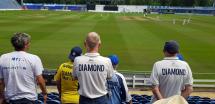 Remembered
By MTWD various
July 14 2019
Today was the MTWD nominated Diamond Day where the MTWD faithful plus Welsh Dave remembered our friend. The best way of commemerating him on MTWD is sharing random quotes on what was a truly amazing day for cricket.
Quotes of the morning courtesy of Phil Catchpole.


Cut by Root for 4. "Square Root".

Midday "we do not like taking a wicket". Next ball TRJ dismisses Root our first wicket of the day.

"Good if Scott got Cooke out on 111 Nelson. Having to navigate his way to the pavilion".
Lunch time we went to Black Pig pub and raised a glass for Diamond.


cheers mate
After lunch Beefy "I'm going to the bar". TRJ bowls Cooke a grass cutter.


When Lloyd out anon said "due to drop catch of Malan his score -62"
Beefy "one more for a Bonus Point" and next ball 9 down.
Debate on enforcing following on that got quite industrial. The views were split with unrepeatable words. Diamond would have been proud.
Just before tea Malan is run out by Robson with no effort to get in, "A conspiracy to watch the World Cup final".

After tea- a Seagull delivers a message to Beefy from a great height, splat. Perhaps that was from someone further up there trying to make a point.
As the session progresses,.Simmo and Robbo get down to business slowly but surely. Nothing in game. Barmy Kev was critical of those slowly leaving to watch World Cup in their Legends Bar, then succumbed himself. The Wimbledon Final was simultaneously going to a final set tie break as the World Cup final was heading for a super over. Moggy seen in discussion with umpire. It was suggested he was asking him for updates of Middlesex score. Just before close we hear Simmo is out no idea how , but guess he needed to return for climatic finishes.
Where are the mums and kids?
Final quote from Turkey Mark. "This one over stuff can really catch on".
This report is dedicated to the memory of Derek (The Diamond) Britton
pqs: qs: