Who's Sorry now?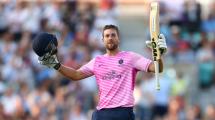 i form of his life
By Jonathan Winsky
July 24 2019
In absence of a volunteer to report we are presenting Jonathan's excellent summary on MTWD as a stand alone report.
For the second season running, this fixture saw Middlesex post a total of 200+. Thankfully, whereas the 2018 season saw Surrey thwart my hopes of getting the rate required up to 12 and beyond and saw Surrey cruise to victory, the 2019 fixture put those memories to bed, as they spent their whole chase unable to control the rate required.

One memory from a previous Twenty20 match at The Oval which I was delighted to have cause to recall tonight was Dawid Malan's innings v Lancashire in 2008, on which occasion his innings ended when he was caught by Stuart Law. Tonight was the sixth occasion someone has scored a century in a Twenty20 innings for Middlesex, with three of the team's centuries having been scored by Malan, and three of the team's centuries being scored at The Oval. Indeed those three centuries at The Oval are the only three I have witnessed.

At one stage, we looked like making a far higher total, so hopefully there won't be a future match in which we once again slow down and end up consequently losing instead of there being a happy ending like there was tonight.

For the second match running, our success with the bat was helped by the fact we didn't lose many wickets and therefore didn't require our lower order to bat. As I don't feel confident in our lower order's ability to score quick runs, I am currently reluctant to get too excited about our prospects of doing well in this competition.

The fact Stephen Eskinazi batted well and Nick Gubbins was not asked to bat will help Eski's chances of retaining his place when Paul Stirling returns next week.

The posters who anticipated that the spinners would do well tonight were proven half-right, as Imran Tahir and Gareth Batty conceded 75 off 6 overs (although Tahir managed to dismiss his former South Africa team-mate AB de Villiers lbw to Tahir's great delight despite the ball touching the bat), whereas Mujeeb Ur Rahman was his usual economical self (which helped our defence of our total get off to a better start than in this fixture in 2018) and Nathan Sowter took two wickets.
pqs: qs: