Murts Irish eyes are smiling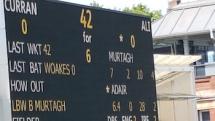 Some day for Murts
By London Leprechaun
July 25 2019
Fittingly, it is the London Leprechaun who tells us about Ireland's (AKA known as Middllesex) great day in the first test against England. While the report fouses on the Middlesex connections it does show a bit how England ended up in an Irish stew.
When I decided to get a ticket for the first day of the England/Ireland test match it was mainly because of the Middlesex connections in the Irish team. And I chose the first day because I wasn't sure how long the match itself might last. Well I was right about that choice but probably not in the way, me and most others probably thought.
Making my way to Lords surrounded by green shirts and soft Irish accents I got to thinking that maybe if Ireland bowled first, just maybe something might happen for Murts. I couldn't hear what the captains said, but I wonder if Ireland might have thought about bowling for that reason if they had won the toss. After all playing on his home ground all he had to do was treat it like any normal Middlesex match. And as he was initially bowling to two Surrey batsmen that surely was not hard to do. Apart from ignoring the fact that there were 20,000 people in the ground.
And maybe that was he did because just like he has done for Middlesex for so many matches at Lords he was on the money from the beginning. At Test matches they put up the bowling speeds and at less than 80mph he just bowled that perfect line and length and bit of swing, that makes batsmen have to play. With a slight green twinge on the pitch it did not take long for the first wicket. A ball moving away: a tentative waft and Stirlo - who else - snapped up the chance even it is was caught between his wrists. It could have been Middlesex v Surrey all over again. And so it continued in a mad two hours. Another Middlesex connection saw Denly play a few of the trademark cover drives that make him such an elegant player to watch. But Adair was doing his bit at the other end; Denly did not last long and then the wickets just fell. And fell. Even Root and Bairstow – maybe the only batsmen nailed on for the Ashes series had no answer. Bairstow was especially fidgety, even pulling away very late, from a ball that Murtagh was in full flight to bowl and which actually hit the wicket. He could well have been given out. Ireland used their reviews well and England lost 4 wickets for one run; Murts day was complete. The ground was a mix of shock and genuine pleasure for his fabulous bowling. And not just from the Irish supporters. I am sure there were many other Middlesex supporters who had become Irish for the day.
Middlesex in the lead over England
Middlesex connections continued after Ireland looked to blow a solid opening with two careless wickets. Some solid defence and some handsome shots from Balbinie and Stirlo (not to mention a couple of dropped catches) took Ireland into a great position, and at one point their combined scores put Middlesex in the lead over England. But in true Middlesex fashion an interval was not good for Ireland and as England bowled a bit better, Ireland wobbled in similar fashion to England, and slowed right down. Of course, it had to be Murts who came in and played some of his trademark swipes – which took Ireland to a lead over a hundred. Nice to see him playing his usual shots and not having to worry about whether he would get us over a bonus point line.
And of course Murts had to bowl the one over left at the end of the day to night watchmen Leach which he just managed to stay safe in. Fitting that he should bowl the opening and last overs of the day. Unexpected that it was in two different innings and that Ireland got to bowl it with everyone fielding close. And a great day for all our Middlesex connections.
pqs: qs: