Finn Has Only Got Better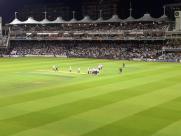 Another wicket
By fozzie
August 9 2019
Fozzie describes our Finntastic win as he braves the touts to his Warner Stand vantage point.
Joining the crowds streaming out of St Johns Wood station we had to run the gauntlet of numerous touts hoping to buy tickets for the match. Cricket - it will never catch on until a glitzy new format is introduced...
Despite arriving early the Warner Stand was already quickly filling (no complaints about the spectators' attentiveness there this evening) and the atmosphere was building up). With some cloud cover at the start and rain possibly forecast towards the end of the match, it wasn't surprising that Dernbach decided to field on winning the toss. I made the fatal mistake as Tahir opened the bowling of remarking that he had dismissed Bairstow with the opening ball of the World Cup, at which he immediately had Dawid caught for 0. An ominous beginning, followed by Stirlo, again looking in good nick but not going on to make a big score, being dismissed in the 4th over. Enter AB, who quickly hit the returning Tahir for three consecutive 4s all around the ground. It was a useful 54-2 at the end of the power play, but then Eski clearly felt himself bogged down by Batty and attempted a suicide single which AB wanted nothing to do with.
So there was a risk of the innings imploding as Eoin Morgan came in to the now customary standing ovation. But he looked up for the contest from the start, and before long he was outscoring AB who seemed content to play more of a supporting role. Maybe Eoin feels relaxed now that the World Cup is out of the way, maybe he enjoyed the challenge of batting with AB, or perhaps he was rising to the big occasion – whatever, it was the best innings I've seen him play for Middlesex for quite some time. He was clearly enjoying himself, and reached his 50 with three sixes in an over off Tahir, culminating with a great straight drive to the sightscreen. AB also reached his 50 with a six, before finally being caught for 64. Eoin, Simmo and Toby carried on hitting sixes, and even though three wickets fell in the final over.
I've been underwhelmed with some of our marquee signings, but AB is something else. Three superb signature innings from five starts, all in match-winning causes, and a great attitude as well. It's excellent news that he will be back for the final group stage matches.
I guess any plan for dealing with Surrey's batting must centre on getting Finch out early. He started out with four consecutive boundaries off Tom Helm, who held his nerve to bowl Jacks. But Finch and Sam Curran kept the run rate at the required level, facing primarily a spin attack. Nathan Sowter came in for some hammer as Finch hit him for two 6s, but he responded crucially by having Finch stumped (somewhat inelegantly) by Simmo. Curran was going well, but the danger man was out.
Half the innings had been completed before Stephen Finn was brought into the attack. I had cast my mind back to a match at Richmond some years ago in which our opening bowler Anthony Ireland was not given a single over, and wondered whether we would see a repeat tonight. Finny's opening ball flew past Curran's ear, his second was clubbed high for 4, but his third induced an attempted slog from Curran that spooned up for Simmo to catch. Toby dismissed England's forgotten man Ollie Pope in the next over, and that was that, as Finny and Toby buckled down to their task with relish and Surrey's phalanx of all-rounders came and went in procession as the fielders took the chance to back up their good groundwork with a series of safe catches (and looking very dapper in their white caps, promoting the excellent Felix Project). Finny was a revelation, fully deserving his five-for: fast, aggressive and accurate, and the batsmen had no answer to him. It was great to see, as the tension evaporated and an air of celebration took over.
I've become fairly immune to the trappings of T20 (just don't get me started on flame throwers), though I have come to loathe Sweet Caroline, invariably played at the end of the 16th over. However, as it blared out again after the final wicket fell the lyrics suddenly seemed quite apt: "Good things never seemed so good". A great evening's entertainment in front of a record crowd, well-placed in the group, and five T20 home wins in succession against Surrey. Things surely can get better still, but this will do nicely for now.
pqs: qs: