Evans Knows I'm Miserable Now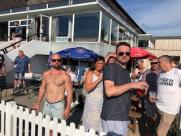 Captive audience
By Barmy Kev
August 25 2019
This report carries a MTWD health warning.
I arrived at Uxbridge an hour early thanks to being able to cadge a lift avoiding rail replacement etc. The ground was busy. My prediction that the Saturday kick off and transport difficulties may affect the attendance was proved wrong. Although, one anti ABU was conspicuous by his absence.
Before the game there was a general depression, with those who care about CC defeat at Sussex and the dismal loss to Hampshire. On top of that there was England in the Ashes and some of our football teams not doing as well as we would like.
Having found a good standing spot in pavilion area, which has been renamed Vermin Patio, typically people without realising stand in front of us. This became quite annoying with plenty of room elsewhere. I was determined to avoid using phone for football updates concentrating on the cricket. Our 57 opening stand broke with Robinson again, Stirlo skied one. My footie teams scores checked after 5 minutes my two teams Barnet and QPR both 1-0 down. It's going to be one of those days.
There was some cheer. A cheerful steward walked pass, with a Middlesex cap with Diamonds written it. This bought up memory of MTWD friend. Beefy was allowed to pose with it.
Diamonds are forever
Mala looked fluent then out to dreadful shot giving catching practise from a pie of a ball. Moggie and Hafeez were pushing on nicely. Moggie hits one 6 over the pavilion into tennis courts, new ball please. While Hafeez consistently just cleared the boundary edge and avoid fielders with skiers.
At 141 for 2 off 15 overs, 200 + looked likely. Morgan was out in the deep. There was no acceleration and we only made 171. Eskinazi was padded to bat throughout the innings and didn't. Scott really struggled to hit the ball and Hafeez is not what I call a destructive batsman.
Sussex got off to a flyer. 3 fours of Helm's first over. There was a TRJ over that went for 23 and we looked out of it by end of first power play. At this stage I was quite happy for people to block my view. Cheers as West Ham extended their lead, Man Utd were losing, Barnet and QPR doing better. I'd given up on our game. Salt was out with game beyond us and ruining a potential headline. Carey well he does not like us and carried on where Salt left off. Luke Wright does not like us too and was hitting 6s for fun. I sent a text to our What's app group saying "this does not Luke Wright". He is out next ball. Laurie Evans is in I tried to steal a wicket by texting "Evans above". Instead he scores 50 in no time and finishes with a 6 deep into the crowd. A comfortable win with 4 overs to spare. I think Sussex would have chased anything we set
The journey home was not the best. I was squashed on a U1 bus reflecting on 5 out of 5 big losses to Sussex. Also in all competitions we need 5 out of 5 wins. Unlikely.
pqs: qs: