It's all about culture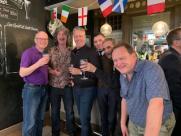 Change is coming
By London Leprechaun
September 30 2019
Our final report of the season is about the forum which was not just a cut and paste from last year. It is not a verbatim report of the forum so if anyone else who was there feels anthing is missed please add your pennyworth.
It was reasonably attended given the weather, timing and transport problems. Fair number of empty seats though.
Started with the player news now up on the web site but just to recap:
Malan resigns captaincy role
Cummins signs 3 year deal
Sowter extends contract
Rayner leaves Middlesex
Barber leaves Middlesex
None of the website quotes were repeated tonight and there was nothing to suggest during the evening that Malan is leaving. But the question was not directly asked; Cummings signing is apparently, potential cover for TRJ and Helm still on the England radar.
Stuart Law talked about other changes next year which he described as cultural. For example
Negative comments when batsman is out. Coming in saying its swinging all over the place; So and so is bowling xxxxx fast. Puts next batsmen off anyway that's what you expect bowlers to do.
It's the club's fault when not playing for England
I've always done it this way when asked to look at changing something in your game
It's the pitches fault
Need senior players to step us a leadership group to drive culture changes and call out this kind of talk. Language is important.
However, it is also felt the batting group need someone who can coach batsman on the field as well as be good influence of, so the overseas player next year likely to be a batsman. We are in discussion with some now. Stuart Law tried to see if AB was interested for a full season but no luck in that. No decision on whether the overseas player would also be captain but not being ruled out.
Other points in no particular order
Murtagh will put Middlesex ahead of playing for Ireland.
All bowlers have been told to cut run ups to help over rate and to stop faffing about changing the field in-between overs.
Every match matters – the Derbyshire match was not meaningless and the players were told that
We will only sign other county players if they are going to be really significant contributors off the field; some of our signings have struggled with living in London. Denly and Ireland were examples of this.
Remember if we sign someone we are denying a place to one of our players.
On loss of players who've succeeded elsewhere. Gus view is that we have always been a County that over produces players from the Academy and it is inevitable some will go elsewhere. Some have struggled with competition at Middlesex and with living in London and want to go and be big fishes in smaller ponds where they will be guaranteed play.
Stuart Law is excited by some of the even younger players who are coming through, and knew a fair bit about them.
Will likely be more matches at Lord's next year. MCC want us. Possibly six CC and even some Royal London games.
There was no question about Barnet.
Finances and sponsorship so far not affected by Div 2 status.
Rumours about ECB cutting first class counties not founded. Richard said ECB are putting more investment into supporting the County game.
No question on the Middlesex room.
And sadly as it was getting dark and we still had to run the gauntlet of MCC security there was no chance to see how much more of the Compton stand has been eaten.
pqs: qs: