World Cup 2019 Fixtures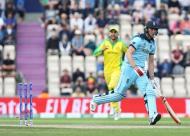 By Michael Norwood
May 26 2019
With the warm up fixtures wetting the appetite for the full competition over the English summer, we look at all the fixtures as the nation settles in to watch a swash buckling one day international tournament.
More tinkering from the ICC, has led to a one group format, no doubt to maximise profits, as ten international teams do battle in order to be crowned World Cup Winners 2019.
With no less than 9 group games for each team, it will be an exhasuting few weeks, with the top four then heading to the semi-finals and final which is to be played at Lords.
May
30 England v South Africa, The Oval (10:30)
31 West Indies v Pakistan, Trent Bridge (10:30)
June
1 New Zealand v Sri Lanka, Cardiff (10:30)
1 Afghanistan v Australia, Bristol (d/n) (13:30)
2 South Africa v Bangladesh, Oval (10:30)
3 England v Pakistan, Trent Bridge (10:30)
4 Afghanistan v Sri Lanka, Cardiff (10:30)
5 South Africa v India, Southampton (10:30)
5 Bangladesh v New Zealand, Oval (d/n) (13:30)
6 Australia v West Indies, Trent Bridge (10:30)
7 Pakistan v Sri Lanka, Bristol (10:30 BST)
8 England v Bangladesh, Cardiff (10:30)
8 Afghanistan v New Zealand, Taunton (d/n) (13:30)
9 India v Australia, Oval (10:30)

10 South Africa v West Indies, Southampton (10:30)
11 Bangladesh v Sri Lanka, Bristol (10:30)
12 Australia v Pakistan, Taunton (10:30)
13 India v New Zealand, Trent Bridge (10:30)

14 England v West Indies, Southampton (10:30)
15 Sri Lanka v Australia, Oval (10:30)
15 South Africa v Afghanistan, Cardiff (d/n) (13:30)
16 India v Pakistan, Old Trafford (10:30)
17 West Indies v Bangladesh, Taunton (10:30)
18 England v Afghanistan, Old Trafford (10:30)
19 New Zealand v South Africa, Edgbaston (10:30)
20 Australia v Bangladesh, Trent Bridge (10:30)
21 England v Sri Lanka, Headingley (10:30)
22 India v Afghanistan, Southampton (10:30)
22 West Indies v New Zealand, Old Trafford (d/n) (13:30)
23 Pakistan v South Africa, Lord's (10:30)
24 Bangladesh v Afghanistan, Southampton (10:30)
25 England v Australia, Lord's (10:30)
26 New Zealand v Pakistan, Edgbaston (10:30)
27 West Indies v India, Old Trafford (10:30)
28 Sri Lanka v South Africa, Chester-le-Street (10:30)
29 Pakistan v Afghanistan, Headingley (10:30)
29 New Zealand v Australia, Lord's (d/n) (13:30)
30 England v India, Edgbaston (10:30)
July
1 Sri Lanka v West Indies, Chester-le-Street (10:30)
2 Bangladesh v India, Edgbaston (10:30)
3 England v New Zealand, Chester-le-Street (10:30)
4 Afghanistan v West Indies, Headingley (10:30)
5 Pakistan v Bangladesh, Lord's (10:30)
6 Sri Lanka v India, Headingley (10:30)
6 Australia v South Africa, Old Trafford (d/n) (13:30)
9 *First semi-final: 1st v 4th, Old Trafford (10:30)
11 *Second semi-final: 2nd v 3rd, Edgbaston (10:30)
14 *Final, Lord's (10:30 BST)
*Semi-finals and final have a reserve day
pqs: qs: