5 Things Learnt from Opening Ashes Defeat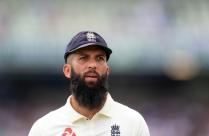 By Michael Norwood
August 7 2019
What do we make of England's disaster of an opening Ashes series defeat at 'fortress' Edgbaston, do we need to see wholesale changes for the Lord's test next time out, or is there enough trust in the same players (minus Anderson of course) to turn the situation around. Here we look at five issues that need to be looked at and addressed.
What has happened to Moeen?
Confidence looks absolutely shot in Moeen right now, did his dropping in the World Cup affect him more than we thought, however his batting has been nowhere good enough for a long time. Amazingly he was once thought as a potential opener, yet now he wouldn't install confidence if he came in at number 11. This in turn has seen his bowling go quickly downhill as well and Jack Leech will surely replace him at Lord's.
The two 'moon balls' he served up when he should have been ripping through the opposition line up on Day 4 at Edgbaston, just about summed up his confidence right now, that and the fact Nathan Lyon showed how to do it on Day 5 will more than likely see the change made from the selectors.
Needs to go back to his county and find his form again.
How to Replace James Anderson
Forget the merits of if Anderson should have played or not, ahead of the test match, who else was available, England could have done the same gamble with Jofra Archer and had the same result, and still been hammered for it.
We believed that this was possibly Anderson's swansong, bow out on Ashes winning series, but you could see the hurt in him, whilst he was trying to bat in both innnings, he felt as through he had let the side down, and even apologized to his team mates.
He'll want to feature, but he really has to target the Old Trafford test in September for a realistic return, put simply you don't replace Anderson in English conditions, we just need to try and get back into the series before the fourth test.
Roots Captaincy
A lot of scruitiny on how he handled the main problem of the test match, and that was trying to get Smith out, plenty of other captains have tried and failed and will continue to do so.
Has the talk of where he bats, produced a scrambled mind? We have always been of the opinion that you simply don't just give the captaincy to the best batsman and see how he goes, Root's issue of trying to convert half centuries to big hundreds, will not be solved if England continue to struggle with the bat, so why not just let your premier batsman, just simply do that!
Eoin Morgan isn't the best batsman in the one day line up, but by god he has an excellent cricket brain.
Whilst a change in captain mid series, isn't going to happen, it is worth discussion ahead of a busy winter in New Zealand and South Africa.
Top Order Woes
Jason Roy's shot on the last day whilst trying to save the game drew a lot of negative press, however everyone knew what they were getting when he was called up from the one day side, this guy simply does not only not open for his county, his average in the longer form is not of particular anything to write home about, so why the surprise?
Will his mind become scrambled now in the one day arena? We don't want to ruin what contributed to the world cup win.
Question marks also sit over Joe Denly, whilst he does well in division 2 for Kent, it is a different ball game facing 90mph inswinging balls in a hostile test environment.
But who else is there on the rank?
Foakes or Bairstow
Another one suffering with confidence is Bairstow, or is it simply a world cup hangover? His batting has gone backwards in the longer form, and his keeping is now also having a backwards moment.
Again however, there were question marks ahead of this series and Foakes did enough in Sri Lanka to hint that he may be the better option with the gloves, or do we simply pass them to Buttler and bring in another batsman.
Without doubt, it is England who have all the question marks ahead of the next test match at Lord's, it's confusing us, so heavens knows what it is doing to the selectors.
pqs: qs:
5 Things Learnt from Opening Ashes Defeat
Posted by: England Cricket (IP Logged)
Date: 07/08/2019 07:27
What do you think? You can have your say by posting below.
If you do not already have an account
Click here to Register
.
Sorry, only registered users may post in this forum.