Notts at Taunton CC1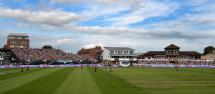 By Farmer White et al
July 8 2019
Nottinghamshire, at the foot of the CC1 table arrive at Taunton to play Somerset, at the top of said table. It is set up for an interesting game. Our resident supporter observer gives us the low down on the ups and downs of this contest. Over to you 'Farmer'....
County Championship Division 1. Somerset v Nottinghamshire. 7th, 8th, 9th and 10th July 2019. Taunton.
Somerset. T.B. Abell (c), Azhar Ali, J.C. Hildreth, T. Banton, G.A. Bartlett, S.M. Davies (w), L. Gregory, D.M. Bess, J. Overton, T.D. Groenewald, M.J. Leach.
Nottinghamshire. J.D. Libby, B.T. Slater, C.D. Nash, B.M. Duckett, S.J. Mullaney (c), R. Ashwin, T.J. Moores (w), L. Wood, L. Fletcher, L. A. Patterson-White, J.T. Ball.
Toss. Somerset. Elected to bat.
First day. 7th July – Somerset battle back
Backs to the wall, hold the line and then battle back into contention. That has more than once been the story of Somerset's 2019 season. It was the story again on the first day of this match. Nottinghamshire, stiffened by the 65 Test matches worth of experience of Ravichandran Ashwin and their attack sharpened by the apparently infinite variations in his off spin bowling, tested Somerset in the first half of the day only for Steven Davies to lead a fightback more than ably supported by Dom Bess and Jamie Overton in the second half.
This has been a season of hopes and fears as the prospect of a first County Championship has hung tantalisingly over the Cooper Associates County Ground. That prospect has been there since that first match against Kent in the long-gone days of early April. That was another backs-to-the-wall, hold-the-line and battle-back-into-contention performance. Whether the prospect of that first Championship will hang there still in September's autumnal chill may depend on Somerset matching Essex, result for result, until their meeting in the final match of the season on the far side of the Autumn equinox.
Somerset may need to start by winning this match because Essex are ahead in their match against third-placed Yorkshire at Chelmsford. If Somerset do win this match they will have much to thank Davies, Overton and Bess for, because by their efforts was the hope with which the day started rejuvenated towards the end of it. That early hope had been fuelled by the overwhelming victory over Hampshire. The hope though was tinged with a nagging doubt. Bottom-placed Nottinghamshire have good enough players to revive their fortunes by their own efforts if they can only find the spirit to do it. Spirit is a mercurial entity. Somerset's suddenly revived at Scarborough after a disastrous start to the 2017 season and with growing confidence the team avoided what had seemed near-certain relegation, at least to neutrals. Beware teams in apparently hopeless situations.
I took my seat in the lower deck of the Somerset Pavilion roughly in line with second slip to the right-hander facing the River End. There is an outstanding view of the cricket from there with no pillars to obstruct the view. The sky was a combination of summer blue and high white clouds. The crowd was large and grew steadily through the morning until it looked, to my eye, as if it must have reached around 2500, perhaps a few more. The close proximity of the cricket to the crowd on three sides, and a crowd of such numbers, adds to the atmosphere. The shorter of the square boundaries was on the Somerset Stand side which may have accounted for the numbers who sat in it. As many as I have seen for a Championship match. Somerset in pursuit of the Championship is growing the crowds.
Somerset won the toss and elected to bat on a pitch which looked to have more grass on it than had the one for the Hampshire match. With four specialist spinners on the field, Leach and Bess for Somerset and Ashwin and Patterson-White for Nottinghamshire, it seemed the inevitable decision, if indeed it should not always be the decision once April's green-tops have faded away. The hope around me was that Somerset's stunning first innings against Hampshire would have given the Somerset top order the confidence to take advantage of more fortune with the toss.
Somerset started positively as people continued to come through the entrance gates in numbers. Abell and Azhar began to make fairly uneventful progress with Abell pushing his third ball, from Fletcher, between point and cover for a single and Azhar cutting the first ball of the second over, from Ball, square to the Caddick Pavilion for four. Abell early awoke the ghosts of the old Straggler's bar with a drive to their boundary off Fletcher which brought cries, of "Shot!". Abell plays such strokes with a classicism fashioned from the original design and when he drives he does so with immense power. The 'crack' of ball on bat must have been heard in every corner of the ground with such sharpness it might have been mistaken for a whip. Slowly nerves began to settle.
And then Azhar pushed at a ball from the left-arm pace of Wood and edged it to slip for 10. The ball flew low but Mullaney took the catch with apparent ease. Wood had angled the ball across the batsman. Left alone the ball would have been harmless for it left the edge of the bat well outside off stump. Wood's high-speed sickle shaped celebration sent him up the side of the wicket and then to square leg as if a plan had come off or perhaps because a wicket had been taken on an apparently flat pitch. Somerset were 22 for 1 and in familiar territory.
Hildreth has batted at three this season, and more often than not very early in proceedings when one of the openers has been out quickly, but with the positive approach of a number four. There is a risk which goes with such an approach when the ball is still new and movement or bounce more likely. A Hildreth innings has ended early because of it several times earlier in the season. It could have done now as he 'fenced' at two balls outside his off stump. As the possibility of the Championship edges closer, there are only five more games after this one, and the table remains tight, Essex are only fifteen points, less than one win, behind Somerset, the importance of every run and every wicket becomes magnified and the senses sharpened as they react to such strokes.
Hildreth settled the nerves a little with the neatest of late cuts off Wood, perfectly placed, wide of third slip and fine of third man so that it ran down to the covers store for four. And yet such a stroke so soon after his arrival caused a combination of awe at the audacity of it and doubt at the sense of it. And yet Hildreth has scored thousands of runs down the years playing audacious strokes early and late in an innings. The statistics, 46 centuries, an average of 43 and a thousand runs in three of the last four seasons, back his judgement when batting at four. But at three? With a possible first Championship on the line? And yet by his batting at three Banton and Bartlett are being allowed to develop at four and five and they are making runs there. I can muse with the best but I am glad I do not have to make the decisions about where people bat or how they play.
A drive through midwicket emphasised Hildreth's value for it took him to fifth place in the overall list of Somerset first-class run scorers although still some way behind Harold Gimblett who has held his position at the top of the list for well over half a century. At the other end Abell was battling, in particular against Ashwin. From my vantage point Ashwin appeared to be turning the ball and creating problems. The text from someone who plays the game and was watching online said, "Ashwin is not turning the ball but he looks to be a good bowler who constantly varies his flight and direction and always pitches it accurately so can keep three close fielders in place." He certainly troubled Abell and eventually dismissed him for 17. A look at a replay of the dismissal seems to show the ball turning and bouncing, taking the inside edge onto the pad and billowing up just sufficiently for Slater at short leg to take an outstanding catch with his hand skimming the grass. And yet virtually every other Ashwin ball of which I saw a replay either didn't turn or barely did.
Somerset were 52 for 2 and with Ashwin causing problems and Wood looking dangerous whenever he angled the ball across the right-hander. It felt like Nottinghamshire were giving Somerset a scrap, bottom of the table or not. Almost immediately the text came in, "Yorkshire 69 for 4 at Chelmsford." What was happening in the south-east was as important as what was happening in the south-west and Somerset were probably coming off second best. It certainly focused the mind on what was happening in the middle where Hildreth continued to attack the bowling although he does it with such finesse it hardly feels like an attack. Ashwin was cut beautifully behind square and Ball driven straight to the Sir Ian Botham Stand. A stroke which further emphasised Hildreth's ability because it took him past 17000 first-class runs.
The inherent vulnerability in his attacking method was then shown when he drove at a ball which, with lunch approaching, might have been left. He did not quite reach the pitch and edged it to Mullaney at second slip for 44. It left Somerset on 96 for 3. "It looks difficult out there," said someone who had been an excellent club cricketer in his youth, and in addition to the wickets there had been a considerable amount of playing and missing, but the online watcher detected little movement either off the pitch or in the air. That highlighted a curious difference of view between some with access to the live stream and some watching from the stands. The constant gasps and cries of "catch it" from the fielders may have added to the tension at the ground thought the online watcher, and it did for a while, but when virtually every aggressive stroke is accompanied by "catch it" even when the ball is clearly hit into the ground the tension quickly wears off.
Banton and Bartlett have taken Somerset forward from shaky starts a number of times this season and they took Somerset to lunch at 111 for 3, Bartlett passing 1000 first-class runs in the process. It was not a straightforward passage with Ashwin causing enough difficulty to make me wonder how great a part he might play in this match. Hearing that Yorkshire were five down at lunch with only a little over 100 on the board hardly settled the nerves. My lunchtime circumnavigation consisted more of a succession of exchanges of anxious glances than discussions. The Championship is on everyone's mind and the relative state of the two matches really needed no discussion. I did though note a significant number of children among the large crowd of people on the outfield in the interval. The size of Sunday Championship crowds and the relatively high number of children among them, compared to previous years, has been a welcome feature this year.
Within half an hour or so of lunch Nottinghamshire's two most penetrative bowlers, Ashwin and Wood had both struck. Wood bowling Bartlett behind his legs for 18 as he shaped to turn the ball square, "Misjudged it and got too far across," said the incoming text. Banton had endured a torrid over from Ashwin when the last ball bounced, turned, broke through his defence and rolled towards his stumps. In stepping back to try to clear the ball with his bat his leg touched his leg stump and dislodged a bail. Somerset 132 for 5. Banton 25. When Gregory, perhaps beaten by the bounce after a tentative start, drove Ball to midwicket where Ashwin took a simple catch and Somerset were 145 for 6. There was no need to know the score from Chelmsford. Somerset were in enough trouble of their own.
Davies can be a calming influence in a crisis and Bess always tackles one head on. Somerset's immediate future was now in their hands. They changed the course of the innings and the feel of the match. Whether they did enough to change the course of the match and hold Somerset's Championship challenge on course remains to be seen. They played the bowling with more assurance than anyone other than Hildreth although the ball was nearly 50 overs old and Ashwin looked less of a threat although he had to be played with care. Perhaps the softening ball was a factor.
As they assessed the bowling they played their strokes but mainly without force. Singles and twos the result. As they took the score past 160 for 5 news came through that Essex had bowled Yorkshire out for 206. That it was perhaps a par first innings score for Chelmsford this year raised the spirit a little but the news that Harmer had taken five of the wickets dampened it again. Somerset were now dependent on Davies and Bess and whatever runs the last three batsmen could muster against Ashwin.
The crowd got behind Davies and Bess with supportive applause for every run whether boundary or single. In between the runs the chatter evident before the start of play had subsided but it was still there for tension comes from a tightly balanced game, not one edging heavily towards one side or the other. Davies began to find the boundary, one cut off Ashwin which seemed to slide off the bat flowed to the Caddick Pavilion boundary to comments of, "Lovely shot.". Nottinghamshire tried Libby just before tea, Patterson-White, slow left arm, in his first match for Nottinghamshire having had to leave the field before lunch due to illness. Bess sank to one knee and swept him hard for four to the Caddick Pavilion boundary. 195 for 6, the tea score, Davies 28 not out and Bess 25 not out. "I didn't think we would get a bonus point at 145 for 6," someone said. "Don't say it until we have," someone else said.
Nottinghamshire kept with Libby immediately after tea but Davies ended that experiment with two boundaries and a bonus point in an over. There followed an hour and a half of intense play as Davies and Bess added another 72 runs, and looking much more in control than the batsmen who had gone before. The bowling looked less threatening whether because the ball had softened or because the batsmen had established themselves I cannot say. But whatever the reason it was an hour and a half of rising Somerset hope. Davies brought up his fifty when he turned a ball from Ashwin square to the Somerset Stand for four. There was extended and warm applause, for with the score now on 239 for 6 Somerset were beginning to build a score and 239 for 6 was riches compared to 145 for 6. There was further extended applause when Davies cut the ball square for a single to bring up the 100 partnership.
Bess was sometimes less orthodox in his approach but no less effective. When bounced by Fletcher he chipped the ball over the keeper to the Sir Ian Botham stand for four to enthusiastic cheers. But a late cut for three would have passed muster with any top order batsmen. It brought further extended applause for the crowd was now foursquare behind the two batsmen as they fought to balance the match. Davies brought more applause with a perfectly glanced four and four more with the deftest of late cuts to the third man boundary.
Eyes were on the cricket and the steadily rising score but also on the steadily rising number of overs for the Davies-Bess partnership had taken place against the old ball. When the new ball was taken Ashwin continued to bowl from the Somerset Pavilion End with Wood taking it from the River End, Nottinghamshire's view of their best two bowlers clear. Bess went to his fifty and more applause with two runs driven into the onside off Wood, and Davies found the boundary with a cover drive off Ashwin. But then, with Essex 77 for 2, although with Alistair Cook out, the Nottinghamshire bowlers found their mark, the new ball perhaps being decisive. Bess reached for a drive off Wood but only managed to edged the ball to Mullaney at second slip. He and Davies had added 128 runs and Somerset were 273 for 7. When Davies leaned into a ball from Wood and was lbw he had made 74 and Somerset were 292 for 8. Both were applauded most of the way back to the boundary.
With Ashwin in full flow there was anxiety that the third bonus point might not be reached. Bonus points can be crucial in a tight title race and the sound of the chatter fell a level. Jamie Overton though was in full flow and worry about a bonus point was superfluous. He scored 34 runs at all but a run a ball and with good clean, hard hitting. Wood was pulled square into the lower reaches of the Somerset Stand for six. Ashwin was lofted over mid-on to the cover store for four and driven through the covers and square for two more. A straight drive off Wood went to the boundary in front of the Sir Ian Botham Stand. Eventually Overton edged Wood to Duckett at slip and Somerset were soon all out for 326.
It was riches indeed from the poverty of 145 for 6 and the buzz around the ground as people picked up their things to leave reflected it. And yet the 408 scored against Hampshire questioned whether 326 would be suffici ent. It was difficult to know. The pitch, or the bowling, looked more difficult to some at the ground than to some watching online. But Ashwin is a class act and his presence, skill and accuracy perhaps of itself applied pressure. What was clear was that facing the new ball, whoever was bowling, was a significantly different matter to facing the old one. Not a single wicket was taken with the ball over 50 overs old and only Gregory lost his wicket to a ball over 40 overs old. As so often the morning session will be crucial. Somerset have a powerful pace attack to use the new ball and following Ashwin's performance a newer ball may be of some assistance to Leach and Bess.
As to Essex, they ended the day on 122 for 3, 86 runs adrift. Advantage Essex on their own turf but Yorkshire are not entirely out of it. At Taunton the bare scores might suggest advantage Nottinghamshire but the strength of Somerset's attack and the considerable momentum handed to Somerset by Davies and Bess may argue otherwise. Perhaps time for me to resurrect the edge of the seat I spent much of 2018 occupying.
Close. Somerset 326 (S.M. Davies 74, D.M. Bess 51, J.C. Hildreth 44, L. Wood 4-85, R. Ashwin 3-93).
As always the rest of Farmer's reports can be found on his website www.farmerwhite.co.uk and on the thread behind this frontpage.
pqs: qs: