FAKE 2020 CC1 Opener v Kent at Taunton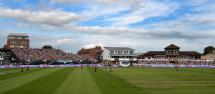 By Grockle
April 5 2020
Yes I know.... It isn't happening and this is just daft - but it is what it is and if you aren't into it then don't bother to go any further than this. However, I came home for cricket and this presently is the nearest I get to it and it has its interest. So I'll set the scene and take you through Day 1 of a parallel universe Somerset 2020 CC1 season or not.... your choice entirely
FAKE 2020
v KENT CC1 at TAUNTON 5th April 2020
(Courtesy of Cricket Captain 2019 and suggestions from Grocklees)
Clear, crisp and cold day at Taunton with the new 2020 Somerset squad without some of their icons facing a slightly '2019' Kent squad including some of our 'totems' from seasons past. No Marcus Trescothick. No Peter Trego. No Tim Groenewald. No Paul van Meerkenen. BUT a debut for Mike Carberry against his old side and Alexei Kervezee waiting in the wings for the one day stuff - if we get there. Azhar Ali is the only absentee from the side. he is injured and out for 5 days. So the side is;
Abell (Captain), Carberry, Banton, Hildreth, Bartlett, Davies (Wk),Gregory, Bess, Overton C, Overton J, Leach
On the advice of 'the selectors' Somerset have gone with a twin spin attack and a left hand/right hand opening combination. We shall have to see how that comes off and whether the one year contract to a 40 year old was a good move!! They face a Kent side with Matt Renshaw up front and Callum Haggett in the bowling unit;
Renshaw, Dickson, Kuhn, Bell Drummond, Crawley, Robinson, Stevens, Blake, Haggett, Podmore, Riley
Kent decided to take a toss. Somerset won it and Tom Abell elected to bat first.
DAY 1
Stevens took the first over from the Pavilion End to Tom Abell with Haggett starting the attack from the River End. Not real fireworks at all in the first half hour as Carberry gets used to the new place of work and the Somerset skipper settles down into a position he wasn't expecting to find himself in at the start of April.
Podmore replaces Haggett after 30 minutes and we see Riley for the first time as Stevens looks to vary his attack. After a tentative first hour Somerset are 31 without loss with Abell on 13 and Carberry keeping pace on 14. The first real appeal of the day comes on the stroke of 12 noon as Riley has an LBW appeal against the new man turned down by an unimpressed umpire (going down the leg side). No one is taking any chances.
Crawley is used for one over to allow Stevens to change ends replacing Hagett and the 50 comes up off Riley with the Somerset men staying in synch Abell on 25 and Carberry on 22. Riley has another appeal against the debutant but the umpire decides it pitched outside and Carberry gets another life. However, the skipper is not as lucky at 66 and is caught behind off the same bowler for 27. 66 for 1 just before the lunch interval.
Out comes Tom Banton - we need to remember that although he is coming back to his home after a tumultous winter all over the place, he is unknown to the 2019 version of this game and needs to be careful until the database has something to assess him by. No sooner is that said than he is also caught behind off Stevens in his first over for 1 and the home side are 67 for 2 which James Hildreth helps move to 89 for 2 at lunch. Carberry has moved on to 42 and there will be a need for some kind of rebuilding effort in the first hour after the break.
So at lunch Riley has 1 for 21 (8/2/21/1) and Stevens has 1 for 35 11/2/35/1 with Hagget going for 14 off his 8 overs and Zal Crawley being used for one maiden over to change Steven's end. 7 extras from the Kent attack 4 no ball, I wide 2 leg byes.
After lunch James Hildreth welcomes Podmore to the game by taking 17 off his first over including 3 boundaries to take Somerset past the 100 mark and set the stage for a more aggressive stance from the home side. Haggett nearly takes advantage and has an LBW appeal turned down against the batsman in his first over.
Meanwhile Mike Carberry puts some of those selection concerns to bed by reaching a home debut 50 from 100 balls with 8 fours. He then immediately emphasises why he was even considered at the age of 40 by moving to 68 off 105 balls taking 17 from Callum including 2 massive straight sixes into the crowd. Somerset are moving on into the afternoon and so Kent turn to their 'old perennial' Darren Stevens who replaces Podmore as their opponents go past 150 with Carberry on 73 and Hildreth opening his 2020 account with 43. Riley also replaces Haggett as the visitors try to get on top of this game again.
An hour into the afternoon and the batsmen have added 90 to the lunchtime score. Hildreth reaches 50 from 79 balls with 8 fours at 183 for 2 as his partner eyes a debut century. But it is not to be. At 98 Mike Carberry becomes Kent's first breakthrough of the second session, LBW to Podmore at 196 with the excellent innings coming off 153 balls with 12 fours and 2 sixes. A great start to his Somerset career. Not bad for an old 'un.
George Bartlett replaces him, with a little more information on the database about his activity in 2019 but still a raw. He probably feels more at home at number 5 but we shall have to see. Probably next innings, because he is well caught by Dickson off only his 4th ball from Riley and with only one run added to the score.
It doesn't get any better either because Dickson then pulls off another even more miraculous catch to dismiss Steve Davies first ball to put Riley on a hatrick against Lewis Gregory. Gregory survives and takes the score past 200 steadying the ship with 2 boundaries at the end of the bowler's excellent over. Hildreth is into the 60's as Haggett returns and Kent revert back to the partnership with Podmore as the Tea interval approaches.
By Tea the score has moved to 232 for 5 with Hildreth on 71 and Gregory quite quickly amassing 27. Riley has 3 for 54 - courtesy of those 2 quick wickets just before the break and each side has a bonus point. A partnership of 129 between Carberry and Hildreth has put Somerset in control at the moment slightly although Riley's double wicket in the 57th brought the advantage back a liittle. An interesting third phase to come on this first day.
Stevens and Haggett recommence hostilities after the interval and it is Haggett that gets Hildreth for 83 at 246. His innings of 130 balls included 13 fours and seems to have excited Callum Haggett so much that he gives Somerset the 250 with an erratic delivery that goes for four leg byes directly after the wicket. Meanwhile Podmore seems to be getting his act together as he gets one to move away from Gregory which nearly does for him as well but this first mistake is not fatal and the score moves on.
Kent take the new ball and Stevens steams in with Somerset on 283 for 6. Craig Overton is working well with Gregory who goes to a well deserved 50 from 84 balls with 6 fours. Unfortunately he takes a wild 'hoick' at the 85th and Dickson takes him out at first slip at 291 for 7. It's 298 for 8 when Overton goes for a spritely 17 caught behind and Dom Bess misreads one from Podmore before putting the next one straight back over his head for 6 to bring up the 300. Jamie Overton shows his usual level of confident aggression as he smashes one straight down the ground and then cracks another boundary square. However, Stevens bowls him at 321 and then Jack Leach plays all around another 2 balls later and the innings is over with 39 minutes of play to go at 321.
Stevens finishes with 3 for 79 and Riley took 3 for 61. Haggett and Podmore shared the other 4 wickets with Haggett going for 92 in his 24 overs and Podmore going for 83 in his 22. Decent late partnerships from Hildreth and Gregory, amassing 49, Gregory and Cove resulting in 45 and a decent rapid 23 between Bess and Jove to round things off.
A fairly decent first innings first game score which could have been so much better and also could have been so much worse. Now the plan is to make Kent work for it. First up is about 8 overs in the evening with Renshaw and Dickson facing the Overton brothers at full pelt. Jamie nearly gets Matt Renshaw first ball while Craig has an LBW claim against Dickson turned down as being outside the line. In the last over of the day Dickson is all ends up against a ball from the faster of the twins which the commentator described as "totally unplayable". Unfortunately none of these results in a wicket and the two Kent men finish the day on 25 for no loss with Renshaw on 13 and Dickson on 12.
A fair opening day with honours pretty even though you would be moderately satisfied if a home supporter given the usual first day of a season situations that Somerset have found themselves in. Some things to ponder for both sides before tomorrow morning.
DAY 2
A bright and sunny morning for the first phase of Day 2 and the Kent batsmen resume on 25 after quite a torrid time the night before in the 8 overs faced after bowling Somerset out. Last night the Overton brothers opened the attack but this morning Renshaw and Dickson face Craig Overton and Lewis Gregory as the opening bowling pair.
For the 45 minutes there is little happening, despite great effort from the Somerset bowlers, Renshaw and especially Dickson seem pretty comfortable against the seam attack and move the score on at a faster pace than their opponents did on Day 1. It is only at 68 that Overton gets the first breakthrough when he has Renshaw LBW for 40. The Aussie looked very solid and it is a wicket the home side will be thankful for as they know what this man can do when he gets going. However things then start to move. Jamie Overton replaces his brother immediately and his pace confuses Kuhn who misreads a rising ball and is hit in the head by it only 3 balls into his innings. He has to return to the pavilion for further treatment requiring Bell Drummond to come out and join Dickson.
Abell replaces Gregory at the other end and he is hit for two very confident fours in his first over before that confidence is dented by a peach from Overton which sends Bell Drummond packing caught behind at 78 for 2. 1 run later and the pace beats Dickson who is bowled for 29. Overton is proving a real hhandful and Kent seem shell shocked by this change in fortunes. However, the 'blitz; continues as Crawley follows his team mates back courtesy of 'Jove' at a score of 80 without bothering the scorers at all.
Somerset decide that is enough for the moment and change the nature of their attack by introducing Jack Leach with about 40 minutes to go before the lunch interval, he has Stevens playing and missing with only his second ball but it is the Somerset skipper who increases Kent's agony by having Robinson caught and bowled at 82. Steven's, ever the fighter then straight sixes Jack just to show that this is NOT over yet.
Tom decides to go to the 2 spin attack and replaces himself with Dom Bess and he also has Stevens playing and missing halfway through his first over as the 100 arrives for the visitors. Leach almost gets him next over but the ummpire decides, not for the first time, that it was outside the line. However, 9 minutes before the break Stevens' dogged defence finally ends when Jack has him leg before for 18 at 117 for 6. It has moved to 120 for 6 when the umpires call 'lunch' with the Somerset side certainly thinking they have had the best of that particular session.
Jamie Overton in that blistering spell took 3 for 34 and ripped the middle out of Kent's order. What do they have left as the look at a first innings deficit of 201 with 3 wickets remaining if Kuhn cannot bat.
After lunch Jamie Overton and Lewis Gregory go about pushing Kent with a follow on target stil some 52 runs away. Blake is looking to get the score moving but that is a bad move because after an appeal in his first over Overton gets him for 26 and it is 131 for 7.
Podmore also seems to have been given the order to get past 172 as soon as he can because he comes out blasting, taking the score past 150 with a glorious boundary square of the wicket. Abell looks to pull the scoring back by introducing Leach but it is Lewis who stops the forward momentum when Banton catches POdmore in the slips at 159. He then nearly has Riley the very next ball but it is Jack who finishes off Kent as Haggett is caught, once more by Banton without adding to the score for 13. As expected Kuhn does not appear and Kent are left 13 short of the total they needed to not be asked to bat again.
With 6 points in the bag (against Kent's 3) and the possibility that Kuhn will not bat in the second innings either, a discussion takes place about the follow on. Narrowly Abell invokes the requirement and invites Kent to try again 163 runs shy of the innings defeat.
So at 2:39 on Day 2 Renshaw and Dickson come out again to see if they can do better against the Overton Brothers (Lewis being rested after his efforts at the end of the first innings). Dickson plays and misses at the third ball!
However, the Kent pair rally and Somerset are still wicketless 40 minutes from Tea when Dom Bess replaces Jamie. In his first over he narrowly fails to get Renshaw LBW at 23 for 0. Jack replaces Craig and with Dickson playing and missing to everyone the 50 comes up for Kent. He may be playing and missing but he is also scoring at quite a rate. The gamble to enforce is not looking all that sensible when despite two more appeals for Dickson's wicket, the Kent batsman records a 50 off 63 balls with 7 fours. Kent look ominously strong at 78 without loss at the Tea interval.
Lewis is first up after the break but things don't seem to have changed all that much even though Renshaw plays and misses a delivery in his second over. Dickson is still fishing outside his off stump but either missing or connecting for four. The 100 comes up in the 26th and Jamie is then taken for 18 in an over! This promotes a change and Bess has Dickson playing and missing immediately.
Renshaw reaches 50 off 84 balls with 7 fours and Somerset's lead is disappearing at speed and Dickson is heading for a very improbable ton. At 98 he FINALLY hits one to Banton (who is having a very good day at slip) off Tom Abell (a last ditch effort by the skipper to get a breakthrough) 154 for 1.
Kuhn does not come out to bat so Bell Drummond strides to the middle and confidently hits his first ball for four. But that is about it because with the scores tied he guides one to the safe hands of Tom Banton it gets no better for Kent or Crawley as his terrible start to 2020 continues caught behind off Craig Overton for a second duck in the game. 162 for 3. Overton is on a roll and Robinson gets a peach which he snicks into the hands of Davies and the game changes again in the hands of an Overton.
Stevens comes out again, for the second time in a day, to fight a corner but swings and misses at his first. Dom returns for the last couple and with Renshaw in his pomp nearly gets the dangerman caught behind being a little too confident, then an LBW call is turned down (not the first) before Stevens finishes the day with a boundary and Kent finish Day 2 22 runs ahead with probably 5 wickets left. However, Matt Renshaw is on 66 and looks in good nick. Tomorrow will be an interseting day if he gets away from the bowlers.
Craig Overton's 10 over 4 maiden 3 for 21 spell has put his side back in this game and turned a decision into a successful one from a mistake. But the job is not yet finished and neither is this game at the halfway stage.
Lunch Day 2
DAY 3
And so this match moves into the second half. Somerset hoping to take early wickets but niether Stevens or Renshaw looking particularly happy to oblige. Once more Lewis Gregory and Craig Overton start a day in the hope of early succes. Both bowl tightly against batsmen unwilling to take chances, though occasionally Darren Stevens has a go at one that isn't there and those play and miss shots keep things interesting.
More often than not however, his partner at the other end connects and the score moves on. In the 63rd over Jamie Overton replaces Gregory at 215 for 4 and it isn't long before the intial surge of Craig Overton is replaced also by the medium pace of the Somerset captain Tom Abell. One would assume that if there is no breakthrough with these two then the slower men will be on before the lunch break to see what they can do. Presently Stevens is playing the faster man well and he reaches a battling 50 from 73 balls with 9 fours as his side bring up the 250. He then loses concentration and is lucky to escape a narrow run out almost immediately taking a daft single to a wide awake Somerset infield. But very little else is happening and the batsmen seem comfortable with the pace attack though they are taking it very carefully indeed given the situation.
Abell decides to try a new tack and Jack Leach is introduced some 45 minutes before lunch with Kent 92 runs ahead. Not long after Bess takes over at the other end and immediately changes things by getting Stevens missing in front with his 4th ball. 268 for 5 and the Kent man leaves after contributing a very valuable 65. Blake takes over and the question of whether to take the new ball becomes a decision some 20 minutes before the interval. As nothing is really happenning with the old one and the pacemen have had a break Somerset decide to give them two bites and Jamie Overton takes over.
Renshaw nearly gifts the opposition his wicket as the nerves n the 90s get the better of him and he takes a risky single to get to his 100. He makes it and celebrates an important century from an uncharacteristic 229 balls with 13 fours. Without him and Dickson this game would already be over but as he holds out until lunch Kent are instead 130 runs ahead with him on 100 and lake supporting with 15.
A long morning for the Somerset bowlers, none of who have been able to really influence the play. Craig Overton has been tight but mostly ineffectual (16 overs 3 for 39), his brother has been expensive though dangerous, Dom Bess got the wicket in the session but has bowled 18 overs for it for 72. There needs to be some incisive work done at the start of the afternoon session or this game could get away from the home side and a Kent lead of over 150 would put the result in some doubt.
So the serious part of the game starts and as Renshaw puts Kent on 300 there is a need for a Somerset counterstrike. It comes quickly as Gregory entices Matt to guide one to Dom Bess at second slip and the end of a game changing innnings of 107. 302 for 6 and now the game is most definitely on.
Blake is looking confident though a poorly judged quick single nearly does for him. Abell is trying to keep Kent from stabalising while trying to find his match winning combination of bowlers. He tries Jamie Overton to see if pace is the way to go but that produces nothing so he tries to slow it down and Bess again produces the ball required trapping Blake LBW but not before he has added 48 very valuable runs to the total and moved his side on to 337 for 7.
Leach keeps the scoring in check but the batsmen are still there so Gregory is re-introduced and he has Podmore dropped in his first over. Nothing is going the home side's way it seems... until Podmore is dismissed in Gregory's second over for 5. The next over sees Bess finish the job with another LBW decision this time Riley for 5. Kent are finally dismissed for a fighting and tenacious 360 as Kuhn again does not grace the field. 198 runs for victory and 12 minutes to survive until Tea.
Stevens is up for this but his first ball is a wayward 4 leg byes... the excitement can even get to the veterans. That is about it as Abell and Carberry take absolutely no chances and go in for a drink with 14 on the board and 185 to win.
Too many Kent big scores in the second innings means that Somerset have a job to do and this game is very much still alive. Renshaw and Dickson made up for a small show on their first visit by providing 206 between them in the second. With Stevens adding 65 and Blake 48, the Kentishmen are going to make Somerset work for this one.
Although the bowlers stuck manfully to their task they couldn't get past the defence or get the batsmen to hit the ones they should have. Craig Overton with 3 for 45 off his 21 overs and Dom Bess with 3 for 91 from nearly 26 did the damage. Gregory provided 2 for 50 from 17 and Leach was 'frugal' without victims with 46 from 19. The final wicket went to the ever thinking Abell. But all in all the ball went to the boundary more than it went into fielders hands and now there is some work for batsmen to do and four sessions left to do it in.
Neither Somerset batsman seems in any hurry after Tea. The Kent bowling is tight and the batting is patient. Carberry seems to be having trouble getting Stevens' line right and walks into one that raps him on the head. He is stunned for a moment but decides to carry on and hits the leather off the next one to the Third Man boundary. Seems to have actually cleared his head!!
Abell is not so lucky. He chases one outside off and is caught behind off Hagget for Kent first blood. 27 for 1 with the skipper out for 11. Tom Banton comes in on a pair and can't have been all that bouyed up by seeing his partner play and miss a very close one. However the young man gets down to the job and is off the mark second ball. Stevens and expecially Podmore are really getting to the work this session with some very tight bowling.
It is obviously frustrating Carberry and he finds himself in two minds, over-hitting one that isn't really there to hit and falling between two stools caught in midfield by Haggett for 18 at 42 for 2. Not a great start with a small but testing target to get.
Riley now plays 'cat and mouse' with Hildreth. Playing and missing alternates with sumptuous boundary strokes. Banton gets caught up in this with his first boundary which is followed by a swat that goes straight down Bell Drummond's throat again off Haggett and with the end of the day approaching Somerset have lost another wicket at 75.
George Bartlett also strides out to start his 2020 account having done little in the first knock. There doesn't seem to be any nerves though as he takes two off his first ball before finishing the over with a rocket four straight back past Haggett.
With that we come to the last over, Bartlett plays an injudicious shot to the 5th ball which nearly sees him returning early to the pavilion but he steadies himself and takes his county to 100 off the last ball of the day. 98 needed for the win on Day 4 and 7 wickets remaining with James Hildreth (23) and Bartlett himself (17) presently occupying the crease.
A decent Kent bowling performance in the early evening. Stevens was tight with 22 from his 10. Podmore was considerably better with a wicket and 19 from his 8 while Callum Haggett got the real rewards from his 11 with 30 for 2. Riley added only 20 from his 8. All to play for tomorrow and this game may be on its last lap but it is certainly not over yet.
Day 4
Not suprisingly Darren Stevens starts his county's push towards a win in this game with the ex Wyvern Haggett as his bowling partner. The pair are tight and there is little chance that James Hildreth or George Bartlett have any intention of playing an 'expansive' game. The first boundary of the day does not come until the third over. Stevens is getting movement because even in his watchful mode, Hildreth is forced to play and miss by the experienced man. Podmore replaces Haggett and again shows a better application in the second innings to the first, he also has Hildreth playing and missing but the runs keep coming, albeit slowly and it isn't long before Kent have to look at the slow variation and introduce Riley. Bartlett takes him for 8 from two balls in his first over, taking the total needed under 50 in the process.
Hildrethadds a 50 to his first innings score at 153 for 3 - a vital score from 108 balls with a mere 4 fours. With one more run added, Haggett ends the 79 run partnership of these two when he bowls Bartlett all ends up for an equally important 41. He is becoming a man to rely on in this Somerset Championship side and he is replaced by a man who also desperately wants to become that but has struggled for no apparent reason with his CC1 form in the past couple of seasons. Steve Davies is a class act and though he gets off the mark with the third ball he faces, it is the boundary he takes off of Riley in the next over that shows how good he can be with a bat in his hands.
Podmore returns and asks questions but Hildreth will not be drawn and simply waits before cracking the wayward delivery to the square boundary to take the runs required under 20. Both batsmen seem to have decided to do this in boundaries and before lunch if they can manage it. With 7 minutes to go they need 11, 4 minutes and it's 9, 1 minute and it's 6..... surely the umpires will extend the session to finish it off?
But NO. with 3 needed for the win the players go off for lunch!!
After the break Stevens refuses to give up. He only allows 1 off his first, Riley bowls a maiden for the second and the third also only allows the scores to be tied. But in the fourth the winning run is struck and Somerset take 22 points for a 6 wicket victory at 199 for 4. Kent have to settle for 3. The last stand of 45 came in quick time with Hildreth ending on 77 not out and picking up the 'Man of thhe Match' award and Steve Davies clocking up a supporting 18 not out. Mentions for the Somerset bowlers who chipped in with 'spells'; Jamie Overton in the first innings with 4 for 54 and his brother Craig with 3 for 45 and Dom Bess with 3 for 91 in the second.
With Yorkshire beating Somerset's next opponent Notts by 285 runs, Somerset go into second place. In the other game this early Essex beat Hampshire. The rest of the division was involved in University games.
So.... Fake 2020 will return on the 11th when we travel to Trent Bridge for a match against Nottinghamshire.
pqs: qs: