FAKE 2020 Hampshire at home - Homeboys game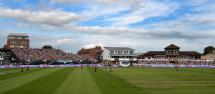 By Grockle et al
May 30 2020
As we continue the lockdown and even with news that a 2020 'season' may actually take place in the last couple of months, we keep this CC1 simulation going with the next in our 'series'. Hampshire come South West to try and move us down from second and move themselves up from 5th. Thsi game would have taken place at the end of June - here we are a month early....... enjoy
v HAMPSHIRE @ Taunton CC1 Saturday 30 May 2020
The 'selectors' have decided to go for a 'Somerset' side for this game. Mike Carberry is rested, along with Lewis Gregory, in the hope of keeping him in form for the second half of the season. Jamie Overton has a slight niggle so he is out for 5 days so the resting of Lewis is a bit of a gamble as the tail starts earlier but as Jack Brooks is at number 9 and has a first class 100 it may not be that much of a risk.
Hampshire opt for a coin toss, which they win and they choose to set a total. Somerset will bowl.
Somerset's side is;
Ali, Byrom, Bartlett, Hildreth, Abell, Davies, Bess, Overton C, Brooks, Davey, Leach
Alsop and Soames come out to face the new ball attack of Craig Overton (Somerset Pavilion) and Jack Brooks (River end). The first ball past the bat comes at the end of the 4th but Brooks has Soames plumb LBW for 8 at 13 for 1 well before Rahane hits the first boundary in the 8th.
Josh Davey takes over for the 13th and has an edge with his first ball. It falls safe. Tom Abell spells the pace in the 14th and the 50 arrives in the 16th. Rahane looks remarkably comfortable as he takes Abell for 12 from the Pavilion End and that prompts Jack Leach to take the ball for the 20th which turns the whole attack to spin in the 23rd when Dom Bess is introduced.
It is Bess who gets Rahane LBW at 44 one rune before Hampshire break 100 15 miuntes before the lunch break. Sam Northeast is nearly out to his 4th ball but Alsop is not so lucky as he connnects with one and is caught behind for 42 one run the other side of the three figure mark. Both settled batsmen are out and lunch beckons but Rossouw is set to make his mark and has moved the score on to 115 for 3 at the break with 11 to him and 5 to Northeast. Brooks has 1 for 15 and Bess has 1 for 25.
After lunch Overton returns with Davey at the River end and he has Rossouw fishing outside off in his first over (38th). Leach is back on for the 43rd and he also tempts Rossouw who is caught by Ali at first slip for 28 at 148 for 4.
Jack L has Berg 4th ball for 1 but Northeast takes over the top batsman job putting Davey to the sword to take the score over 150 and that promotes Bess back into the attack for the 47th. He gets Taylor caught close in by Hildreth for 1 at 169 for 6.
Northeast carries on and goes to 50 at 186 for 6 (78 balls 7 fours). Brooks returns for the 55th as 200 beckons (193 for 6) and a Northeast straight drive takes Hampshire to 199 before a single brings the 200 and Jack Leach bacl into the attack.
No other excitement before Tea arrives with Hampshire at 233 for 6 with Sam Northeast on 79 and Holland on 20.
Somerset stay with spin after the interval. It's a 69 over old ball. Has it got anything? It seems it has as Jack Leach bowls Northeast for 79 at 239 for 7. Barker wafts at his first as Jack is straight on the money. At the other end Dom does not have the same immediate control but he is difficult to get away and that is OK because Leach takes out Holland clean for 31 in his next over 246 for 8.
A Kyle Abbot boundary evens the score a little and takes Hampshire past 250 but a Leach LBW removes Abbot and gives Jack a 5-fer at 252 for 9. Hampshire rally a little with Wood so Tom Abell re-introduces Jack Brooks and he tempts Wood and he is caught and bowled to finish the innings at 273. Northeast's 79 was useful and Rahanath's 44 at the start was also important but Leach's 5 for 48 and Brook's 3 for 39 stopped the scoring at important times
1 hour and 20 minutes are left of day as Azhar Ali and Eddie Byrom take on Holland and Abbott as the home side start their work. The first boundary takes 8 overs with Ali especially wafting a little too often at the Hampshire bowlers. Byrom finally finds the rope in the 12th and then is dropped at 2nd slip off Berg with the score on 27.
And that is where we end Day 1 Somerset on 27 for 0, 246 behind with all their wickets intact but having to start again on Day 2.
DAY 2
Azhar starts on 19 and Eddie has 8 and they face Holland from the River End with the more experienced opener nearly out to his 4th ball of the morning. Abbott starts from the Pavilion and gives Byrom his first boundary as the men get to work. Eddie hits across one and is puched by Rahane at a wide first slip for 17 at 44 for 1 bowled Holland. At the other end Azhar is working over Abbott and brings up the 50 which prompts the introduction of Wood and Barker who is particularly difficult for both Somerset batsmen in the early overs but the pair look for runs from Wood who Bartlett hits for a straight six while straight after Ali 'edges' him for another one!!
Holland and Berg come on before the lunch break and Berg has more chances (probably the same end as Barker) and nearly has Ali at 86 for 1. He finally gets the deserved wicket as he cleans up the same man 1 short of his 50 at 90.
James Hildreth brings up the 100 with his first boundaary but his occupation is short as he snicks one to Alsop from Berg just before the interval at 102 for a paltry 6. Lunch arrives with Somerset on 115 for 3 some 158 behind. Bartlett has 37 and Abell has just arrived and amassed 6. Holland finishes the session wiith 1 for 23 and Berg, by far the most dangerous bowler during the morning has 2 for 14.
Holland and Abbott recommence the attack in the afternoon session while Tom Abell seems to have come out with the objective of taking the attack to them. While he leads the Somerset offensive, Bartlett quietly passes 50 (97 balls 6 fours and 1 six) at 148 for 3.
The 150 arrived off Abbott and Barker is introduced in the 60th over with Berg coming on for the 68th. He carries on what he started in the morning and has both batsmen in trouble but Tom also carries on and passes 50 around the 200 (81 balls 6 fours).
Berg finally gets Bartlett LBW for 87 at 228 for 4 with 18 minutes left before Tea. Davies arrives to find Berg on fire and is in immediate trouble with him though he survives and sees Holland back on with Wood just before Tea with Hampshire taking the new ball the over before Tea for some reason. Somerset went in at 237 for 4 some 36 behind but with the possibility of a decent lead by the end of the day. Berg now has 3 for 31.
After Tea the new ball attack commences again with the shine hardly off the ball. Abell brings up the 250 in the 86th over and Davies takes Holland for a six early in the session. However the onslaught comes to and end when the Somerset captain was removed via the hands of Rossouw off the bowling of Holland for 74 at 267 6 short of the Hampshire first innings total. Holland hasn't finished though because he removes Bess for 2 as the scores level.
Holland has still not finished. He bowls Craig Overton with the second ball he faces and the Somerset tail seems to be folding at the point where a largish first innings lead was possible. Barker and Berg hope to finish this off but Somerset have reached 299 before Brooks edges Berg to Alsop. Berg repeats this partnership to take out Davey without scoring second ball. Somerset only manage 307 before Jack is last man out LBW a mere 34 ahead. 237 for 4 becomes 307 all out and a possible opportunity to take a definitive lead has been lost.
Gareth Berg 18/4/48/5 was the catalyst of this slump and support for the Somerset men who did make a stand kept undercutting the base for a larger total.
Hampshire return to the crease with 13 minutes to play of the second day. Brooks comes 'roaring' in and he cleans up Soames with the second ball the Hampshire batsman faces but Rahane takes on the bowlers for the short time left and Hampshire go in at 10 for 1.
DAY 3
Brooks and Overton are tasked with pushing Alsop and Rahane at the start of the day. Alsop seems plumb but is judged not out very early on but Rahane continues to take the attack on until Craig Overton gets hom to mistime one to Davey in the deep for 33 and Hampshire are 44 for 2 - 10 runs ahead.
The 50 arrives as Davey comes on for Brooks and Abell replaces Overton after 17 overs. Northeast takes 13 off the skipper and that brings Jack Leach into the attack with about 50 minutes left before lunch. Dom joins him with the 25th over and the Hampshire 100 arrives in the 27th so the spinners have the job of stemming the tide.
Bess has a decent shout against Alsop at 102. The batsman is having trouble against both bowlers and jack finally gerts him to squeeze one off the edge to a grateful Ali for 33 at 109. It seemed pretty inevitable.
Bess then gets Northeast caught close by Bartlett for 43 also at 109. Rossouw comes in and immediately straight drives Leach who returns the favour by straight bowling the batsman for 4 at 115. Dom does not want to outdone and he works with Davies to stump Berg for 2 at 117. It is falling apast before lunch which comes at 117 for 6
Bess goes in with 7/4/6//2 accompanied by Leach with 8/0/17/2
After lunch the spinners stay on and Jack has Holland LBW for 1 at 120. He then does the same to Barker for 4 at 131.
Taylor is playing and missing to Bess but Abbott is taking the fight to the Somerset bowlers and he passes the 150 mark only to then fall to the inevitable Leach - 151 for 9 for 16. Wood doesn't last much longer and the innings is closed at 155 as Jack gets his 6th as Wood is caught close by Bartlett. Hampshire are 121 ahead and Jack Leach has 6 for 39 in the innings and 11 for 87 in the game.
The 64 minutes until Tea are moderately slow and uneventful and Somerset reach the interval at 19 for 0 needing another 103 for the win.
Wood and Holland are back on after the break but they cannot break through so they step aside for Barker and Abbott as the home side move to 50 in the 30th with Ali on 29 and Byrom on 19. It isn't until the score reaches 62 when Wood finally catches Ali plumb in front for 36. Bartlett nearly returns to the pavilion after 2 balls but the edge falls safe but he doesn't survive long as he edges Berg to Rahane at 66 leaving 56 for the win.
Byrom is playing pretty loose but surviving with first a close LBW shout turned down and then a thick edge avoiding the keeper but the score needed falls below 50 by the close of play. At 81 for 2 with Byrom on 36 and Hildreth on 6 Somerset must see the victory in their sights unless the weather intervenes and saves Hampshire because it is doubtful their bowlers will be able to muster enough wickets to gain a win.
DAY 4
And so to Day 4 and what should be a pretty routine move to victory by Somerset. However, the 'virtual' weather has been coming in according to reports online but the cricket starts on time.
Holland and Wood, as usual, open the attack at the start of the day and James Hildreth is dropped (a difficult chance) by the keeper at 90 for 2. There is another close chance at 99 for 2 and then the rain comes and the umpires take the players off for 1 hour and 32 minutes and an early lunch is taken with Somerset needing 22.
Play does not start on time and it is another 37 minutes after lunch for play to start again. However play does resume and Hildreth is hit by Holland quite painfully in his first over. However, as we know, JH is not one to stop playing just because of pain and while he carries on, Eddie Byrom goes to 50 from 155 balls with 5 fours.
Somerset get the win by 8 wickets quite soon afterwards - there were just too few runs to be affected by the weather that came. Eddie ends at 56 not out and James carries his bat with 22.
The 126 run partnership between George Bartlett and Tom Abell and the brilliant bowling performance of Jack Leach were the difference between these sides. Alsop and Rahane put a partnership together as did Northeast and Holland but it was not enough and Somerset move on in this parallel universe.
Yorkshire also did us a favour by losing to Surrey so Somerset move to the top of the 2020 CC1 with 149 points (Yorks have 133).
On to Notts at Taunton
pqs: qs: