FAKE 2020 CC1 Notts The Return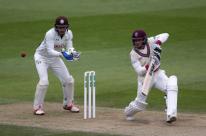 By Grockle et al
June 7 2020
Just as the fantasy season starts to hot up, Jack Leach goes down for four weeeks and our main spin attack is diminished. We call us Roelof and return Jamie and Lewis while resting Craig. Will the selectors succeed in keeping the momentum going?
v NOTTINGHAMSHIRE @ Taunton Sunday 7 June 2020
Tom Abell loses the toss requested by Notts and we are put into the field. The side is;
Ali, Byrom, Bartlett, Hildreth, Abell, Davies, Gregory, RvdM, Bess, Overton J, Brooks
There is hope that Roelof can offer the same service as the injured Jack Leach and the Dutchman plus the return of Lewis will bolster the batting. Jamie Overton also returns to provide pace while his brother earns a rest.
Brooks and Gregory open the attack against Mullaney and Slater and strike early as Mullaney is caught at midwicket by Hildreth for 6 at 26 off Gregory just before the first change of bowlers. This keeps Lewis on and he has Slater caught behind in his last over of the spell for 19 at 37 for 2. Tom takes over in the 14th and Patel immediately takes a liking to him, taking 13 from his first 5 balls only for the Somerset skipper to clean bowl his partner Taylor with the last ball of the over just after the Notts' 50 arrives at 52.
At the other end Jamie Overton starts and immediately clean bowls Patel withhis fourth ball for 23. Notts' front end have collapsed to 54 for 4.
The 19th over introduces Bess to the atttack and he makes the visitor's position even worse by c&bing Coughlin for 12 at 85 for 5. This promotes van der Merwe who starts his game in the 24th having Wood cauught by Ali in the slips before Notts reach 100, also with his 4th ball. 99 for 6 sees Brooks back and Moores fighting back just before the break.
Lunch arrives with Notts reaching 130 for 6 with Moores on 37 and Pattinson 12. Lewis has returned to the team with 2 for 25.
The afternoon starts with Lewis and Jamie and an amount of optimism in the Somerset camp but Moores ominously goes to 50 at 149 (63 balls and 7 fours) but just after the 150 comes up (2 balls later) Gregory gets him courtesy of Azhar at first slip for 56 at 157 for 7.
Bess returns with the 42nd over and then Brooks replaces Gregory Broad thick edges him through third slip and then roundly hits him for six into the Botham stand. RvdM comes on to allow the bowlers to change ends with Brooks replacing Bess and then going for 10 plus 4 leg byes from Broad in his over!! So they leave RvdM on and Bess replaces Brooks to turn to spin as the Notss tail wags.
Pattinson reaches a fighting 50 just after the 200 arrives (87 balls 6 fours) and it isn't until Jamie Overton is re-introduced that Pattinson finally capitulates for 57 caught behhind at 249 for 8 - a 91 run partnership with Broad that has put Notts back on the game's map.
Broad is nearly LBW twice in the next 2 overs, both of them very close decisions but despite the playing and missing he reaches his 50 (71 balls 4 fours and 1 six) as the 250 arrives and RvdM takes one over before the Tea interval. Bess provides his side with something more important than a 20 minute rest by removing Broad via Ali's hands at first slip literally before the break. 257 for 9 with just enough time for Ball to straight drive for four before the sides troop off.
Somerset continue with RvdM and Gregory after drinks and they both have Fletcher close to LBW in thefirst 12 balls but he survives long enough to help Ball get to 291 before Lewis finally cleans Ball's clock to finish with 4 for 52. JOve's 2 for 40 helped but the 3 50's kept Notts going and they created a much better total than the lunchtime situation suggested.
An hour and 33 minutes before the end of Day 1 Somerset face a difficult phase of the game - but not for the first time in this fantasy FAKE season. Pattinson and Broad get going and have Eddie Byrom in trouble early on but he survives until Coughlin is introduced and catches him plumb for 22 at 34 for 1. George Bartlett is off the mark immediately with a straight 4 past the bowler's outstretched hand and he and Ali bring up the 50 without incident against him and Ball. The day finishes with the home side at 73 for 1 with Azhar on 27 and George on 19 and a new day to come.
DAY 2
It is no surprise that Broad and Pattinson start bowling proceedings on Day 2 and they are soon into their 'zones' with Bartlett particularly 'scratchy' first thing on this Monday morning, edging for 4 in the third over of the day. There is something in the Taunton pitch in that first hour most mornings and this is no different. However, the Somerset batsmen ride out the 'storm' and they also get into their stride as the clock moves forward.
The 100 arrives in the 34th with Azhar Ali on 42 and George Bartlett on 34. It briings Ball and Coughlin into the attack but they do not stop the Pakistani batsman reaching 50 at 120 for 1 (125 balls and 6 fours) off a very dodgy single which asked the batsmen to be very quick between the wickets. Bartlett follows with his own half century 10 runs later off a more solid shot (89 balls and 6 fours).
Broad finally breaks through when Azhar reaches 63 with a ball that leaves him and lands in Moore's gloves 2 short of the 150. Bartlett nearly joins his opening partner before the 150 is reached as he is dropped off a very difficult chance at first slip but the ball goes down.
Fletcher joins the attack as Somerset move to 162 for 2 at Lunch 127 behind with Bartlett on 65 and Hildreth on 7. It has been a hard morning for the visitors.
After the lunch break, Broad takes an early wicket as he clean bowls Bartlett for a score of 67 at 170 but Hildreth fights back taking 9 off the next Broad over. Unfortunately, just as JH starts to get going Pattinson has him caught behind for 16 still over 100 runs adrift of the Notts first innings total.
The 200 arrives in the 62nd over but the wickets keep dropping as Davies goes early plumb LBW to Ball, a wicket he thoroughly deserved, for 1. Tom Abell continues to put up a fight but Coughlin returns and removes Gregory to a close catch for 17. Somerset seem to be in a slump at 234 for 6, still 57 runs adrift.
Roelof van der Merwe, more known for white ball innings, joins his skipper and pushes the score over 250 as the match moves towards Tea. Notts turn to slow and occasional bowlers as Mullaney and Patel take over the attack. They can't stop Abell passing 50 (83 balls with 9 fours) and although Pattinson returns to push Somerset just before the interval. No more wickets just a few more Somerset boundaries as they go in for the short break at 287 for 6 just 4 runs behind the opposition's first 'dig'.
An over after the game recommences Somerset go into the lead and move over 300 in a short period but the momentum is slowed when RvdM is caught and bowled by Pattinson for a valuable 42 at 313 for 7. Ball decides to go around the wicket and gets Abell less than 10 runs later for an excellent 84 and it is 325 for 8.
But Somerset bats deep and Bess is keen to take on Ball. Patel sees it another way as he removes Bess courtesy of an excellent second slip catch for 9. The home side is 43 runs ahead but the last pair are at the crease and it isn't a huge lead - possibly disappointing taking into account where they were during this innings.
Jack Brooks and Jamie Overton see it slightly different. Brooks avoids a poor leg side ball which then evades Moores and takes Somerset's lead over 50 with leg byes. He then drives to the boundary to take the score over 350. Coughlin has a close LBW call against Overton followed by a dismissive four through the covers.
Wood is called into the attack but Brooks takes him for 8 but the very important last wicket stand finally ends as Ball takes his fourth wicket having JOve LBW for 18 at 375. 84 runs ahead is better than 43 runs ahead!! Stands by Ali and Bartlett (114), Abell and RvdM (79) and Brooks and Overton (41) have created a decent lead which looked better and worse at different times in this innings.
Ball looked good but was unlucky (4 for 118 does not give him credit) and 2 wickets for Pattinson (for 60), Broad (for 82) and Coughlin (for 57) accounted for the others.
So, 29 minutes and a deficit of 84. Slater and Mullaney hold it together and see Notts through to the end of the day. 29 for 0 at stumps. 55 behind Slater with 21 and Mullaney 8.
DAY 3
Somerset start with Lewis from the Pavilion end and Notts almost immediately move the amount needed to make Somerset bat again below 50. Mullaney and Slater start strongly but Jamie Overton breaks through early via Azhar Ali taking a first slip catch to reomve Slater at 44 for 1 for 24. Samit Patel however looks confident and is off the mark with a boundary in the same over.
Two balls into the next over and the Notts confidence takes another knock as Gregory forces Patel to give a sharp midwicket chance to George Bartlett who holds on and it is 49 for 2. It gets worse just after the 50 arrives when Mullaney is caught by Hildreth off the rampant Overton for 20. 51 for 3 and two new men at the crease.
Gregory is not finished however and Clarke is LBW to him for 2 at 57 before Moores restores some order by carrying on where he left off in the first innings giving the Notts batting order some kind of solidity. Meanwhile Bess is on at the other end and has Coughlin in all kinds of trouble froom the start of his spell, after he edges for four Dom gets him next over for 9 and Notts are 75 for 5 still 6 runs behind. Brooks has joined Bess and he is also soon into the equation having Wood caught behind for 2 at 81 so it is left to Pattinson to join Moores once again to try and get some runs on the board with still just under an hour of the first session to go.
As Notts take the lead after the mayhem RvdM comes on for Brooks and the Notts second innings score staggers past 100. Tom Abell keeps rotating his fast and slow men but Moores reaches his 50 by 'edging' Roelof for six!! (61 balls 8 fours and that six).
At 142, with some normaility returning, Notts lose their seventh wickett as a poor shot froom pattinsonn sends him on his way caught for 25 but Moores stays stron and takes Notts past 50 to a lunchtime total of 156 for 7 with his own score of 67 and Broad still there on zero.
After lunch, Overton is keen to get the ball in his hands again and nearly has Broad immediately but the umpire decides the ball was going down. However he keeps at him and cleans him up next over for 9 at 174 for 8. Stuart was in real trouble since the interval and never really settled. Jack Brooks at the other end does not want to be outdone and he removes Moores with an absolute peach for a vital 74. He then nearly sends Ball back with the second ball he faces but the Notts last man survives.
Fletcher almost gives it up to Overton the next over but it is Brooks again who cleans up Ball for 2 and Notts are all out for 182, 98 runs ahead and surely on the way to a defeat. Brooks finishes with 3 for 32 from his 12 and a bit, JOve also has 3 for 32 froom his 11 and Lewis has 3 for 36 from his 12. Dom Bess took the other wicket. Except for the 44 run first wicket partnership, the only man to make any dent on the scorecard was Moores who basically provided 95% of the Notts lead on his own.
10 minutes and Somerset are back out. Eddie Byrom and Azhar Ali versus Broad and Ball. Forst blood is to the Notts men as Ali is caught behind for 4 at only 17 for 1 but Bartlett joins Byrom and the score moves. With Ball and Wood on, Somerset move towards the toals and put it below 50 finishing the session at 54 for 1 - Byrom on 24 and Bartlett 22.
After Tea it is Broad and Ball again for a while and then Pattinson is back on. Bartlett takes him on, taking 11 from him but nearly losing his wicket run out at the end of the over. BUT Somerset only need 20 by then at 79 for 1. Ball does get another wicket as Bartlett is LBW for 41 at 79. Eddie is nearly LBW himself with only 6 needed to win but he smashes the next ball for four and the win comes very quickly by 8 wickets
99 for 2 with Eddie Byrom on 41 and James Hildreth undefeated on 9. Notts did not have a great second innings and it lost them the game. Somerset stay on top despite Yorkshire also winning and it all goes to Headingley in a week's time for the Fantasy showdown in Yorkshire.
pqs: qs: