FAKE 2020 CC1 Yorkshire @ Taunton Fantasy beyond Reality?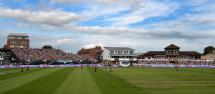 By Grockle et al
June 30 2020
In the parallel universe this could be one of the most important games in Somerset's long history as we go into this game with a significant chance of winning the Championship 2 games early!! If Yorkshire can't hold us then we may be unassailable at the top by the end of this match. Fantasy is cruel is it not? Still we have to get there first.
v YORKSHIRE CC1 @ Taunton Tuesday 30 June 2020
With neither frontline spinner available because of England's requirements for the second CC1 match in a row, Tom Abell and the selectors had to decide whether to go for the extra bat again or the extra bowler. Would Tom Banton stay in for a second game after not really getting off the mark in his return in Birmingham? Would we go back to a seamer at number 8? Well the answer was 'yes'. Tom will open with Azhar after a couple of indifferent outings for Eddie Byrom and Jamie Overton returns after his rest while Josh Davey is preferred to Jack Borrks on the home strip.
Yorkshire opt for a coin toss, which they win, choosing to bat first. Both sides have lost people to international demands with Root and Bairstow joining Leach and Bess as being absent from this match though that means that Roelof van der Merwe will find himself up against Maharaj and Adil Rashid on the Taunton grass.
But first it is Lyth and Beauchamp (promoted from his third bat in the reverse fixture - taking the place of Sibley in this one) to face the opening attack of Craig Overton and Lewis Gregory and Lyth sets his stall out early taking a boundary from the second ball he faces. Unfortunately he sets it out a little too early and tries again against Gregory, fails to get it out of the middle of the bat and is caught in the deep by RvdM for 6 at the mediocre total of 7.
Beauchhamp was a real thorn in the Somerset side up in Yorkshire and it is another early relief when Overton C has him plumb in front for a mere 2 at 9. Ballance has returned to the number 3 spot but is not there long as he is also LBW to Gregory this time for 5 with the score only on 23. Somerset supporters must think that all their Christmas's have come at once when Kohler'Cadmore is caught behind almost immediately without adding to the score. After 10 overs of this vital match for both sides, Yorkshire are 33 for 4!!
Josh Davey is introduced after 12 and Jamie Overton comes on for the 13th but there are no more incidents until the 50 arrives in the 16th. However, there is no move to Yorkshire stability as Davey produces an edge from Leaning to Ali at first slip for 22 at 61 after which Waite nearly sends the ball straight back to Overton in the next over, it pops up but goes too high for the bowler to catch it in his follow through... but not by much!!
The spin of RvdM comes into the equation at the end of the 23rd over and the captain brings himself on to give his faster men a rest with the 25th. Waite welcomes the change of pace and hits the Somerset skipper for 6 to the Caddyshack. He then tries to cut one in the next over and become the sixth Somerset victim as he snicks to Ali for 10 at 82. The morale of the visitors is then not helped by Tattersall surviving an LBW shout due to the slightest of edges onto the pad.
Lewis returns for a couple just before lunch and is there to see Rashid bring up the 100 with a driven boundary. Yorkshire stumble into the break at 104 for 6 with Tattersall on 35 and Rashid on 11. Probably not the morning they were hoping for when they won the toss.
Craig Overton provides the home side with more of what they want when he sends Tattersall back to the Caddick Pavilion for 43 at 116 for 7 in the second over of the second session. He then gets into a real fight with Rashid who is alternating good shots with wafting and edging all over the place. Somerset add the other Overton factor to the mix with the 41st over and Adil rides his luck once too often with Craig. Gregory gratefully accepts the catch in the deep at 145 for 8 sending him on his way as well for 28. This Overton then finishes the over by cleaning up Patterson 3 balls later - 145 for 9 with Jamie finishing off the innings 2 balls intohis next over.
145 all out 46 minutes after lunch on Day 1. Craig Overton finishes with 5 for 27 and Lewis Gregory has 2 for 44. Tattershall hit 44, Rashid 28 but only 5 of the Yorkshire batsmen managed double figures and it all went a bit pear shaped!
Now Yorkshire have to bowl well to get themselves back into this game against the new opening partnership of Ali and Banton with an hour and 14 minutes until Tea. Olivier and Patterson steam in but the Somerset openers are up to the task and despite Banton having a bit of a 'Barney' with Patterson they go in at Tea 47 for no loss with Ali on 15 and Banton on 26
As in the corresponding fixture at Headingley, Yorkshire put a lot of faith in Maharaj who is immediately into the attack after the break with partner slow man Rashid. The Somerset 50 arrives in the 19th over and Ali is dropped by the keeper almost straight after with only another 4 runs added, not a really difficult chance to be honest and the visitors may come to look back on that later in the game.
Banton is feeling for the ball against Rashid but the batsmen settle quite well and when Rashid goes for 10 off the 24th over it prompts Yorkshire to add pace to the equation with Olivier. After this it becomes seam at one end and this strategy of alternating the spinners at the other in short periods.
Yorkshire have an LBW appeal against Banton turned down at 83 and the young batsman reaches his 50 (51 from 84 balls with 6 fours) at 91. Marahaj returns in place of Rashid as the Somerset 100 arrives. Confidence in the Somerset ranks is growing and Tom Banton is taking to the situation. He takes Rashid apart in the 48th with 15 including a particularly aggressive six back over the bowler's head. That takes the score to 136 only 10 runs behind the Yorkshire first innings score.
Azhar then starts to get in on the act as he takes his bat to Maharaj with 14 from his next over including a 3 run no ball. With 2 overs left of the day's play Somerset have gone into the lead and over 150 without losing a single wicket.
Day 1 ends at 154 for 0. Ali passes 50 (51 from 175 balls with 6 fours) and Banton is leading the charge with 84 (145 balls 11 fours and 1 six). A 9 run first innings lead with all 10 wickets intact is probably more than the home side was hoping for at the end of the first day!!
DAY 2
Tom Banton pretty much sets out the Somerset strategy for the day as he puts the first two balls from Olivier over the boundary rope while Maraharaj looks to holf the home side at the other end. It is probably going to be a day of trying to hold the leader's batting in check given the events of Day 1.
However another 20 runs is provided to the total before Olivier gets the first breakthrough having Banton caught behind 4 short of a return century. This is developed with Ali's wicket which comes in the next over, caught by Lyth at second slip for 60. Yorkshire hopes rise at 177 for 2 with 2 new batsmen at the crease.
Maharaj has 6 men around the bat for Bartlett but he still drives the ball to the boundary, the spin attack is not keeping the score from moving. Hildreth does not seem so settled and he falls to Maharaj, caught and bowled for 2 at 190. Bartlett meanwhile brings up the 200 with a boundaryas he is joined by Tom Abell.
Rashid joins Maharaj and he nearly breaks through as Bartlett is dropped a slip on 48 (241 for 3) so he then goes to 50 (57 balls 7 fours) in a Maharaj over which witnesses 2 close misses and 3 fours - the last bringing up the 250.
The next wicket is that of Abell who falls LBW to rashid in the 80th for 14 as the lead goes to 108 at 253 for 4. Yorkshire, not suprisiingly take the new ball in the 83rd over and Olivier and Patterson take over before the lunch break.
Lunch arrives at 271 for 4 with Bartlett on 69 and Davies on 9. Olivier has 2 for 70 while Maharaj has struggleds to get a purchase in the wickets with 1 for 78. Hot and hard work for the Yorkshire bowlers in a difficult situation.
Patterson is straight at Davies as the afternoon session starts and Steve top edgs over the slips, they run back but just couldn't get there and the Somerset man survives to take the score over 295 for a lead of 150. Maharaj is back on as Bartlett drives to the boundary to bring up the 300 and take himself into the 90's. But once more Olivier stops a batsman reaching 3 figures as he bowls George for 95 at 317 for 5. He then has Lewis Gregory 'fishing' almost immediately.
At the other end Rashid returns to partner his slow ball colleague. Davies is unimpressed and plonks Maharaj into the crowd for six to take the lead over 200 and then bring the 350 up. Rashid has been bowling well but unluckily, Gregory survives a pretty close LBW call at 352 and then send the ball to the boundary but the Yorkshire bowler keeps at his job and he gets the batsman with the last ball of his over when the LBW appeal is uphled and Gregory leaves the field at 356.
Craig Overton comes in ahead of Roelof van der Merwe which is a bit of a surprise but Davies does not miss a step as he moves to 50 (115 balls 3 fours and 1 six) and although Rashid comes close twice in on over against the new man, the ball still keeps going to the boundary on a regular basis. Davies is moving things up as he sends Rashid into the crowd for six and then smashes the next ball over the rope. He is obviously aware of the batting to come and it is confirmed as Craig is caught plumb in front by Maharaj for 13 and RvdM arrives at the crease keen to push the score along. But Olivier is back on and the Dutchman tries to hook him in the last over before the interval only to be caught neatly at first slip by Lyth and Somerset go into Tea at 393 for 8 Olivier has 4 for 97 but the spinners have been expensive Rashid, though unlucky, has 2 for 110 and Maharaj has 2 for 133. A lead of 248 is a hill for Yorkshire to climb annd they must hope to clean up the last of the Somerset batting in the next hour for not a lot more!!
Rashid starts the final session in the hope of being too much for the new batsman Jamie Overton. JOve hasn't quite got the bowler's line but he does get off the mark with a boundary then bringing up the 400 with another four. Olivier is on at the other end but he has no more success against the Somerset number 10. Steve Davies has obviously been told to hit out and get as manny runs as possible. Jamie is still swinging and connecting while the keeper edges Rashid while smashing Olivier to the boundary to go into the 90's.
The 450 arrives just before Overton's mixture of excellent shots and blind luck runs out as Maharaj bowls him for 35 off 28 balls. Davies is in the position of possibly being the third home batsman to get into the 90's but not turn this into 3 figures as Josh Davey comes in as the last man. Rashid and Maharaj are given the task of finishing the home side's first innings finally.
However, Davey seems to have other ideas. He acts as the base for Davies to hit a four for his century going to 103 (178 balls, 10 fours and 2 sixes). There is an LBW shout that is going down the legside but the pair continue to accumulate runs moving to a lead of 350 and a score of 500 off a lucky edge from Josh.
Yorkshire turns back to speed as the spinners are not getting anywhere. Davey is not particularly impressed and straight drives Patterson, reducing the visitors to returning to Rashid as Day 2 ends with Somerset on 532 for 9 with Davies on 141 and Davey on 27. Their county having a 387 run first innings lead. Maharaj has gone for 177 for his 3 wickets in 54 overs (a hard day). Rashid has done little better from his 41 overs with 2 for 158 and Olivier has twice as many wickets but has gone for 137 from his 41 overs.
Somerset has a lead that cannot be surpassed thanks to the 174 run partnership of the openers added to by a 75 run final wicket partnership that is not over and 3 60 plus partnerships from the side. A draw is the best Yorkshire can hope for and that is a long way away at the half way point.
DAY 3
It is no surprise that Somerset do not declare at the beginning of Day 3. Steve Davies is so close to 150 and the county are so close to a lead of 400 that it seems worth a few overs to get to both those milestones. Olivier gets down to work and has the Somerset keeper edging for four early followed by a play and miss to Maharaj at the other end. However, Josh Davey holds his end up and a straight drive brings up the 150 for Davies in the third over of the morning. Before the end of that one, Davey is LBW for 28 and the innings is over at 547, 402 ahead with the centurion on 155 from 248 balls with 17 fours and 2 sixes. That partnership was a 10th wicket record for this fixture of 90. Olivier finished with 5 for 150 while Maharaj had a less successful day with 3 for 179.
There is 1 hour and 49 minutes until lunch and then 5 sessions for Yorks to salvage something from this game.
Craig Overton and Lewis Gregory open the attack for the home side as Lyth and Beauchamp try to do better than they did in the first innings. They survive the initial onslaught with Jamie Overton and Davey taking over in the 12th and 13th overs respectively. The 50 arrives with little else happening until Josh gets Lyth playing across a ball pushing the ball to Ali at first slip for 30 at 54. Jamie then has Ballance caught close in by Bartlett for a mere 7 at 81. But the batting looks more comfortable and Somerset turn to spin in the 24th over. Roelof gets in on the act and provides the important scalp of Beauchamp just as he starts to open up for 44, half the total at the time - 88 for 3. Ali gets an over before the break - possibly suggesting a slower attack in the afternoon. At Lunch Kohler'Cadmore and Leaning both have 7 and a real job on their hands at 97 for 3 with 28 overs gone and 305 needed to stop an innings defeat.
After the break Craig Overton and Lewis Gregory are once more to the fore while the Yorkshire batsmen Kohler'Cadmore and Leaning are riding their luck a little with a couple of edges and the odd play and miss. But it is a good start after lunch as the visitors try to stabalise and build. But wickets keep coming in twos. Overton has Leaning in front for 19 at 129 and in the next over Gregory bowls Tattershall before he gets moving for a single. 130 for 5 and hope of recovering to a draw is disappearing.
RvdM replaces Gregory for the 40th and Jamie replaces his brother in the 41st only to get an amount of 'tap' from both the Yorkshire batsmen. The 150 arrives with a confident straight drive off the fast bowler but he adapts and has Waite LBW to one that is a little too fast for him for 13 at 157. RvdM then repeats that with Kohler'Cadmore in his next over, maybe not as fast though, for a quick 38 but without moving the score from 157.
Rashid is determined to go down fighting and sends an Overton 'rocket' to the rope followed by another one in his first over facing. However Overton tempts Maharaj with one and he snicks behind for 0 at 168 Patterson nearly makes it 9 two balls later and again to 3 balls of the next over. It is very near the end and Davey confirms that in the 52nd over when he has Patterson dismissed to a close Bartlett catch for 2 at 174 for 9.
Only Olivier and the still fighting Rashid stand between Yorkshire and ignominious defeat in a game they were never truly in after lunch on Day 1. Although the two batsmen are determined not to go quietly, RvdM is just too good for Olivier, fooling him to come forward to a ball he misses and the quick hands of Man of the Match Steve Davies put an end to the Yorkshire defiance at 183 all out when Olivier is stumped.
Somerset win by an innings and 219 runs. This was cold blooded cricketing 'murder' from halfway through the first day. It ends with Roelof van der Merwe (who probably won't play the next match) oon 3 for 24 sharing the honours with Jamie Overton on 3 for 64 ably supported by Josh Davey with 2 for 18 while Craig Overton and Lewis Gregory had a wicket each.
It leaves the FAKE 2020 table with Somerset 60 points clear of the pack having taken all the points from Yorkshire who added almost none. I don't think they can be caught... even if they had to put the 12 point penalty that the ECB imposed on them last season into the equation.
I think Somerset are the 2020 FANTASY COUNTY CHAMPIONS with 2 matches to play!!
pqs: qs: