FAKE 2020 CC1 Finishing in Style? Hampshire Away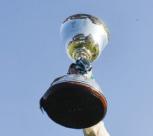 By Grockle et al
July 7 2020
It's now a photo of THE trophy but not one of Tom Abell holding it. As FAKE CC1 champions for 2020, we go to Southampton beyond the reach of Yorkshire but still liable to stumble against Hampshire. The county rest Byrom and Bartlett while Jack Leach is back from Enngland duty and replaces Roelof van der Merwe for the trip. The pitch is not expected to be particularly ready for spin.... but we shall see.
v HAMPSHIRE CC1 @ Southampton Tuesday 7 July 2020
Somerset come into this game as champions of the CC1 for 2020 in Fantasy Land but the season is not over and although they are beyond being caught it would be good to finish the season with wins. The side sees George Bartlett rested and the return of Mike Carberry while Jack Leach returns for Roelof van der Merwe. The side is;
Carberry, Banton, Ali, Hildreth, Abell (c), Davies (wk), Gregory, Overton C, Overton J, Leach, Davey
Tom Abell chooses to opt for the coin toss, which he wins. he chooses to bat first and the game starts with Holland and Wood facing Carberry and Banton. The plan to give the new opening partnership a look over does not go to that plan as Banton does not build on his innings from the Yortkshire game and is out for 1 caught behind off Wood for a single at 6 . Holland then gets Carberry for 7 popping one up to Rahane close in at 12. Azhar Ali fiinds himself in after a mere handful of overs so deciding to not start him was a bit of a waste of time. Carberry looked a little rusty and Banton just got a good one early.
Ali and Hildreth take the game to the home bowlers, especially Holland but Ali gets a little too confident and Wood has him LBW for 20 at 38. Abell was probably not expecting to be in this early but they hold off the two quicks and this creates the introduction of Dawson. Hildreth takes his county to 50 with a second square cut four from the spinner in his first over.
Barker offers his left hand deliveries at the other end and a sharp single nearly does for Hildreth at 84 but nothing else happens despite Quayle beiing given a spell before lunch. The interval arrives at 96 for 3 with James Hildreth on 43 and his captain on 25. Wood has 2 for 24 but the Somerset pair have steadied the ship with a partnership of 58 but the morning is probably just slightly Hampshire's.
Holland starts the afternoon but Hildreth takes 'first blood' by sending the score past 100 due to some poor outfileding that results in a boundary. However, both Wood and Holland are causing problems although Hildreth once again takes things on reaching a 63 ball 50 (9 fours) at 109 for 3.
Dawson comes into the attack after about half an hour with Baker as his partner and it is he how has Abell edging just before he also reaches a 50 ( a few more balls - 137 - and a few less fours - 5) at 146. The 150 arrives shortly after as the two Somerset men consolidate. 60 overs gone before the Teat interval which arrives without any more wickets lost at 173. Hildreth has moved to 84 and Abell has notched up 58 in a partnership that now stands at 135.
Dawson joins Holland in the post Tea Hampshire attack and the former has a close decision against Abell (the first movement since lunch) but there is little else happening so the home side retuurns to Wood.
The Somerset skipper is unlucky in a Holland LBW decision that looks like it was missing but he has to go for 61 at 186 for 4. Dawson nearly celebrates the removal of James Hildreth as 201 but that is turned down and then Steve Davies is dropped by the keeper (diffiicult) chance as a quick top edge comes off an attempted sweep. But the two men survive and just before the new ball in the 83rd over Hildreth goes to 100 from 201 balls with 16 fours at 206.
Hampshire immediately take the new ball and they rotate through Wood, Hollandm Barker, Wood and back to Holland to try and get something moving. Hildreth stands firm against all of them, an LBW appeal is not given as the umpire indicates the batsman got some on it and just after the 250 arrives James Vince is introduced!! Nothing is going and the end of Day 1 arrives with 264 in the Somerset coffers. Hildreth walks in with 125 to his name (243 balls 18 fours) and he has been ably supported by Davies with 35 for the last part of the day. Hollland has worked hard for his 2 for 46 and Wood has hammered in for his 2 for 86 but Somerset have moved back into this game thanks to the solid batting of 3 of the 6 facing today the other being the captain Tom Abell who stood with the present centurion when he needed to.
DAY 2
At the start of the second day, Hampshire might be asking themselves: "Is this a Hildreth game?" One of those games in the career of a premier batsman who has been ignored by his country takes off and takes a game away from a side seemingly in the front seat with a large international class innings. Presently James has 125 to his name and it could be one of those days.
Hollland is looking to stop that happening but it is Davies who seems to set out his intentions by planting the first ball from the Hampshire first bowling choice into the crowd ball one of day 2 for six. His partner Wood has more intial success in keepiing the Somerset pair in check but Davies goes to 50 from the first ball of the 105th over from Wood (109 balls 6fours and 1 six). The 300 arrives in the 107th.
Holland does get success when he has Davies in front for 58 at 306, a wicket they needed as much as Somerset needed the keeper's 50 odd to settle things yesterday evening. Just after this Hildreth edges to second slip but is dropped and shows that it got to him by playing and missing the next ball from Wood. However he keeps moving forward by hitting another four to take him to 150 (287 balls with 20 fours).
Dawson is on for the new batsman but Lewis takes him for 10 off his first over before taking Barker for 9 while bringing up the 350. This prompts Barker to bend his back and he sends Hildreth on his way with a pearler that breaks his stumps for an excellent 167 (307 balls 22 fours 1 six) at 353 for 6. This doesn't really slow Somerset down as Gregory continues to take on Dawson until Holland and Wood return to push towards lunch. Craig Overton shows he is no rabbit at the end of a batting lineup as he smacks Holland for 2 boundaries just before lunch which arrives at 387 for 6 with Gregory on 45 and Overton on 14.
One can't over emphasise Hildreth's effect on this innnings though. Partnerships of 148 with Abell, 120 with Davies and 47 with Gregory say it all about the present position. How has this guy never represented his country?
After Lunch Wood and Holland are hostile but Gregory looks confident and takes himself past the 50 mark (74 balls 9 fours) despite that. The 400 arrives as Somerset show how their season has created confidence with the bat and this continues with these two, Lewis taking Wood for 6 over his head and then adding 4 to go into the 90's while Craig Overton brings up the 450 with a four of his own.
Once more this prompts the return of Dawson who has worked really hard with no real results and he is still struggling as Overton takes him on and Gregory reaches 100 (136 balls 14 fours and 1 six). It is Barker once more who breaks through finally catching Gregory LBW for 105 at 478 for 7 which brings the Overton's together probably with orders to get the score over 500 before the Tea interval - possibly so Somerset can have a go at the openers both sides of the break.
Dawson finally gets some reward as he has Jamie LBW before there is any kind of 'onslaught' from the twins for 0 but the other brother goes through to an excellent 50 (99balls 7 fours) just before he also goes to the spinner in the same way as his brother 2 short of 500.
Abell lets Davey and Leach have a go at getting to 500, which they do when Jack drives through the covers after which the skipper calls his men in. A sligh miscalculation with 13 minutes to go because there is only time for one Craig Overton over before the break and Hampshire are 0 for 0 at Tea chasing 504.
Soames and Alsop come out to start to move their side towards the 500 against Overtons at both ends. Soames gets into his stride quicker with the first boundary in the 3rd over while Alsop doesn't cross the rope until the 9th. However they seem solid and together and the opening bowling gets nothing else and so the change comes with Gregory in over 13 and Davey one over later. It is Josh Davey who causes the first Hampshire error when Soames snicks the ball into Banton's hands at first slip for 23 at 36.
There seems to be some reluctance to introduce spin into the attack given the ineffectual nature of Dawson during most of the first two days and it isn't until the 21st over with some 40 minutes of the day left that Jack Leach finally gets the ball. It seems to be the right decision as he has Alsop caught in the covers by Abell in his second over for 23 just after Hampshire bring up the 50. That means he will hold up one end to the end of the day and Craig Overton joins him for the 26th and immediately has a shout against Vince which the England man is relieved to see is judged 'not out'. Leach has more success against Rahane who is seen as being in front for 11 at 71 and Hampshire can't be all that happy when new man Northeast nearly puts one down the throat of a boundary fielder giving the 'long handle' at the end of a day when they need to lose no more wickets.
Northeast does not seem to learn quickly enough though as Overton deceives him and he misses a straight one which rattles into the pad. He is out for 5 at 76. The baffling strategy continues however when James Vince takes on Leach, mistimes the shot and is pouched by Davey on the boundary for 10 without moving the score on. This is not helped in the eyes of the home side when the spinner then gets great hope Roussow for zero before the end of the over LBW at 77 for 6!
The day ends with Hampshire happy to leave the field at 82 for 6 with a lot to think about. Jack Leach has done what Liam Dawson didn't with end of day figures of 4 for 18. Craig Overton and Josh Davey both added 1 and you have to say that Somerset are in the pole position going into Day 3
DAY 3
Hampshire need 422 to make Somerset bat again, they need 272 to avoid the follow on. It's a big job with 6 wickets down at the halfway stage. So 33 overs into the first innings and Dawson and Quayle are the first batsmen to get down to work. Craig Overton and Josh Davey face them and Dawson is plaing and missing early and Craig has two LBW shouts against him iin two balls in the third over of the day. Quayle gets the first to the boundary in the 6th over of the morning.
It is Davey that pushes through with Quayle LBW for 10 before Hampshire reach three figures (96) while Dawson is fighting hard and his four brings up the 100, followed by another boundary almost immediately but the next attempt is a nick behind to Banton at first slip for 48 at 104.
Overton J replaces his brother and he is joined by Gregory soon after. Overton has Barker fishing while it is the bowler at the other end who cleans up Holland for 10 at 120. Barker is less willing to go quietly and in between the fishing trips he is finding the boundary pretty consistently while Wood is partnering him well and they are definitely unwilling to give their wickets away and get this first innings over with. They take the score past 150 and prompt Somerset to try Leach with about half an hour before the break while Craig Overton and Josh Davey alternate at the other end. Barker and Wood continue to be stubborn and it is literally just before Lunch and with Barker on 49 that Jack cons Wood and has him stumped for 32 at 195 all out. A 10th wicket 75 run partnership isn't enough and Hampshire miss the follow on total by 160 still 310 behind. Tom Abell invites them to have another go after the interval.
5 for 31 for Leach who may bowl a 'little' this afternoon with Josh Davey taking 2 for 32, Craig Overton 2 for 42 and one for Lewis. It may be a long post Lunch session for the home side.
Soames and Alsop follow on against Craig Overton and Lewis Gregory primarily and a streaky miscued four from Alsop suggests how difficult it is in Southampton. Soames is also feeling for the ball and is nearly LBW early on to Overton. The first boundary comes up in the 9th over and Alsop repeats the feat in the 10th.
Alsop is looking good and Somerset make a double change of Josh Davey for Gregory and Jack Leach for Overton to see if they can break this up. Alsop almost on cue produces a horrible shot which results in him being caught close in by Ali off Leach for 32 at 48.
Davey's hard work results in the loss of Soames in the next over caiught behind for 14 also at 48. The partnership is broken and Somerset nearly get Vince first ball all he wafts at one. Instead the 50 arrives as does Jamie Overton bowling 'exocets'. Vince is still fishing and is lucky not to be out LBW to Leach while Rahane is much more circumspect at the other end and he moves the score towards and then over 100 as little happens up to the Tea interval at 106 for 2. Vince and Rahane are looking solid as they contribute 58 runs up to the interval.
COve and Davey are on to shut the partnership down after Tea but Davey is offline a little too much and goes for 10 off his first over. Overton acts to get the momentum back though and has Vince LBW for 43 at 121 for 3 and then has Northeast playing and missing his first ballstaright afterwards. Before the new man gets into his stride he is the victom of a 'cracking' ball from Davey that cleans him up and sends him on his way for 10 calling Rossouw to the crease who smashes his first to the boundary past the bowler.
It is time for Leach to see how the wicket responds after the interval as he replaces Overton. Another piece of quick work from Davies has Rossouw on his way quite quickly, the secomnd stumping of the day for the Somerset keeper and spinner partnership 137 for 5. At the other end Somerset look to finish with pace as Jamie Overton slips the leash. In his first over, Quayle misses the fourth ball but manages to send the sixth to Banton who happily clutches on to it and the Hampshire man departs for 3 at 144 for 6.
Leach has Rahane wafting at air a couple of times just before Dawson clocks up the 150 while tha paceman at the other end is delivering ball after ball with no luck at all despite the Hampshire batsmen trying manfully to connect with it.
Just before the end of play, Lewis returns but Dawson is determined and Rahane gets to 50 (143 balls 6 fours) as Hampshire finish and force the game into Day 4 at 194 for 6. 115 runs behind the Somerset first inning total and a whole day to work to get something out of this game. Davey finishes with 2 for 41 and Leach has had a harder second half of the day with a second innings total presently of 2 for 71.
We go to Day 4.
DAY 4
67 overs into this innings, Gregory and Craig Overton look to take their county to a win while the Hampshire tail loooks to do 'something' with this game! Certainly Rahane and Dawson have no intention of capitulating and they push the score to over 200 immedaitely and then a Rahane single takes the lead under 100.
However, it is probably too optimistic to see a way that Hampshire can do anything but stall the inevitable and when Craig removes Rahane's off stump for a valuable 61 at 215 the 'writing' seems to be on the wall. Jack Leach joins the attack and Jamie replaces his brother at the other end. Dawson does not leave a ball he really should have and Banton says 'thanks' at first slip. He goes for 38 at 217 for 8 and withiin 5 balls and absolute rocket from Overton destroys Holland's wicket for 2.
At 217 for 9 Davey takes the new ball and in an over containing 3 no balls, he takes out Barker to a sharp catch in close. Unfortunately it was off one of the no balls and so it does not end the game. But there is no real problem because not long after Jamie cleans Wood out for 6 at 237 and the game is over.
Hampshire fall 72 runs short of the Somerset first innings total so the champions go on with a win by an innings and 72 runs. Somerset move to 257 points while Yorkshire lose and stay back on 178 while Notts pass into 3rd place on 173. James Hildreth is the Man of the Match not suprisingly but Lewis Gregory has to be mentioned in dispatches along with Jack Leach's 5-fer in the first innings.
And the fantasy goes on to the home Essex game of blessed 2019 memory. The "2020" version will be different and I would be coming back from Bermuda to celebrate the end rather than hope we would play during the rain.
Reacy for that next week?
pqs: qs: