FAKE 2020 CC1 The Finale - Essex at home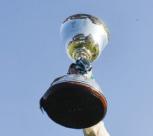 By Grockle et al
July 14 2020
The end of the CC1 Fake season, as home fixture against the side in fourth - a little different to the 2019 version of this. I would have been there, as I was for the 2019 version, but this time there would have been a celebratory feeling in the ground as Somerset were already champions who could not be caiught. For that reason this is a 'Somerset' side, with the players who have been involved from the county during the season. No internationals, no signees from this season, youth and long term county players who got us here. It is the kernel of the side that would be playing in 2021 (or in the real world of 2020 aftger August). We'll see how they do... in FantasyLand
v ESSEX @ Taunton Tusday 14 July 2020
This is the last game of the season and the side picked comes from those characters who will be about in 2021 and who have been involved in this winning fantasy season;
The side is;
Banton, Byrom, Bartlett, Hildreth, Abell (c), Davies (wk), Gregory, Bess, Overton C, Overton J, Leach
Essx chose to bowl first and waive the toss option - it would have been Tom Abell's choice probably given his record in this season.
The Essex side is;
Cook, Browne, Lawrence, Bopara, T'Deschate, Wheater, Walter, Harmer, Coles, Siddle, Porter
Porter and Siddle open the attack against the young openers and they get in amongst them early as Siddle has Byrom bang in front with the 5th ball of his first over for 0 Somerset are 1 for 1. Bartlett finds himself in early and back in the Caddyshack almost as quickly as he is also LBW to Porter for 4 at a score of 6. The third 'B' does not stay long either as he becomes Essex' third LBW in the first 7 overs for 5 and the home side have slumped to 15 for 3 in the first 40 minutes.
Not the start that Somerset hoped for in front of a partisan crowd hoping for a celebration of the county's first Championship season.James Hildreth and the skipper have a job to do and they get down to it with Abell striking his side's first four off his first ball while Hildreth turns the tables a little by taking Siddle for 11 off the 14th over.
After the first onslaught, Harmer and Cole take over with Cole in particular from the Trescothick pavilion having a real fight with Hildreth who is putting bat to ball in between miscuing and taking on balls he really should leave. However, the Somerset pair do right the wobbling order and go to a 50 run partnership before Walter is introduced by Essex to try and upset the pair.
Just before the lunch break James Hildreth goes to 50 off Harmer (79 balls 7 fours) and the 100 arrives as the interval is also reached at 106 for 3 with Hildreth (53) and Abell (33) putting on 91 for the 4th.
Siddle starts the second session and a second ball boundary from Abell is followed by a dropped catch close in. Porter takes up the duries at the other end. Siddle gets James Hildreth with a ball that would have hit the top of leg at 56 and the partnership ends at 115 for 4. Tom Abell goes to his individual 50 with an excellent boundary to the Somerset Stand (113 balls 6 fours) at 133 for 4. He continues but Coles hits him quite hard at 148. The skipper decides to carry on. Before they can carry on the rain sweeps in and there is a loss of 48 minutes and an early Tea interval
The rain continues for another hour and 20 minutes before the teams can get back on the pitch. By then there are 11 overs left from Siddle and Porter. There is time to get to 150 and Day 1 ends with Steve Davies on 29 and Tom Abell on 75. 183 for 4 - 2 hours lost to rain and Porter has 3 for 40.
DAY 2
Rain affects the first session of the second day as it stops the game restarting until nearly noon. Play restarts at 11:47 with Siddle against Tom Abell, who sends his second ball to the boundary. Porter starts at the other end and sees both his 4th and 5th balls go over the rope as Somerset cross the 200 run point. Siddle fights back and beats Davies but he is struck outside the line and the keeper goes to 50 at 216 for 4 (97 balls 7 fours) even though the Essex bowler has a better shout turned down the very next ball. It is the Somerset captain who falls to the Aussie when a full ball is smacked straight into Browne close in and Abell is out caught for 88 at 219.
Essex introduce Harmer and Davies hits his first ball for 6. They bring on Bopara at the River end and Gregory hits him for consecutive fours, is nearly caught plumb in front with his third ball and then sends his last to the rope. The 250 arrives and Essex take the new ball in the hope it gives them a little more at 253.
Porter returns with the new cherry just before the Lunch interval comes at 253 for 5 Davies has 73 while Gregory has 13
The rain comes down during the interval and no one gets on the pitch until nearly 3pm. Once that happens essex strike immedaitely as Steve Davies is plumb LBW to Porter for 73 at 257 for 6. Dom Bess causes little upheaval as he top edges Siddle to Walter in the slips for 1 at 258 and then Siddle bowls Gregory for 21 at 263 before he gets Jamie Overton LBW for 5 at 282.
At this point there seems to be little reason for the innings to carry on and the rain looks like it might set in so Tom Abell declares giving Craig Overton just enough time before Tea to send Cook back to the hutch without scoring caught by Tom Banton at first slip. It was worth the gamble and Essex take Tea at 2 for 1.
The rain does come down again during another interval and it is 1 hour and 4 minutes before any cricket takes place in the early evening. The only event is the dismiaal of browne for 9 by Lewis Gregory at 30 and the dual spinners coming on for the last 6 overs without any result other than only allowing 10 runs. Essex end the day at 40 for 2 242 behind at the halfway stage of the game.
Fantasy is following reality in 2019 - though there had been a lot more cricket on Day 1 and 2 than in the parallel game.
DAY 3
Craig Overton nearly has Bopara with the first ball of the day. Lawrence was far more solid at the other end. Bopara tries to hit himself out of the doldrums but it is too high and not far enough and Abell takes the catch and the Essex man goes for 8 at 48. Ten'Deschate went second ball LBW but the 50 comes up at the other end as Wheater sends Gregory to the boundary unimpressed by it all.
Jamie Overton is introduced for Lewis and he cleans up Wheater in his first over at 75 for 5. Jack comes on at the other end to add a little 'diversity'. Lawrence goes to 50 (104 balls 6 fours) and up comes the 100 at the same time - it is looking good but a good ball from JOve sends Lawrence back caught behind for 63 at 116 for 6.
On comes Dom Bess to slow everything down before Lunch but just after Leach has Harmer LBW for 1 at 121 things speed up!! Bess is close with Walter early in his spell and then he bowls him for 24 still at 121 for 7. New men at the crease and Bess is close with Coles in the same over... just before he bowls him at 122 still 11 from the follow on. In comes Porter and he is immedaitely in trouble as well and at 124 Bess bowls his third batsman to lerave Essex all out for 124 with figures of 5.2 overs 0 maidens 8 for 3... all bowled in 2.2 overs!!
Essex are not the right side of the follow on and Tom Abell, for the second game in a row invites the oppposition to have another go. Somerset end the first innnings section with 5 points while Essex have 3. Browne hits the last ball of the second over for 6 to bring the score down to the 150 behind and Lunch arrives at that score with Essex 8 for 0 in their second.
After Lunch there are Essex batsmen relishing the second chance to do better. Alistair Cook is one Ryan Ten'Deschate is another. With Gregory and Craig Overton looking to do more of the same as they did against Hampshire in the last game. The first shout is against Browne but it was missing despite COve's beseeching of the umpire. Nevertheless Cook IS in front to the other bowler and he goes for 5 in the game Essex are 26 for 1. Nothing else happens really until an unusual double bowling change with Jamie Overton coming on at the Trescothick End while Dom Bess is given an early chance after his pre lunchtime heroics at the River.
It is Bess who claims first blood as he has Lawrence caught at the first and only slip by Tom Banton for 12 just after Essex pass 50 (54). Browne edges but the ball falls safely and he edges again in the next over. Bopara looks no safer at the other end as he plays and misses and then miscues a four in his first 6 balls at the crease. Bess is looking very good which prompts his spin colleague's introduction for the 28th over.
Both batsmen survive another Bess over but Bopara is caught close in by Bartlett in Leach's first over for 23 at 83 for 3. T'Deschate loooks determined but he goes the same way to the same bowler for 5 at 89. The batsmen seem to have little idea against the Somerset spinners though they reach 100 surviving to 101 for 4 at Tea. Browne has 47 while Wheater has 5 still 57 behind.
After the drinks break Somerset keep their slow men on and while Browne goes to 50 (123 balls 3 fours and 1 six) nobody else looks at all comfortable with the spin attack. While Bess has Wheater tied in knots and going nowhere, Leach breaks the concentration of Browne and he pops one back to the bowler to be caught and bowled for 52 at 118 for 5. Meanwhile the patience of Bess finally produces a result as Wheater also goes edging a ball to James Hildreth and it is all falling apart at 132 for 6.
For Essex now it is merely a process of surviving as long as possible and pushing this game into the fourth day with the hope of getting something they can defend so that is the way the game goes with neither Essex batsman taking any chances at all and looking to neutralise the spinners.
In order to break this up, Tom Abell reintroduces pace with Jamie Overton coming on in the 53rd to change the dynamic. This is eactly what happens in a very few balls as Walter misses a straight one and is out LBW for 9 at 138 for 7. Jack Leach changes ends to give Bess a breather and promptly bowls Coles for 2 at 141 while JOve has Harmer caught and bowled driving at the slower one for 6 at 145. Siddle is all there is really between the champions and a victory and he doesn't last, snicking Leach to Davies for 4. Essex are all out for 145. That is 13 runs behind Somerset's first innings score and they lose by an innings and those 13.
A consummate destruction on Days 2 and 3 by the spinners with supprt from the seam attack. Jack Leach finishes the second innings with 16.4/4/18/5 while Jamie Overton has 10/4/19/2 breaking up the end of the innings and keeping the Essex men from settling.
Somerset finish the season with 12 wiins with Yorkshire in second and Nottinghamshire in third. Kent are relegated and Middlesex, Lancashire and Worcestershire are promoted from the second tier.
Fantasy...... but wihtout the stats and the playing records of the side it could not have happened so is it so far from the truth? The issue would be could Somerset be this consistent - an issue that has dogged them for 2 decades. In this campaign they have been very consistent, batsment have produced runs somewhere along the line and the bowlers have produced wickets at the same time. First innings collapses became a thing of the past, only happpening really in the only defeat of the season.
Well it's done. I thought we'd stop after a couple of games iin mid table somewhere but it took us all the way through.
I will state again that this is the result of the PC game. I have simply pressed the buttons when asked for, taken the decisions that posters gave me to take, picked sides the 'selection committee' chose and simply changed bowlers after about 8 overs or when they obviously were not getting anywhere, put the batsmen into a more aggressive mode as they settled into their innings. I played games as they came and reported what happened when it did. The PC engine of 'Cricket Captain 2019' made all the other decisions and
SOMERSET are the 2020 fantasy CC1 champions
Thanks to those who found this fun. I enjoyed it more than I thought I would but I'm still suprised we made it all the way.
Roll on August 1
pqs: qs: